Private Chef Services In CT and NY (especially Fairfield & Westchester Counties)
Catering
To have a great party you need 3 essential ingredients:
• Friends
• Spirits
• Scrumptious food
In the last 20 years, I've created lovingly prepared food for hundreds of parties – from casual backyard buffets to multi-course sit-down dinners. You don't get a catering company… you get me, your own personal chef for your party.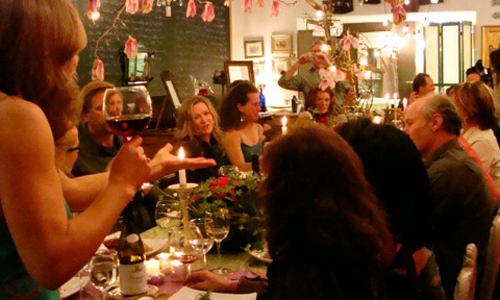 Here's how it works
• Email me a brief description of the occasion, number of guests, date and time of your party and your contact info, along with good times to reach you.
• We will have an initial consultation. I'll send a menu and/or proposal. You decide if it's right for you. It's that simple.
[/box]
I specialize in Mediterranean cuisine, but also do New American, vegetarian, vegan and gluten-free.
The Cost
I work a little differently than other caterers. That's because I'm a chef that does catering – not a catering company with a list of pre-determined options.  You pay for my time. The groceries are billed at cost.
Off-site Prep:  50/hour
On-site Chef Services:  125/hour
Servers, bartenders:  30/hour
Once you choose your menu, I'll give you an estimate and we'll proceed from there.
"Silvia, you are an amazing chef. The food last night couldn't have been any better. The servers were great – so calm amongst all the chaos – and Rebecca was very helpful to my guests. By the way, all the "kids" thought Mathew was a great bartender. They loved their dirty martinis!"–Rosemary & Rich
You're amazing!  What an incredible treat your meal was last night, SO delicious….people keep talking about what you prepared (and how you prepared it!)  I can't thank you enough for making the evening truly
Special.
Andrea Anderson

You pay for my time. The groceries are billed at cost.
Prep:  50/hour
On-site:  150/hour
Servers, bartenders:  30/hour
Once you choose your menu, I'll give you an estimate and we'll proceed from there.
Ready to get started?

Click here

to send your inquiry.
GoPro Kitchen Makeovers
Your dream can now become a reality.
As a professional chef and a self-professed organizing freak, I'll have your kitchen pro-ready in no time.

Here's what you get:
A questionnaire so I can familiarize myself with your particular needs and goals
A 30-minute pre-makeover consultation by phone or Skype
A 6-hour makeover, during which:
I take everything out of its current place and inventory it, from spices, to pots and pans
In true Italian style that promotes buying/having only what you truly need or love, I sort       everything, keeping what is useful or loved and donating or disposing of what's not
You make a wish list of everything you really need but don't have;
I put everything back in its logical, cooking-efficient place.
Following the makeover, I provide:

A best price/brand resource list for everything on your wish list
Before and after photos
A 30-minute post-makeover consultation

The Cost
$1,195
$100/per hour if any additional time is required
Travel: Free for 20 miles outside of New Milford, Conn.; $25 for each additional 20 miles.

Ready to get started?
Email me with a brief description of your needs, your location and possible times for the makeover.
Click here to send me your inquiry now.
GoPro Virtual Kitchen Makeover
All of the above without in person services. Consultation on Skype or Facetime
$395
Email me and put Virtual Makeover in the subject line.
Family Meal Plans
La Dolce Vita Starts at the Dinner Table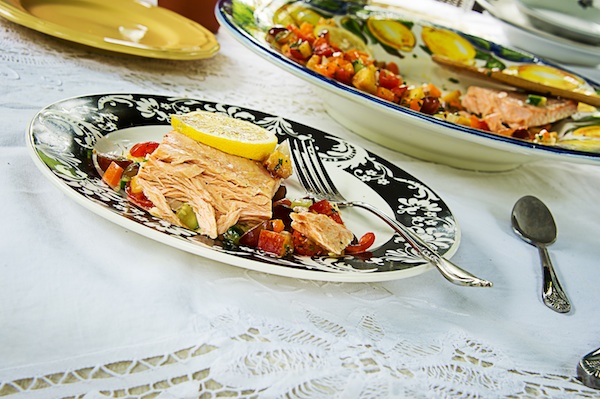 If sharing family meals is important to you, but…
Life gets in the way and hectic schedules make sitting and eating together almost impossible.
You're not a great cook, so you rely on prepared or packaged food for help and would like to change that.
You're a pretty good cook, but coming up with what to make for dinner each night is daunting.
You (and your family) are bored with the same rotation of go-to meals over and over again.
Your kids have directly opposing preferences that make meal planning a nightmare.
Some family member(s) have serious allergies, so planning a meal that everyone likes and can eat is stressing you out.
I can help. If you have answered Yes to any of the above, let's talk.
Seriously, I'm an expert at this. I'm Italian and an experienced chef with her own finicky kids. Sitting down to a family meal is something we did every night when I was growing up. It instilled such a passion in me that I opened a family-friendly restaurant. I also began giving cooking classes in 1995 to inspire others to cook, so they could experience the joy, as well, and the health and emotional benefits that come from sitting at the table together for family meals.
Here's how I can help you make mealtime a pleasure instead of a chore:
We'll start with a short questionnaire so I can familiarize myself with your specific needs and desires: Time constraints; dietary needs; food preferences; skill level; etc.
Then we'll schedule a 30 minute phone or Skype consultation
I'll research and create 14 customized recipes (along with sides and salads) that are perfect for you and your family.
I'll deliver the recipes to you with photos (when available); a step-by-step guide for each recipe; a shopping list; and tips that will make preparation easy-breezy.
I'll create a customized for you pantry list, so that you'll only have to shop for the main ingredients.
Two weeks after you receive your recipes, we'll have another 30-minute chat so I can answer your questions and any other concerns you may have.
You get all this, creating a lifetime of sweet pleasures for you and your family, for: $395

Ready to get started?

Click here

to send your inquiry.
I'll answer any questions you may have and then, if you're ready to go, we'll schedule our first meeting.
Cooking Classes
For details on private lessons Click Here


For details on group cooking parties Click Here

[widgets_on_pages id="inline_widget_1″]