Personal Chef Services In Connecticut: Hartford, New Haven, Litchfield & Fairfield Counties + Westchester County
Catering
To have a great party you need 3 essential ingredients:
• Friends
• Spirits
• Scrumptious food
In the last 20 years, I've created lovingly prepared food for hundreds of parties – from casual backyard buffets to multi-course sit-down dinners. You don't get a catering company… you get me, your own personal chef for your party.
Here's how it works
• Email me a brief description of the occasion, number of guests, date and time of your party and your contact info, along with good times to reach you.
• We will have an initial consultation. I'll send a menu and/or proposal. You decide if it's right for you. It's that simple.
• I specialize in Mediterranean cuisine, but also do New American, vegetarian, vegan and gluten-free.
The Cost
I work a little differently than other caterers. That's because I'm a chef that does catering – not a catering company with a list of pre-determined options. You pay for my time. The groceries are billed at cost.
Off-site Prep: 50/hour
On-site Chef Services: 125/hour
Servers, bartenders: 30/hour
Once you choose your menu, I'll give you an estimate and we'll proceed from there.
"Silvia, you are an amazing chef. The food last night couldn't have been any better. The servers were great – so calm amongst all the chaos – and Rebecca was very helpful to my guests. By the way, all the "kids" thought Mathew was a great bartender. They loved their dirty martinis!"–Rosemary & Rich
You're amazing! What an incredible treat your meal was last night, SO delicious…. people keep talking about what you prepared (and how you prepared it!) I can't thank you enough for making the evening truly Special.
Andrea Anderson

You pay for my time. The groceries are billed at cost.
Prep: 50/hour
On-site: 125/hour
Servers, bartenders: 30/hour
Once you choose your menu, I'll give you an estimate and we'll proceed from there.
Ready to get started?

Click here

to send your inquiry.
Sit-down Dinner Parties
I'll bring my restaurant experience to your home. Made to order meals for you and your dinner guests. We'll plan an exciting menu – anywhere between 3 – 5 courses or a 6 – 8 course tasting menu. We can pair them with wines or keep it more casual. Each dinner party is custom designed for you.
Cost: See catering costs above.
Family Meals
Sharing a family meal does so much more than simply feeding you…it nourishes your family with the elements that create memories and strong bonds that last a lifetime. Every family need this!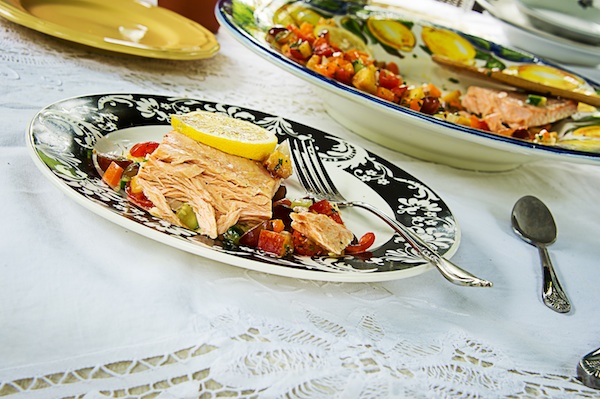 If sharing family meals is important to you, but…
Life gets in the way and hectic schedules make sitting and eating together almost impossible.
You're not a great cook, so you rely on prepared or packaged food for help and would like to change that.
You're a pretty good cook, but coming up with what to make for dinner each night is daunting.
You (and your family) are bored with the same rotation of go-to meals over and over again.
Your kids have directly opposed preferences that make meal planning a nightmare.
Some family member(s) have serious allergies, so planning a meal that everyone likes and can eat is stressing you out.
I can help. If you have answered Yes to any of the above, let's talk.
Seriously, I'm an expert at this. I'm Italian and an experienced chef with her own finicky kids. Sitting down to a family meal is something we did every night when I was growing up. It instilled such a passion in me that I opened a family-friendly restaurant. I also began giving cooking classes in 1995 to inspire others to cook, so they could experience the joy, as well, and the health and emotional benefits that come from sitting at the table together for family meals.
Here's how I can help you make mealtimes a pleasure instead of a chore:
We'll schedule a short phone conversation so I can familiarize myself with your specific needs and desires; time constraints; dietary needs; food preferences; etc.
I'll research and create 5 customized meals that are perfect for you and your family.
You choose 2 – 4 meals for that week. I'll shop, cook and deliver them to your home.
Cost:
$80 per meal for two. Includes appetizer, entree and side + cost of groceries
$35/per adult/$20 per child (under 12) per meal for families of 3 or more + cost of groceries
2 meals minimum per order; $25 flat fee for shopping (Free delivery for 1/2-hour radius from New Milford, CT. Additional $20 for each 2o miles)
Cooking Classes
For details on private lessons Click Here


For details on group cooking parties Click Here
Go – Pro Kitchen Makeovers Click Here