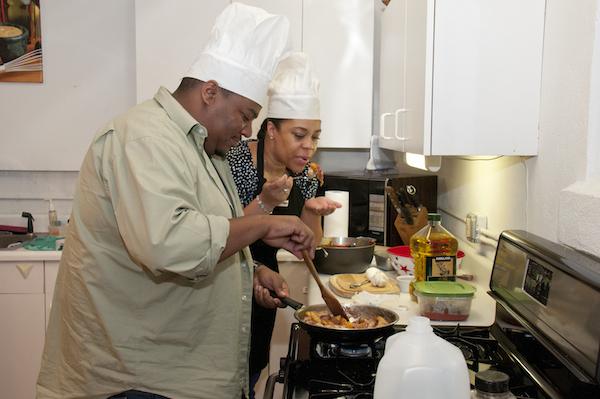 I believe anyone can cook…and I can prove it. I've taught hundreds of people of all ages and skill levels how to cook whatever they want to learn. I know I can teach you, too. Enter the world of culinary magic… right in your own kitchen. Now you, too, can have a personal chef who shares her trade secrets – so you'll be cooking like a pro in no time!
Hands-on. Step by step. It's easier than you think.
Something Else. Here are the details…
You'll get:
A custom-designed menu;
A pantry list (so I don't buy what you already
have);
Step-by-step recipes (with photos); and
Your own personal chef in your kitchen!
I'll do the shopping for all the ingredients.
You'll do the cooking.
Don't have the right stuff? No problem.
I'll bring any pots, pans and tools we'll need.
Cost: $150/hour + cost of groceries
Good for 1 or 2 people
3-hour minimum.
Travel: Free 20 miles from New Milford, Conn.
$25 for each additional 25 miles
Hi Silvia – Thanks so much. Your mozarella was a hit with many of our families. I made the bolognese sauce the very next day and my family loved it!! Thanks again for a truly inspiring evening!!"  –Eileen
Ready to get started? Email me now.
Tell me a little about you, what you want to cook, and when you'd like to schedule your private lesson. Let's meet in the kitchen!