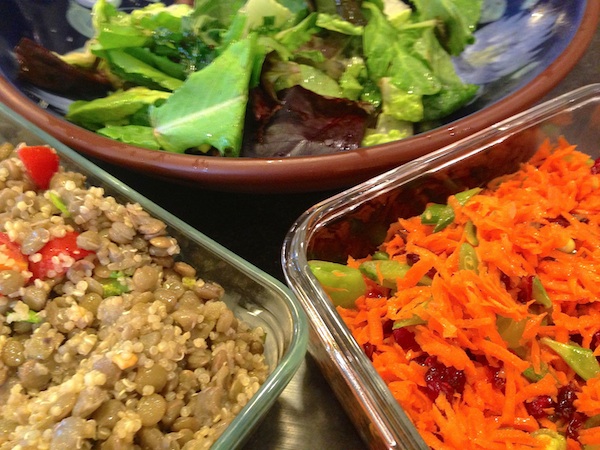 I love layering salads. Each component adds its own distinctive taste, and when sampled together the result is a vibrant symphony of flavors. Making a layered salad is similar to creating an ice cream sundae: start with a base of tossed greens (in a simple oil-and-balsamic dressing) and top with two or more salads.
This one has three layers, but I've done as many as five. You'd think this could get messy, but nothing could be further from the truth. I served hundreds of them when I was doing a stint at a local organic cafe, and the patrons were hooked. I know you will be too, and you'll go on to creating your own combos.
Here's a trio to get you started.
Field greens + Raw carrot salad + Lentil quinoa salad
Raw Carrot Salad
Ingredients:
4 large or 6 medium carrots, peeled
1/2 cup dried cranberries, packed
1/2 cup snap peas (or snow peas), sliced diagonally in 1/4" slivers
1/4 cup extra virgin olive oil
Directions:
Shred carrots in a food processor (or with a box grater) and place in a large bowl.
Add remaining ingredients and toss; season with salt and pepper to taste.
Lentil Quinoa Salad
Ingredients:
2 cups lentils, cooked according to package directions and drained
1 cup quinoa, cooked according to package directions
1 cup grape tomatoes, quartered
1/2 cup fresh parsley leaves, coarsely chopped
2 medium cloves fresh garlic, finely chopped
1/2 cup extra virgin olive oil
Directions:
Mix all ingredients except oil and garlic in a large bowl
Place a small 7" saute pan over medium heat and add the garlic. Cook for about 1 minute, or just until the garlic begins to turn golden. Remove from the heat immediately. Stay close to the pan when doing this since garlic will burn quickly. Remember, garlic will continue to cook even when you remove the pan from the heat, so remove as soon as the garlic begins to color.
Add the oil and garlic to the ingredients in the bowl. Season with salt and pepper and toss
Field Greens
Toss your preferred mix of greens in a simple vinaigrette of one part balsamic to 2 parts extra virgin olive oil, and maybe a squeeze of fresh lemon juice.
Always use less dressing than you think you need. It goes a long way, and no one likes soggy greens. You can always add more if you like. Season with salt and pepper.
Serve each salad in three separate bowls. Place the greens onto individual plates. Top with layers of each salad.
This recipe was my first submission to Mind Body Green where it's finding lots of love in the social media world.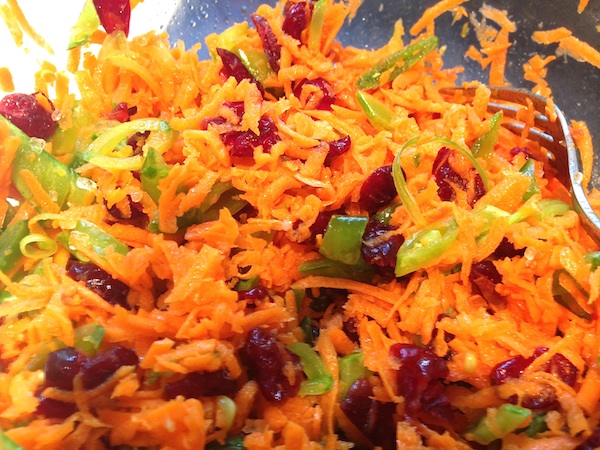 This is a totally new and cool way to make salads interesting, so delicious and super healthy. You gotta try this. And I know you'll come up with amazing layered masterpieces of your own. Talk to me. Tell me what you think of this. Send me a sweet little love note.