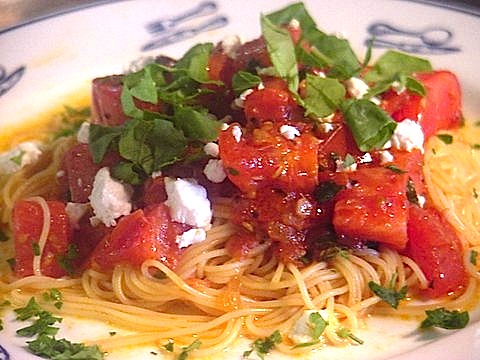 This dish is a personal favorite. It's a perfect blend of simple ingredients that, when combined, is brilliant. I think of this dish as a wonderful culinary example of that old wise saying, "The whole is greater than the sum of its parts."
Makes 4 servings
1 pound angel-hair pasta
3 to 4 tablespoons extra-virgin olive oil
Pinch of red pepper flakes
1/2 medium clove garlic, minced
12 plum tomatoes, cut in medium dice
3 to 4 tablespoons dry white wine
1/2 cup Marinara Sauce (see below)
1/2 cup chicken broth
Salt and freshly ground black pepper to taste
1/4 cup goat cheese, crumbled
7 or 8 fresh arugula leaves, slivered
Marinara Sauce
Cook first because the pasta and the sauce will take about 15 minutes
1 can crushed tomatoes (one with no added garlic or herbs) *
2 tablespoons olive oil (or enough to just cover the bottom of the pan
1 clove fresh garlic–finely chopped
Pinch of crushed red pepper flakes
1 sprig of fresh basil (one with multiple attached leaves) or parsley
Salt and pepper to taste
In a medium saucepan over medium heat add oil and heat until hot but not smoking. Add garlic and pepper flakes and cook for about 30 seconds or until golden. Follow quickly with the tomatoes. Add the basil, lower the heat and simmer for at least 30 minutes until the sauce is cooked (no raw tomato taste) and sweet.
Cook the pasta according to package directions in a large pot of boiling, salted water.
While the pasta cooks, put the olive oil, red pepper flakes, and garlic in a large skillet over medium-high heat for about 30 seconds, or just until the garlic begins to brown. Cook the tomatoes for about 30 seconds, or until they just begin to soften, then add the wine and cook for 1 minute more. Add the Marinara Sauce and chicken broth, bring to a boil, reduce heat, and simmer for about 1 minute, or until the sauce is a light broth and the tomatoes are softened yet still firm. Remove from the heat and season with salt and pepper.
To serve, drain the pasta and toss it in a large bowl with about half the liquid part of the sauce. Divide the pasta among individual serving plates, top each serving with some of the remaining liquid, and distribute the tomatoes among the servings. Top each serving with goat cheese and sprinkle with the slivered arugula.