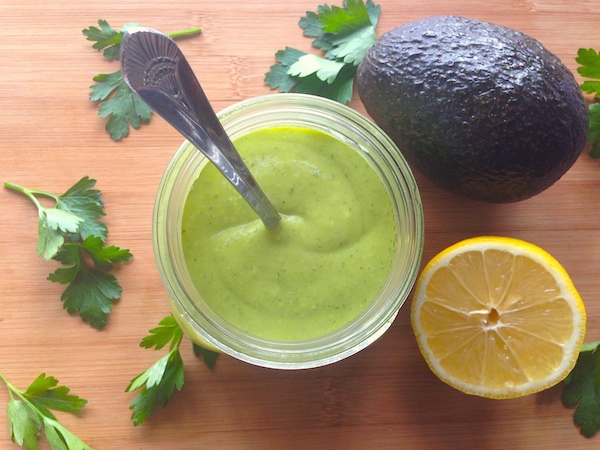 Having a delicious homemade dressing (or two) on hand in your refrigerator is one of the tricks to getting a meal on the table fast without compromising on taste or nutrition. Store-bought dressings are loaded with calories and preservatives. Making your own dressing is a terrific way to jump-start your healthy eating and cooking commitment.
Fresh greens and a delicious homemade dressing form the foundation of so many meals. Add any number of ingredients to the salad (eggs, chicken, veggies, seafood, nuts, or beans) and you have a full meal.
And with a dressing handy you have a short cut that will make cooking easier, faster, and less stressful. I encourage you take store bought dressing off your shopping list. There are tons of recipes online and on this site, including three of my own and of course my new favorite, this lemon avocado dressing below. It's tastes and looks like springtime.
I was inspired to make it the other day because I had an avocado that would soon be overripe if I didn't use it. It's creamy, lemony, satisfying, and can easily be made in about five minutes. Everyone has time for this. This recipe makes enough for several large salads and can easily be doubled or tripled so you can keep a big jar in your fridge and have a quick start to many meals to come.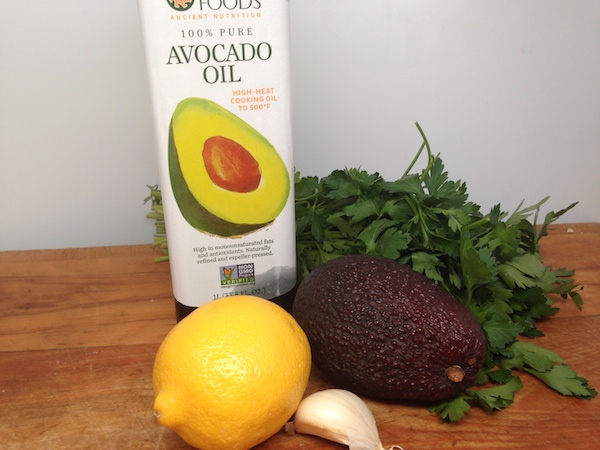 Here are the 5 ingredients I started with. But you can use any high quality oil you like.
Place avocado, parsley, lemon juice and garlic in the bowl of a food processor (or mixer) and with the blade running add oil slowly followed by the water. Puree until smooth.
Ahhh…creamy green goodness. If it's too thick, just add a bit more oil and/or water. Season with your favorite salt.
Avocado-Lemon Salad Dressing 
Makes enough for about 10 salads
Featured Mind Body Green
Ingredients
1 large avocado ripened (skin and pit removed)
1/4 cup (62.5 ml) extra virgin olive oil or avocado oil
1/4 cup water
1/4 cup fresh Italian parsley (flowers only)
1 small clove fresh garlic
Juice of 1/2 lemon
1 tsp (5ml) agave or honey (optional)
Salt and pepper to taste
Instructions
Place all ingredients except oil and water in the bowl of a food processor or mixer. (A high-speed blender works beautifully, too.) With the blade running, add the oil, slowly followed by the water. Puree until smooth. Add a bit more oil and water if too thick.
Refrigerate after use. Enjoy all week!
And now the formula to make any vinaigrette sing.
You'll want to get this because with spring and then summer right around the corner, you may want to lighten things up and a vinaigrette that you can make in a minute is just the thing to dress those beautiful greens that will soon be plentiful.
There's nothing to it. Seriously, I mixed up 3 vinaigrettes right in these bowls (each one a small batch) to test the waters…so to speak. And delightful they were. The perfect amount of emulsion – just enough to lovingly coat any fresh combo of greens – so use what you like. Vary the ratio of oil and vinegar if it's too much tang for your tongue.
A basic vinaigrette is 3 parts oil to one part vinegar but I made these using 2 parts oil to one part vinegar and I liked the result a lot…lower in calories too. Feel free to double or triple the recipe…but try it as instructed below first. But vary the herbs to your liking or add a pinch of this or that. This recipes will start you off right.
Basic Vinaigrette
1/4 cup vinegar (62.5 ml) of your choice
3/4 cups (187.5 ml) oil of your choice
Garlic, scallions, shallots, fresh herbs, fresh citrus juice, spices, seeds, mustard, honey, agave or brown sugar (optional)
Pinch of salt and pepper
I made 3 types of vinaigrette, simply by changing my choice in vinegar. For the top right I used apple cider vinegar; the top left was red wine vinegar and for the bottom I used balsamic. I also used a tablespoon of honey in the apple cider and red wine versions and a teaspoon of mustard in the balsamic. For my choice of herb…finely chopped parsley.
So start with the basic recipe and play around with what suits your taste buds. And remember the key to a terrific vinaigrette is emulsion. Here is the basic instructions.
Instructions
Add vinegar, salt & pepper and optional ingredients to the bottom of a small bowl and grab a whisk. Add the oil very slowly while whisking. The mixture will emulsify, thickening quickly while incorporating the vinegar and other ingredients throughout the oil. Much better together than when they separate. Hmmm, is there a message in that? Refrigerate after using and shake them up before using again.
Hope this helps. Before you go…Leave me a comment below…especially if you like this recipe or want to share a trick of your own. Or you can just comment on the photo and the lovely green color. Doesn't it remind you of springtime? Really…it makes me feel so good to hear from you. How else am I to know what you like or not?