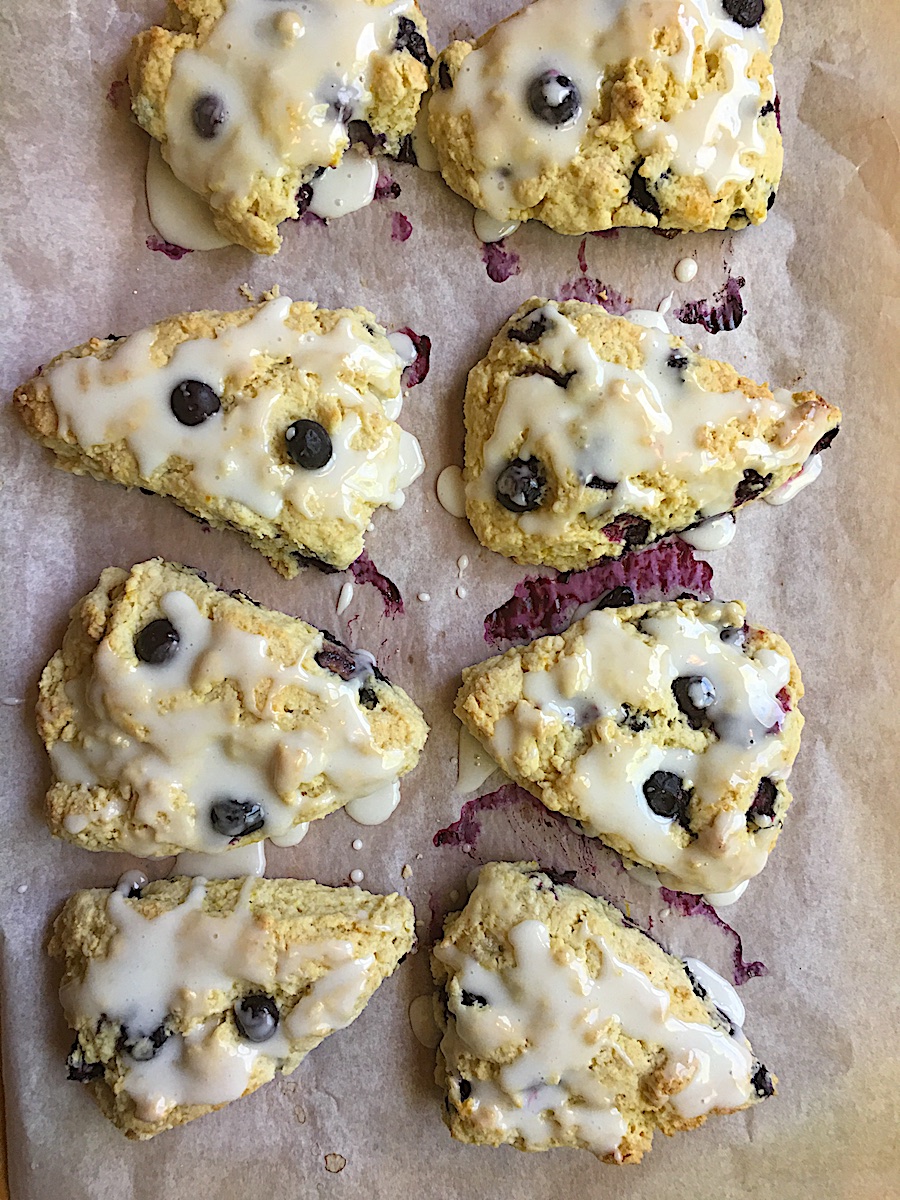 I had lots of fresh blueberries the other day and I wanted to use them in some sort of baked goods. I had made a blueberry lemon cake not too long ago for my son's birthday that turned out terrific but this time I was baking just for me so I wanted something that would freeze well! Scones were it!! I came across this recipe from averiecooks.com and knew immediately that this was a good one.
I followed the recipe exactly except that I used fresh blueberries instead of frozen mixed berries and made my glaze from confectioners sugar and lemon juice and they turned out fluffy, light and a perfect balance of tart from the berries and sweetness from the dough. I ate one of these blueberry lemon scones immediately, saved another for coffee the next day and froze the rest in individual baggies so I could defrost one at a moment's yearning.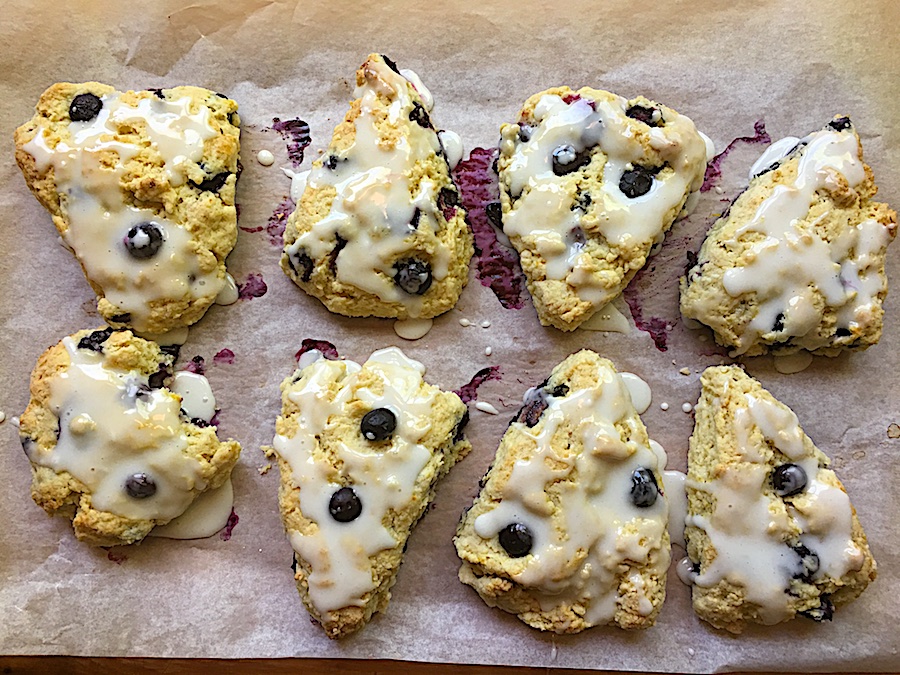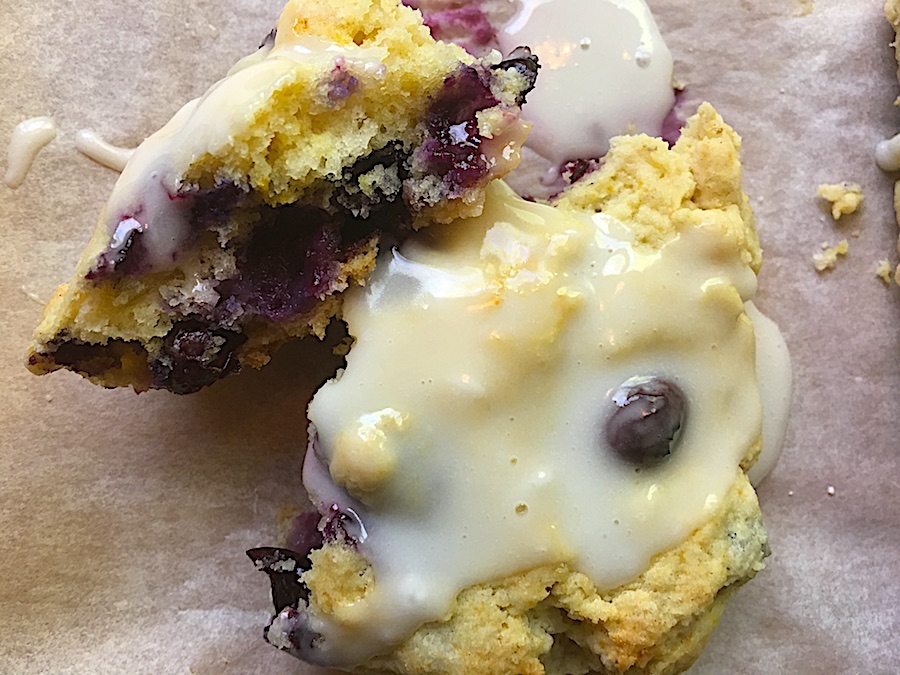 Ingredients
2 cups all-purpose flour + about 2 to 4 tablespoons for work surface and hands
1/2 cup granulated sugar
1 tablespoon baking powder
pinch salt, optional and to taste
1/2 cup unsalted butter, cold (1 stick)
1 large egg
1/2 cup sour cream (lite is okay)
1 teaspoon vanilla extract
1 heaping cup fresh blueberries 
1 tablespoon lemon or orange zest, optional 
Glaze
1 cup confectioners' sugar
about 1 tablespoon cream or milk (or substitute with orange or lemon juice)
Instructions
Preheat oven to 400F. Line a baking sheet with a Silpat or parchment; set aside.
In a large bowl, add 2 cups flour, granulated sugar, baking powder, optional salt, and whisk to combine.
Add the butter, and with a pastry cutter or two forks, cut the butter in. You can use a food processor, but I find not having to wash it is a big time-saver. I smoosh the butter with forks and when it's the size of large marbles, I use my hands and knead it in. It will feel like semi-wet, cool sand. Some larger pea-sized butter clumps are okay; set bowl aside.
In a small bowl, add the egg, sour cream, vanilla, and whisk to combine until smooth.
Pour wet mixture over dry, and fold until just combined with a soft-tipped spatula; don't overmix or scones will be tough. Dough will be wet and shaggy.
Fold in the berries and optional zest.
Sprinkle about 2 tablespoons flour over a Silpat  or clean work surface and lightly coat hands.
Turn dough out onto surface and knead it into a 8-inch round, approximately. Dough is very moist, wet, sticky, and tacky, but if it's being too stubborn or too wet to come together, sprinkle with flour 1 tablespoon at a time until you get it to come together and into a round.
With a large knife, slice round into 8 equal-sized wedges.
Using a flat spatula or pie turner, transfer wedges to prepared baking sheet spaced at least 2-inches apart. Do not crowd because scones puff and spread while baking. Tip – try to make sure there are no exposed berries touching the baking sheet because they'll be prone to burning.
Optionally, sprinkle each wedge with a generous pinch of turbinado sugar, about 1 teaspoon each.
Bake for about 18 minutes, or until scones are very lightly golden and cooked through. 18 minutes in my oven with frozen fruit is perfect, but if using fresh fruit, baking time will likely be reduced. A toothpick inserted in the center should come out clean or with a few moist crumbs, but no batter. Because they're baking in quite a hot oven, watch them closely starting after about 15 minutes to ensure the bottoms aren't getting too browned.
Allow scones to cool on baking tray for about 5 minutes before removing and transferring to a rack to finish cooling. While the scones cool, make the glaze.
In a small bowl, combine the confectioners' sugar and cream (or citrus juice).
Whisk together until smooth. Depending on desired consistency, you may need to play with the cream and sugar ratios slightly.
Evenly drizzle the glaze over the scones before serving. Scones are best fresh, but will keep airtight at room temperature for up to 4 days. I'm comfortable storing glazed items at room temperature, but if you're not, glaze only the scones you plan to consume immediately; I don't recommend refrigerating them because they will dry out.
reposted from: averiecooks.com