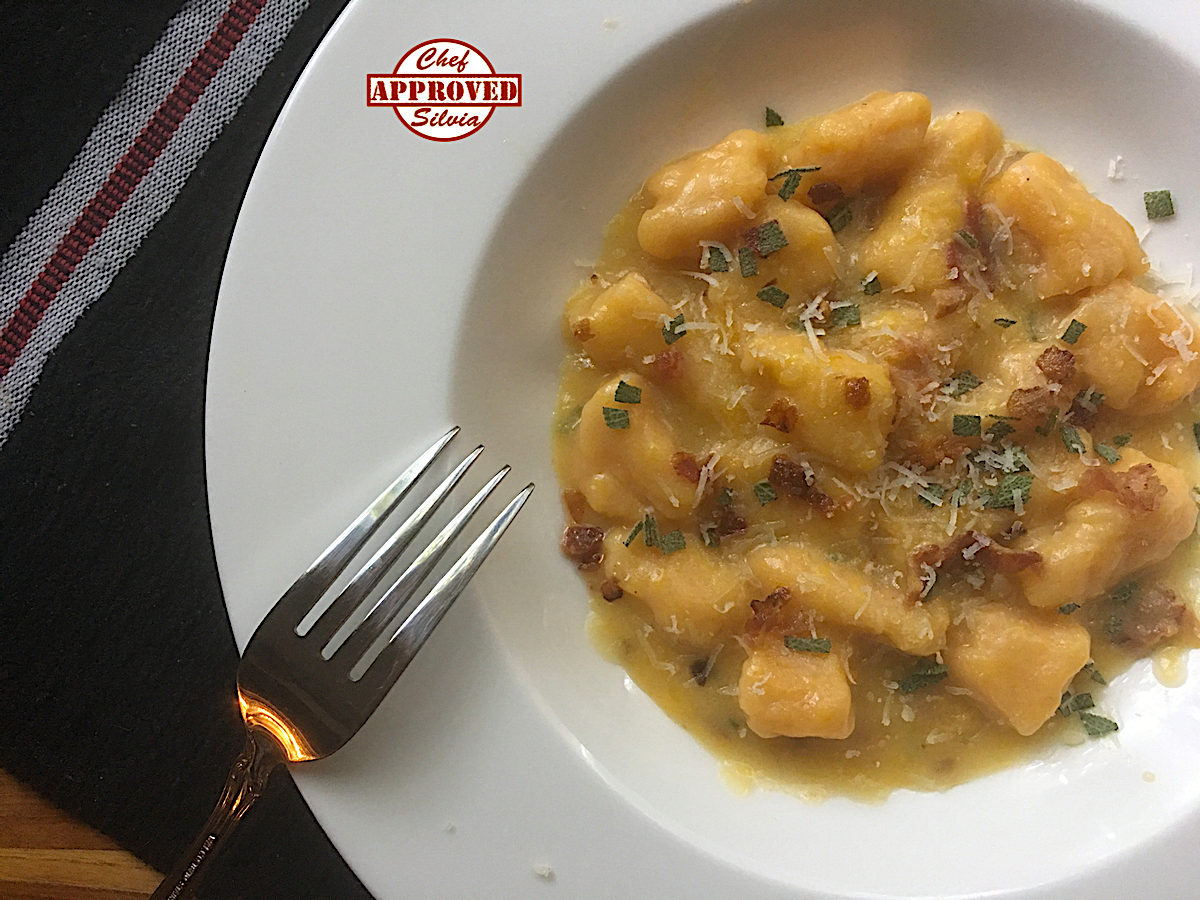 I made this butternut squash gnocchi 4 times…each time testing and tweaking the recipe until I got it just right. The first time I used a combo of squash and potato. It was good but too heavy. I hadn't squeezed the liquid out of the squash. The next time I did squeeze all the liquid from the squash and they turned out to be too dense and too sweet. So the next time I drained the squash (but only through a sieve without squeezing it through a cheese cloth) and combined it with mashed potato…good, not too sweet, not too dense… but didn't get enough of the squash taste. Finally I got it just right with the recipe and proportions below.
Ingredients
1 large or two small butternut squash gnocchi (2 cups pureed) + reserve 1 cup for the sauce below if desired.
1 large baking potato (1 cup mashed)
1 1/2 cups unbleached white (or your favorite) flour
1/4 cup grated parmesan
Pinch or two of salt and pepper
Instruction
Pierce the squash and the potato with a fork and microwave each about 10 minutes. Cut the squash in half lengthwise. Remove seeds and roast in the oven, cut side down on a parchment paper lined baking sheet, in a pre-heated 350 degree oven for about 20 minutes until soft and can easily be removed.
At the same time wrap the potato in foil and bake until easily pierced with a fork. About 20 or more depending on the size of the potato.
Scoop out the squash, mash and squeeze out excess liquid using a cheesecloth or heat the mashed squash in a pan over low heat until excess liquid is evaporated. Add to a large bowl.
Mash the potato and add to the squash mixture. Add the flour and the parmesan. Season, mix and knead until it forms a workable dough. Add more flour if needed a bit at a time.
On a floured board, and working in small pieces, form a rod aproximately 1/2 inch thick and a foot long. Cut rod into about 1 inch pieces. Make an indentation with your thumb to form a grove in each piece, or make groves with a fork.
Set aside on a baking sheet. Boil what you want until the gnocchi rise to the top and cook for about 2 minutes more. Test one to make sure they're done. They should be soft without a lingering raw flour taste.
Serve with a sauce of your choice. I made the following:
Creamy Butternut Squash Sauce with Bacon.
On a parchment papered bacon sheet, cook 4 – 5 strips of bacon until crunchy.
In the same pan, over low/medium heat, add 1/4 cup olive oil + 1/4 cup butter. Add 1/4 cup flour to make a paste. Cook for a few moments. Slowly add 1/2 cup chicken broth, stirring with a whisk constantly to form a creamy sauce. Add more broth a bit at a time if too thick. Whisk in the pureed squash. Stir to incorporate. Add in crumbled bacon (along with a drizzle of the bacon drippings if desired).  Season with salt and pepper. Add a bit more broth if needed and a splash of cream if desired.