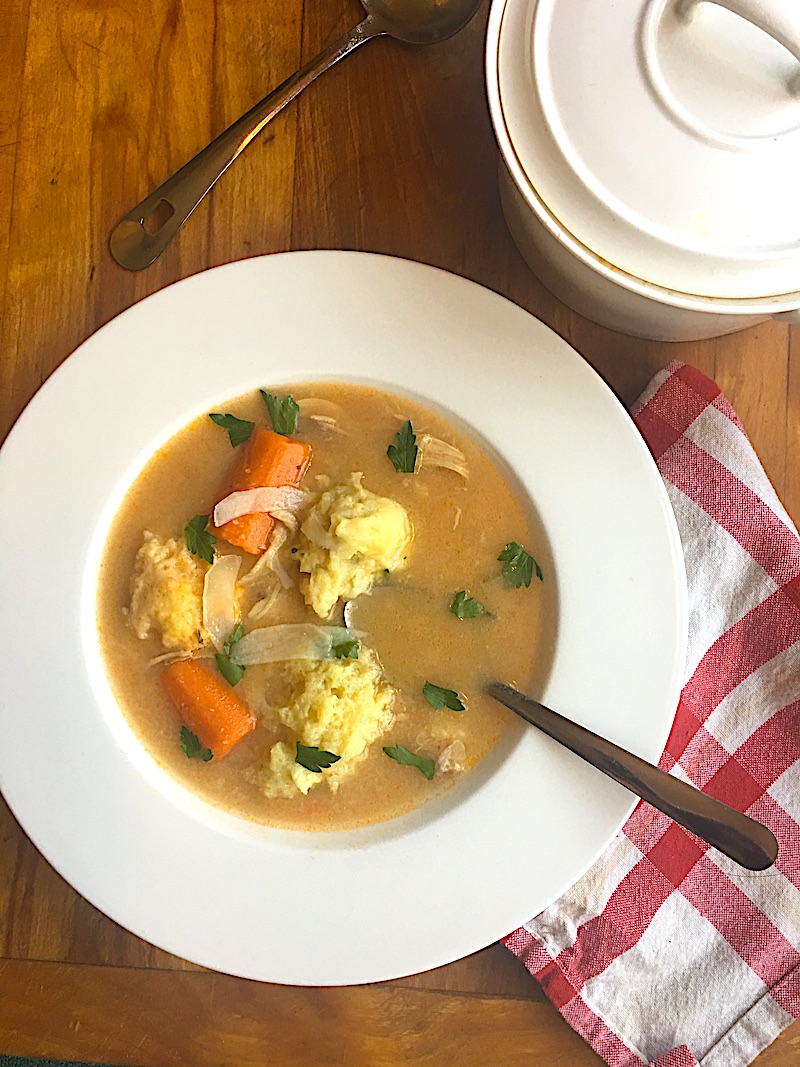 Chicken soup, the classic symbol of the healing kitchen gets even more comforting when it's chicken and dumpling soup. The broth is thicker and richer and instead of noodles, it's loaded with soft dumpling that grow in the rich chicken broth and become infused with its wonderful flavor.
If you've never made this, you must give it a try. It's guaranteed to become a favorite in your kitchen that family and friends will ask for time and time again, especially when it cold, rainy, or snowing outside. When sitting down to a bowl of this classic soup, all, if even for a few moments, is right with the world. And that my friends is no small thing.
Ingredients
6 to 8 chicken legs or thighs
1 quart (.94 liter) of chicken broth *see below
3 to 4 carrots – peeled and cut in small or medium pieces
3 to 4 celery stalks – chopped
Garnish – fresh flat leaf parsley and or slivers of parmesan cheese
Note: I start my soup with enough water to generously cover the chicken and then I add spoonful of chicken base (a concentrated chicken paste) to flavor the water as needed. Makes making soup so much easier. Much like bouillon but better! Called…Better than Bouillon. Available online as well as stores almost everywhere.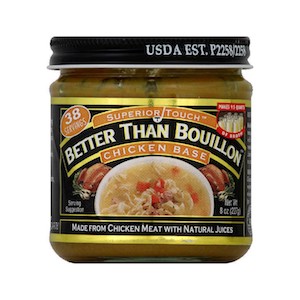 For the Dumplings
1 cup unbleached white flour
1/2 cup of buttermilk
1 beaten egg
2 teaspoons of melted butter
2 teaspoons baking powder
1/2 teaspoon salt
Pinch of black pepper
1 tablespoon fresh chopped parsley
Instruction
Usually I start my soup with sautéing carrots, celery and onions but not in this case for two reasons. First I don't like little chunks of onions in my brothy soups and next I like to add carrots and celery much later so that by the time the soup is done they're not total mush!
Place the chicken and enough water to generously cover it in a large stock pot and place it on medium heat. Simmer for about an hour until the liquid is reduced and the chicken is thoroughly cooked. Remove the chicken from the pot and when cool enough to handle, separate the meat from the bone and set aside.
To thicken the broth add about 1/4 cup of broth to a separate small bowl. Add 1/4 cup of flour and stir to make a paste. Slowly add additional broth, stirring to incorporate into the paste, adding enough broth until it's a thick, smooth liquid. Pour back into the pot of both.
Add the carrots and the celery. Season with salt and pepper. Make the dumplings and drop by tablespoons into the pot. Cover and simmer for about 20 to 30 minutes until the dumplings are fully cooked.
Add the chicken meat back to the pot, warm for a few minutes, check the seasoning and serve. Garnish with fresh parsley and slivers of parmesan if desired .
For the Dumplings
Combine the flour, salt, parsley and baking powder to a small bowl. Add the beaten egg, the butter and the buttermilk and stir gently until it's all mixed. Don't over mix since it will make the dumplings more dense and not as light.