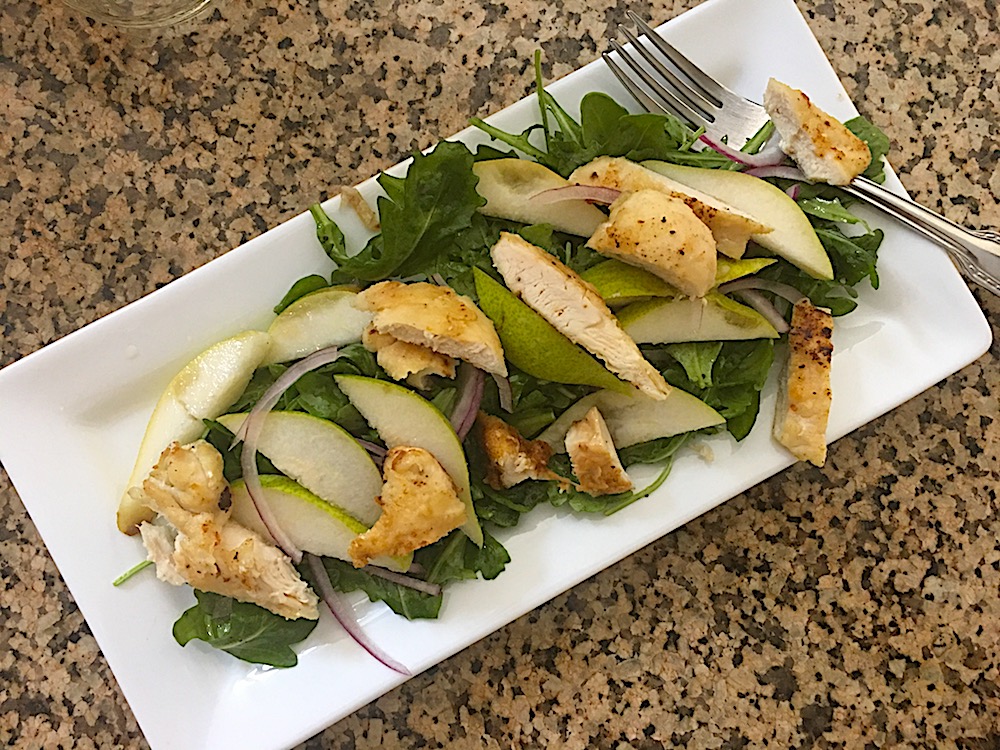 This Chicken, Pear, Arugula Salad is one I served for many years in my former restaurant. Over the years we must have sold tens of thousands of them and even now, many years later, it's still on of my son's favorite salads. He had a urge for one the other day and wanted me to show him how I made the apple cider vinaigrette dressing which he tried to recreate but failed. So of course I showed him…and then we had this dish for lunch. It was perfect for a refreshing meal on a hot, humid August day.
The pears were from a local farm stand, the arugula fresh and crisp, and the chicken prepared simply in a sauté pan with a light coating of seasoned flour. Feel free to top it with cheese: gorgonzola, asiago, goat…anyone of your favorites will do nicely.
Ingredients (serves 4)
1 lb (453 g) boneless chicken tenders
8 oz (227) baby arugula
2 medium ripe pears – core removed and sliced
1/2 small red onion – sliced thin
Olive oil to lightly cover the bottom of a medium skillet
Flour for dredging
Season with salt and pepper
Sliced cheese of your choice (optional)
Dressing
1/4 cup (59 ml) extra virgin olive oil
1/4 cup apple cider vinegar
1 tablespoon sugar
Season with salt and pepper
Instruction
Place a medium skillet over medium heat, add just enough oil to lightly cover the bottom of the pan and heat until hot but not smoking.
Season the chicken tenders with salt and pepper and dredge them in seasoned flour. Add to the skillet and cook until golden on one side and the meat is opaque and no longer translucent (about 4 or 5 minutes). Flip and do the same on the other side until cooked through. Remove from a pan and onto a paper towel.
In the meantime, make the dressing. Whisk it all together or shake it in a jar. Pour over the arugula until all the leaves are moist but not soggy. I tend to underdress a salad because I can always add more. Toss the greens and place onto individual plates or bowls.
Top with the chicken, the pears, the onions and cheese of your choice if desired.