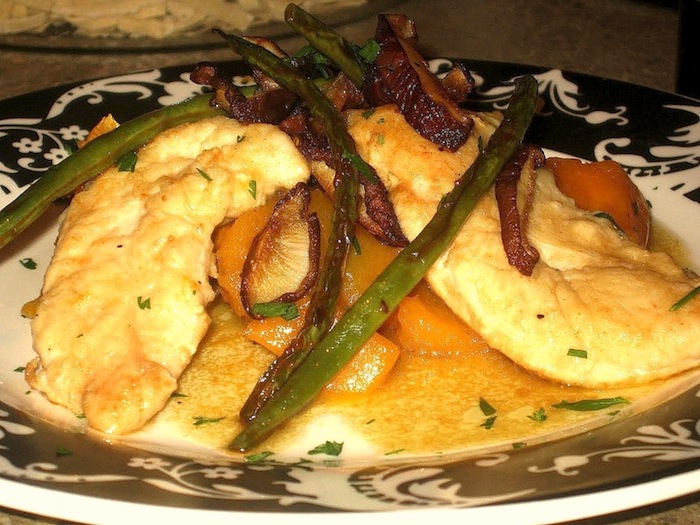 I've fallen in love…
with another vegetable. It's orange like a sweet potato…but not quite as sweet. It's a good source of vitamin A, C and E and rich in potassium and magnesium. It can be roasted, mashed, grilled, and even sautéed. It can be a salad, a soup, or a side dish.
But of course you know what it is because I said so in the title.
Squash
But for this recipe, I'll be treating it in a way that's probably surprising. Of course I'll be nice, but this sweet member of the winter squash family is going on a whirl…
from the oven, to the sauté pan. Yep…double love.
i had a fling with this recipe years ago, but I thought it needed a little tweaking, so I dressed it up in Autumn splendor (just like the leaves are showing us here in the Northeast States) paired it with thin filets of sautéed chicken (which you can easily leave out if you're a vegetarian) and topped it with sautéed string beans and mushrooms. I really dressed it to the 9's.
If this sounds like a lot to do for one dish, you're right. It's not for a busy weeknight. It's not hard at all – but it does take a bit of time – unless you plan ahead. Don't worry, I'll be your guide. And I gotta tell you, it's worth it.
It's one of those recipes that's perfect with two in the kitchen dividing the tasks. So grab your honey…or your kid…and try this. You won't be sorry.
Ingredients
12 thin pieces of boneless chicken breast – seasoned and dredged in your favorite flour (GF is fine)
1 butternut squash – cut in half lengthwise, seeds and fibers removed (no need to peel)
4 tablespoons flour
4 tablespoons olive oil

4 tablespoons butter

4 tablespoons maple syrup

1 cup chicken broth (or vegetable broth)

1/2 lb. shitake mushrooms – stems removed and sliced

1/2 lb string or French beans
Instruction
Preheat oven to 400 degrees
Place squash – cut side down – on a greased baking sheet  and bake until cooked (can be pierced with a fork but still firm (about 30 minutes). When it's cool enough to handle, cut a grid of small bite sized squares, scoop out the squash and place in a bowl.
In the meantime while the squash is roasting…
Heat a large saute pan over medium heat. Add the olive oil and heat until hot but not smoking. Add the chicken (dredged with flour) and cook until golden on each side and cooked through (about 4 minutes depending on the thickness of the chicken). Remove, and set aside.
Lower the heat, add the flour and mix with the juices in the pan. Cook for about one minute until golden. Add the broth slowly, stirring to incorporate with the flour. Reduce the sauce for about 2 minutes (add a bit more broth if too thick) until it resembles the consistency of a thin syrup. Add the squash and the syrup to the pan along with the butter. Season and toss until the pieces are warm and coated with the sauce.
For the Vegetables
Blanch the beans in boiling water on the stovetop for about 3 minutes or place them in the microwave in a bowl of water. The reason for this is that you need to partially cook the beans first, before sautéing them or else they'll get too dark on the outside but still be undercooked.  (If using French beans, which are much thiner, you do not have to blanch them first).
Next, place two tablespoons oil in a saute pan that the beans were in and heat until hot but not smoking. Add the mushrooms and cook until golden and crispy (about 3 minutes). Don't over stir them or they won't get brown and crispy. Remove and drain on paper towel, season with salt and set aside.
Plate by piling the squash onto the center of each plate, anchored by the chicken. Drizzle with the sauce, top with the mushrooms and the beans. Serve and enjoy!
Any questions about this recipe, ask me in the comments below.
Or tell me, what's you're favorite recipe to fuss in the kitchen?