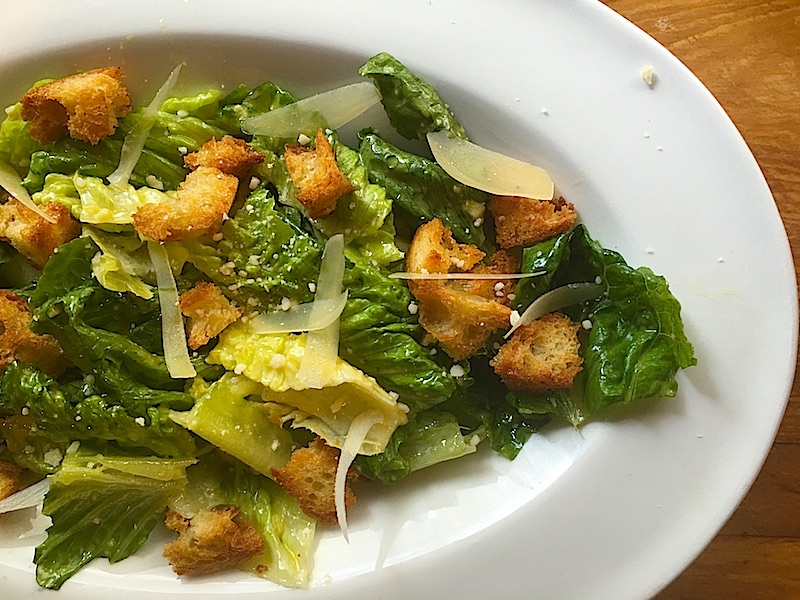 A classic caesar salad is a classic simply because it's so good it has stood the test of time. For this salad to be as good as it's meant to be…it's all about the dressing. It can be tricky but in this recipe I'll give you the formula so that it always works out.
Ingredients
I head romaine hearts
4 to 5 slices of ciabatta (or other) bread – cut in half inch slices, crust removed
3 to 4 pats of melted butter
Toss with a few spoonfuls of dressing (below)
Finish with a sprinkling of grated parmesan + slivers of whole parmesan
Dressing – Ingredients
1 egg yolk
1 medium garlic clove – finely chopped
2 to 3 filets of anchovy – finely chopped
2 tablespoons (14.8 ml) fresh lemon juice
2 tablespoons grated parmesan
Squirt or two of spicy mustard
1/4 cup (59 ml) canola oil
Instructions
Place egg yolk, garlic and anchovy, lemon juice and mustard in the bottom of a large bowl and whisk together
Drizzle in the oil, a few drops at a time while whisking rapidly and then slowly you can increase to a slow stream until the oil is used and the dressing is emulsified. Whisk in the cheese and season with salt and pepper.
In the meantime, slice the bread, cut off the crust and tear (not cut) into pieces. Place in a bowl, add the melted butter, toss and place on a parchment papered baking tray and bake in a 375 degree F (190.55 C) oven for about 15 minutes or until crispy and golden.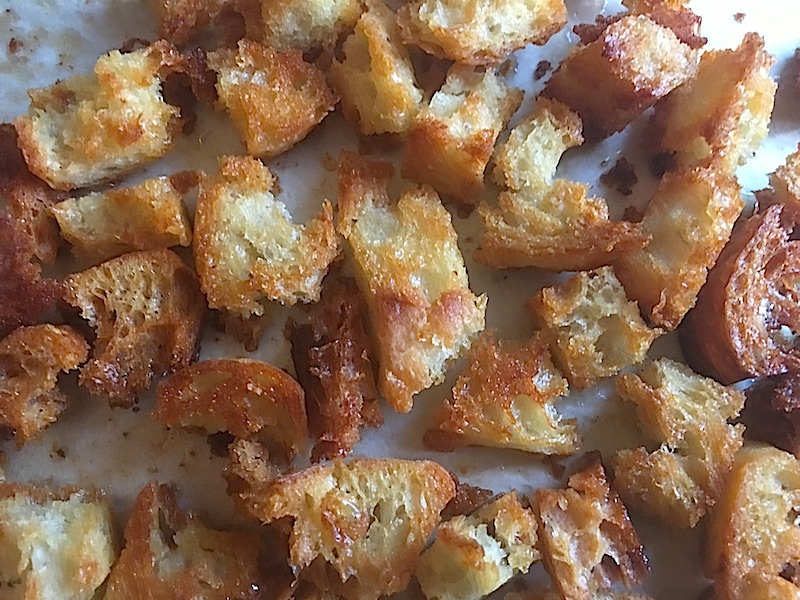 Tear (not cut) each leaf of romaine in bite sized pieces and place in a large bowl. Add a spoon or two of dressing, just enough to coat the greens and toss the romaine. Season with salt and pepper.
Place on a serving plate or bowl. Top with grated parmesan, the croutons and slivers of whole parmesan.
And if you like, top with chicken or shrimp. I added some blackened chicken because I like it spicy.