I love puréed soups. They're creamy in texture and so satisfying. And they're the only way my (grown) daughter will eat vegetables! Zucchini are plentiful all year long (in most places). They're inexpensive, low in calories because of their high water content (17 per 100 grams) rich in vitamin A, antioxidants and fiber and a good source of potassium.
I garnished this with a swirl of cashew cream (and put some cream in the soup as well) and some finely diced tomato for color but you can garnish it with some toasted nuts or shredded cheese or even some avocado. Get creative. And if there's leftover soup, it freezes beautifully.
This soup makes a beautiful presentation.  How about this for St. Patrick's day?
Okay…so these are the steps for making this awesome soup!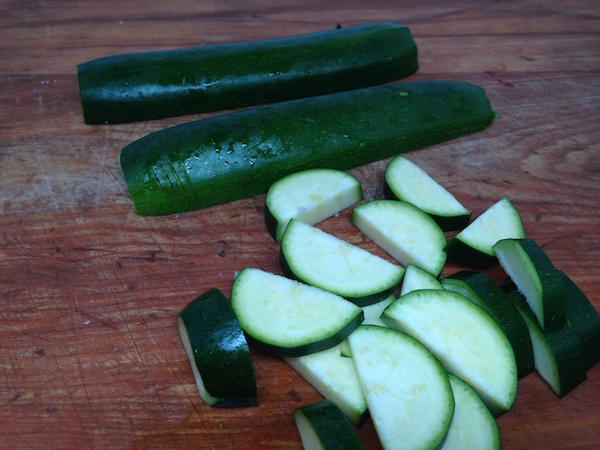 Gather your zucchini. Wash it and cut it like this.
Keep chopping until all those beautiful green squash is in half moon pieces. Try your best to keep them similar in size. You don't have to get perfect with this. It's just so all of the zucchini will cook at the same time…which is why we chefs are always careful to think about how we cut everything.
Now put your pot over medium heat and add enough oil to cover the bottom of the pan. In the meantime chop your onion and add it to the hot oil. Cook until softened.
While the onion is cooking, chop the garlic and add it to the pan when the onion is soft. Add a pinch of red pepper if you want a little heat but stay put because this won't take long. The garlic will color in well under a minute and then you can add the zucchini.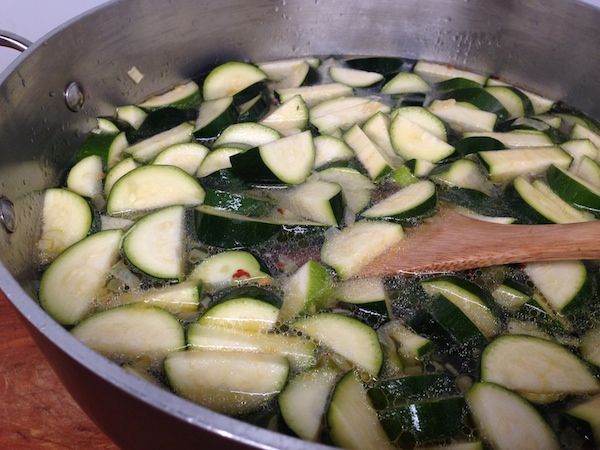 Once the zucchini is in the pot, add just enough water to cover the zucchini. Turn up the heat and bring to a boil, then turn it down a bit and let this simmer for about 20 minutes. Now you can take a break or clean up the kitchen because you're almost done and this has to cook.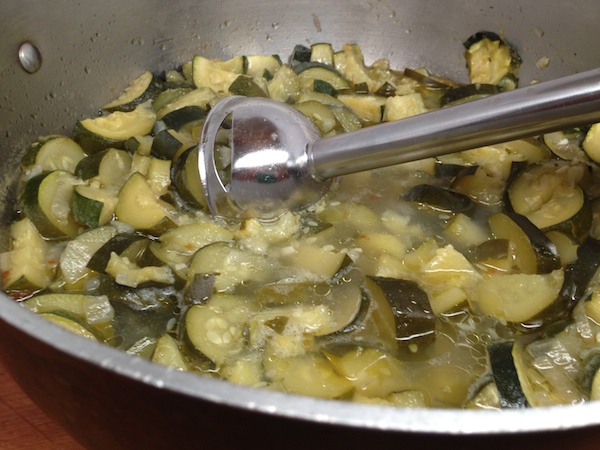 When it looks like this, you're ready to puree it. If you have an immersion blender, this is easy peasy. you can do it right in the pot. If not then you'll have to work in batches and puree in a food processor or blender.
And it'll look something like this! But it won't have a lot of flavor at this point – even with the onions, garlic and pepper flakes.
You'll need to add some base. It can be chicken or veggie. Just a teaspoon or two until you reach your desired flavor. This product comes organic but I just didn't have any at the time. You can order it on Amazon. It's great to add flavor when you don't want more liquid. The other thing you can do is cook the zucchini in broth (or half water and half broth).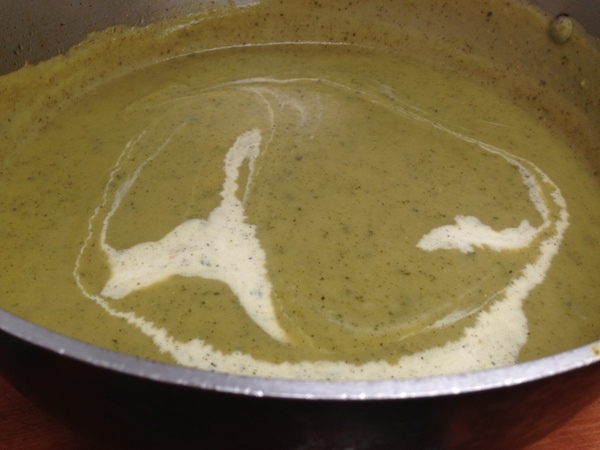 Then add the cashew cream (or you can use cream if you like). Simply pour it in and stir. But don't forget to reserve some cream so you can make a pretty pattern in the serving bowl. Check seasonings and adjust.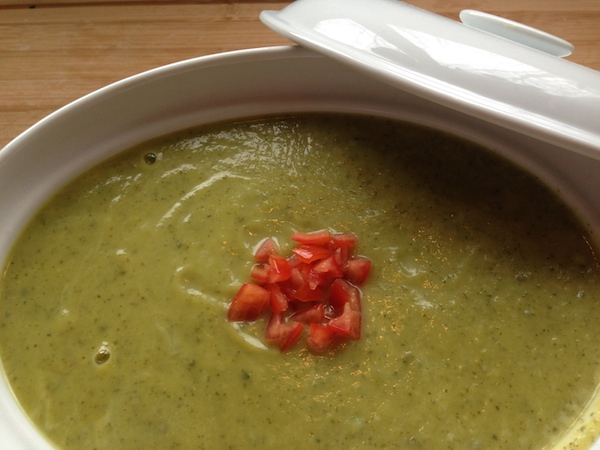 Or skip the swirl…and then you can garnish with a bit of chopped tomato.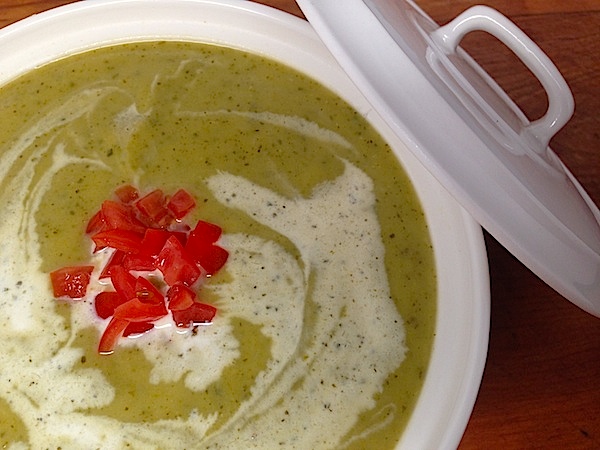 But this is too pretty not to do. Don't you think?
I'd love your comments about this new formate as well as the recipe? This takes quite a bit of time so let me know if this is helpful.
Ingredients (makes about 2 quarts or almost 2 liters)
3 lbs. zucchini (1.350 kilograms)
1/4 cup cashew cream (see below) + extra for swirl (62.5 ml)
3 Tbsp. olive oil (or enough to cover bottom of the pot (45 ml)
1 medium onion, diced
1 medium garlic clove, finely chopped
Pinch of red pepper flakes, for a little heat
1 or 2 tsp. vegetable base (1 tsp = 4.76g)
Water to cover the top of the zucchini
Grape tomato, finely diced for garnish
Salt and pepper to taste
Directions
Cut the zucchini lengthwise, then in approximately 1/2-inch slices
Place a medium saucepan (4 quarts or larger) over medium heat, add oil to lightly cover the bottom of the pan and heat.
Add onions and cook for about 3 to 4 minutes or until softened.
Add pepper flakes and garlic and cook just until garlic begins to color.
Add zucchini and cover with cold water.
Turn up the heat and bring to a boil. Reduce heat and simmer for about 20 minutes or just until the zucchini can easily be mashed with a fork.
Purée in a food processor or with an immersion blender.
Return to the saucepan, stir in the cream. Season with salt and pepper and add a teaspoon of base for extra flavor.
Plate and garnish with an a bit more cream. Swirl and garnish with chopped tomato.
For the Cashew Cream
Place 1/4 cup of raw cashews in a small bowl and cover with cold water. Let them soak for at least 20 minutes, drain, place them in a food processor or blender, along with 1/4 cup of water and then purée
Add a bit more water if too thick. It should be the consistency of heavy cream.