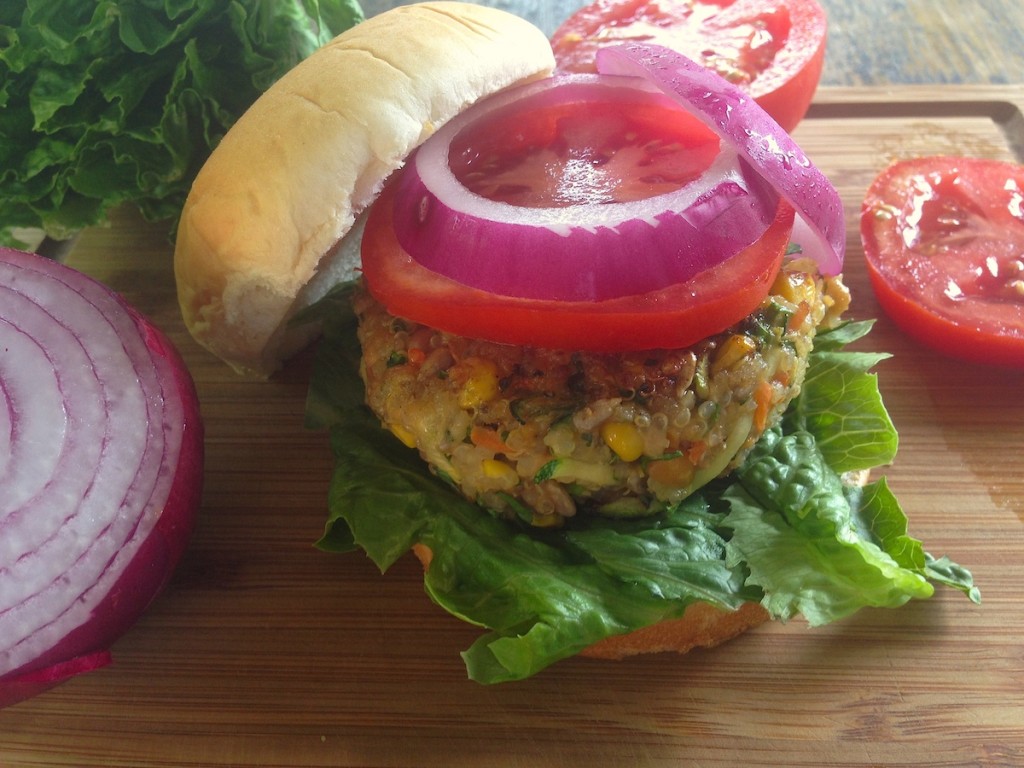 A few years ago I worked for a friend who has an awesome organic cafe. Together, we embarked on a quest to create the ultimate veggie burger and yielded great success. However, this tasty little meatless burger was so time-consuming that it never really took off until my time at that cafe was over.
These days, since I like things to be easy, I decided to revisit the original recipe by taking the best elements from that burger and reinventing the wheel. The results? A no-fuss quinoa and bean-based patty loaded with raw veggies and bursting with flavor and spices.
My challenge to you is to let this recipe serve as a guide. Follow the instructions for the base and veggie ratios, but then feel free to get creative by spicing and dressing it up to your liking. If you'd like to try this with different veggies, go for it! Just be sure to keep them raw so they can be grated which, along with the seeds, give these burgers that unique crunch.
Another bonus is that these burgers freeze beautifully! You can easily double or triple the recipe; pan sear them on both sides and freeze them individually so that there's always something good to eat within easy reach. When you're ready to eat them, simply remove the burgers from the freezer and place into a baking dish. Bake in the oven at 350 degrees until warmed through (about 20 to 25 minutes).
I cooked these in a skillet (because I do everything in a sauté pan if I can) but you can also use a grill pan or cook them on an outdoor grill as long as the grates are not too far apart. Just make sure the grill or the pan is well oiled and hot — you want to get a nice sear on them.
ngredients
1 cup cooked quinoa
1 cup cooked mashed garbanzo beans (or you can use kidney, black or any type of bean you like)
1/2 cup grated carrots
1/2 cup grated zucchini (squeezed in your hands to remove excess moisture)
1/2 cup chopped kale
1/2 cup cooked corn off the cob (optional but I had some leftover)
4 Tbsp. sunflower seeds
4 Tbsp. flour — regular or gluten free
3 – 4 Tbsp. chopped, flat-leaf parsley, stems removed
1 Tbsp. nutritional yeast
1 tsp. chia seeds
1 tsp. cumin
1 tsp. soy sauce
1/2 tsp. salt
1/2 tsp. pepper
Directions
Place all of the ingredients in a large bowl and stir well to combine. Make patties by forming the mixture into five or six large, packed balls. Work each ball individually with your hands until the ingredients stick together. Add a bit more flour if too wet and more crushed beans if you need a little more binding. If you want to make these ahead of time, stop here and refrigerate.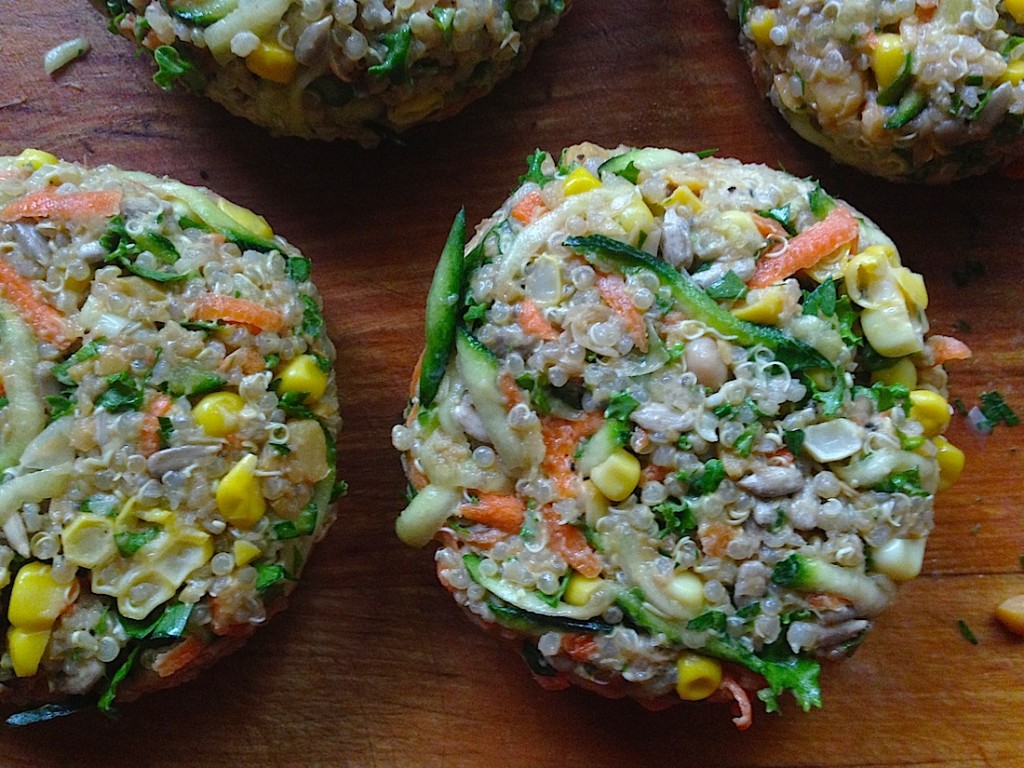 Next flatten each one into the shape of a burger and set aside.
Place a skillet over medium/high heat and add your favorite cooking oil – just enough to cover the bottom of the pan – and heat until hot but not smoking. (Or fire up the grill!)
Add the burgers to the pan and cook on one side until you get a nice brown sear (about 1 minute) and flip. (Sear the other side and then stop here if you plan to freeze them.)
Cook for 30 seconds then cover the pan, lower the heat to medium/low and cook for another 2 or 3 more minutes until warm throughout.
(Sorry, no photos of this. It was getting too dark…but I think you get the picture.
Alternatively you can just flip the burgers and finish them in a 350-degree oven for about 10 minutes until the underside is brown and the inside warm.
Serve on your favorite roll with your choice of toppings, or place on a bed of mixed greens for a gluten-free option.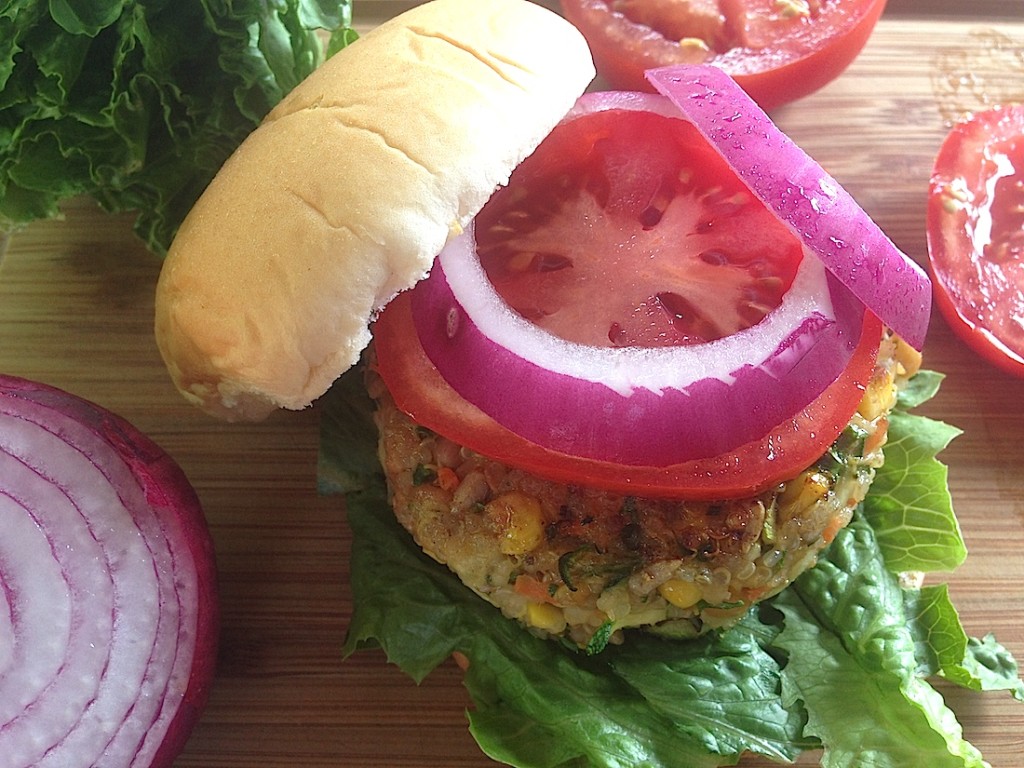 Also featured on Mind Body Green