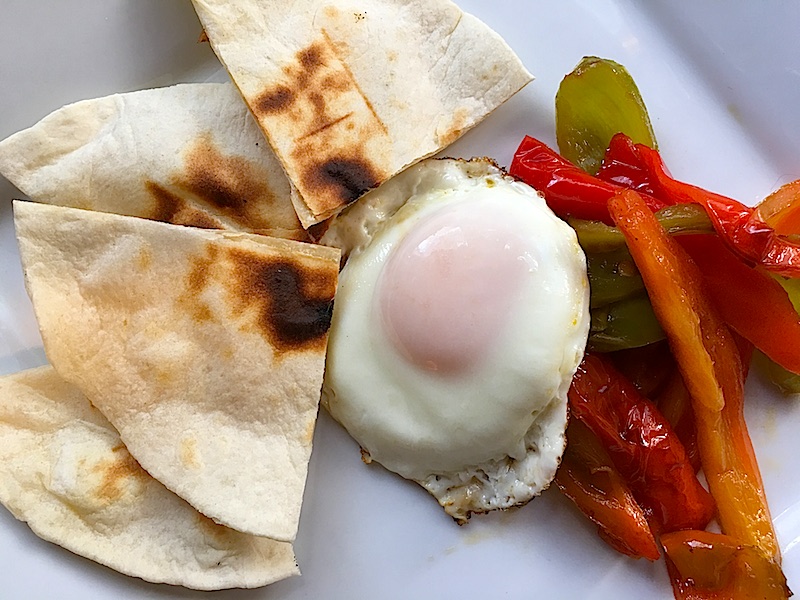 After a lifetime of cooking, 20 of them professional, I have found that the tastiest dishes are often the simplest…like this one. Sautéed cubanelle peppers, an egg (anyway you like them) and some bread, or in this case, a flour tortilla.
As a child, my mother used to make me and my siblings scrambled eggs and peppers. It was one of those simple delights that has stayed with me all these years. This is another version of this dish.
Make a big batch of these peppers because you'll want to add them to sandwiches, salads, pasta dishes, or alone with some crusty bread. I can't even begin to tell you how good they are!
Eggs and Peppers – a marriage of simplicity
Ingredients
Cubanelle peppers (Italian frying peppers) – sliced and ribs and seeds removed; at least 1 per person
Eggs – one per person
1/4 cup olive oil – or enough to cover the bottom of the skillet
Salt and pepper to taste
Instruction
Place a skillet on medium heat, add oil and heat until hot but not smoking
Add the peppers, cook for about one minute and lower the heat to medium/low. Cook for about 5 minutes, tossing frequently until they begin to wilt.
Place on a serving plate and cook the eggs in the remaining oil.