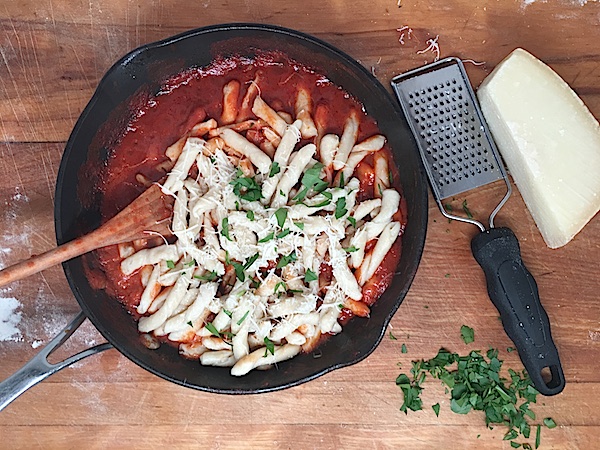 I started out wanting to make fresh bucatini (like I made with my mother as a child) or as it's called in Southern Italy, pasta al ferro, which are long strands of pasta with a hole running through them. But the problem was, I didn't have a ferro (a long metal rod) to roll the pasta – but I did have wooden skewers. The problem then was, when rolled in a long tube using a wooden rod, the pasta didn't slide off easily. So I did some google searching and low and behold, there was this video on how to make fusilli (and other shapes) by hand, by wrapping the dough around the rod. So I tried it and it worked beautifully!
My plan was to make trays of pasta, freeze them, then bag them in a zip lock bag to eat it later this week because I knew that my time over the next week or so would be limited with all the holiday preparations…and I wanted a delicious meal that I could prepare in minutes. So I spent a few glorious hours in my kitchen while outside it was pouring, but inside I was in a meditative trance as my hands performed the satisfying repetitive motion of rolling fusilli.
I was relaxed, happy, and rewarded with something delicious to eat. Make a batch to keep in  your freezer and dinnertime will be a 10-minute process – especially if you also have a batch of my marinara sauce in your fridge or freezer, ready to use on pasta, pizza (or in soups).
Pasta Dough
2 cups flour – unbleached white or gluten-free
2 egg
1/2 cup water – or just enough to absorb the flour.
Make the dough in you food processor or so easy to make by hand. I could describe the process easily as follows: make a well in the flour and season with a few pinches of salt. Add the eggs and beat them with a fork. Use the fork to pull the flour into the well and mix. Add water, a few drops at a time as needed. Mix with your hands until it begins to form a ball and all the flour is incorporated.
Transfer to a floured board and knead the dough until somewhat smooth. Cover with plastic wrap and let it rest for about half an hour.  Or if you need more visual instruction, you can watch this video. 
Rolling the pasta
Working with just a small bit of dough at a time, roll into approximate 1/4″ ropes and cut into shorter pieces. Wrap the end of each piece on the skewer, gently press down with your palms and roll.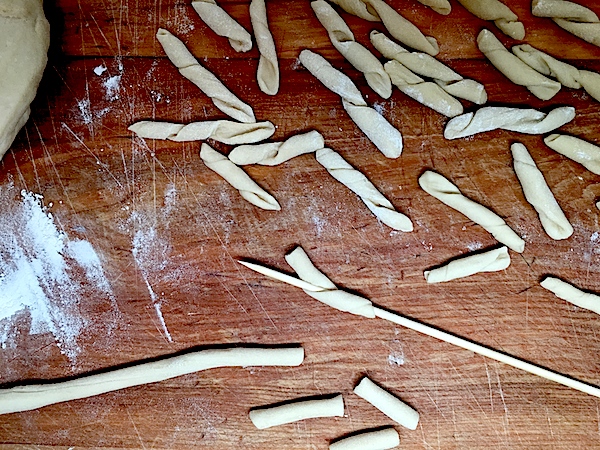 Place the finished pasta on a parchment paper lined baking tray. Cook immediately or freeze on the tray and transfer to a zip lock bag when frozen for later use. I got so into this relaxing process of feeling my hands work the dough, that I decided to make gnocchi too. Recipe for these herbed gnocchi coming soon.
Recipe for these herbed gnocchi coming soon.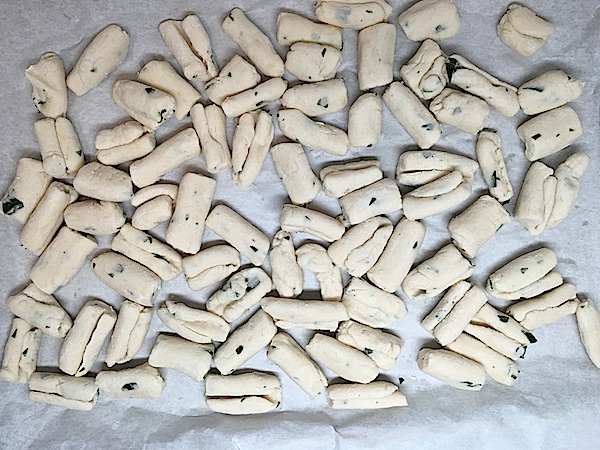 I couldn't wait to eat this fresh pasta which is so different than the dried version and also different from what comes out of a pasta machine. Some say there's magic in the handling, but there's no denying that some things are simply better when made by hand. You can taste the difference.
After my time in the kitchen and a dish of this deliciousness…I feel loved. I feel nourished. You and your family will too…especially if you can get the kids to help you roll pasta with you! It really is fun and I've found that kids love being in the kitchen doing something like this. Then when you bit into this…well then, cooking and eating has a whole new meaning…LOVE.
Love to all of you, my foodie friends. Since you won't be hearing from me before Chrismas, (but I will be on FB so look for me @chefsilvia) I wish you all the joy and good food of the season!
Silvia