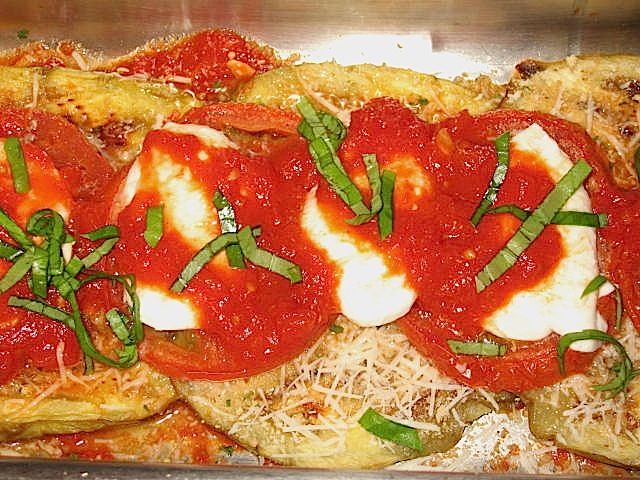 Okay, so this is not as tasty as fried eggplant but it's very good and not as fattening. Try it. I personally like leaving the skin on but if you prefer, peal the skin before slicing.
3 medium, slim, firm eggplants (large ones tend to be seedy)
1 batch tomato sauce (see below)
9 ¼ inch slices of fresh mozzarella
¼ cup freshly grated parmesan (or pecorino Romano) cheese
¼ cup seasoned Italian bread crumbs (or panko)
Cut the eggplant in ¼ inch circles. Salt and place on paper towel for about half hour or so. This will help drain any of the bitter juices. Place on a hot grill and cook on both sides until the eggplant is soft to the touch (about 5 minutes on each side).
In an oblong baking pan, layer the eggplant as follows: sauce, eggplant, sprinkle of bread crumbs, mozzarella, Parmesan. Repeat. Bake (covered) in a 350 degree oven for about 30 minutes or until the mozzarella is melted and the middle is hot. Finish with fresh parsley or basil
Perfect Basic Tomato Sauce
1 can crushed tomatoes (one with no added garlic or herbs) *
2 tablespoons olive oil (or enough to just cover the bottom of the pan
1 clove fresh garlic–finely chopped
Pinch of crushed red pepper flakes
1/4 chicken broth
 (this is optional, however it adds flavor and liquid to a sauce that may be too thick.
1 sprig of fresh basil (one with multiple attached leaves) or parsley
Salt and pepper to taste
In a medium saucepan over medium heat add oil and heat until hot but not smoking. Add garlic and pepper flakes and cook for about 30 seconds or until golden. Follow quickly with the tomatoes and then the broth. Add the basil, lower the heat and simmer for at least 30 minutes until the sauce is cooked (no raw tomato taste) and sweet.
*Note: Experiment with different brands of crushed tomatoes. Try ones that have no added puree, garlic or herbs. These will change the taste of purely delicious tomatoes. It is best to add these fresh when you make the sauce. 
Use this sauce in every dish that calls for a tomato sauce. Use it over pasta of course or make it in a large sauté pan and use it as the foundation for poaching a filet of fish, shrimp, chicken, or other meat or even eggs and you have a low fat, delicious dish that is so satisfying and always open to variations.
[widgets_on_pages id="inline_widget_1″]