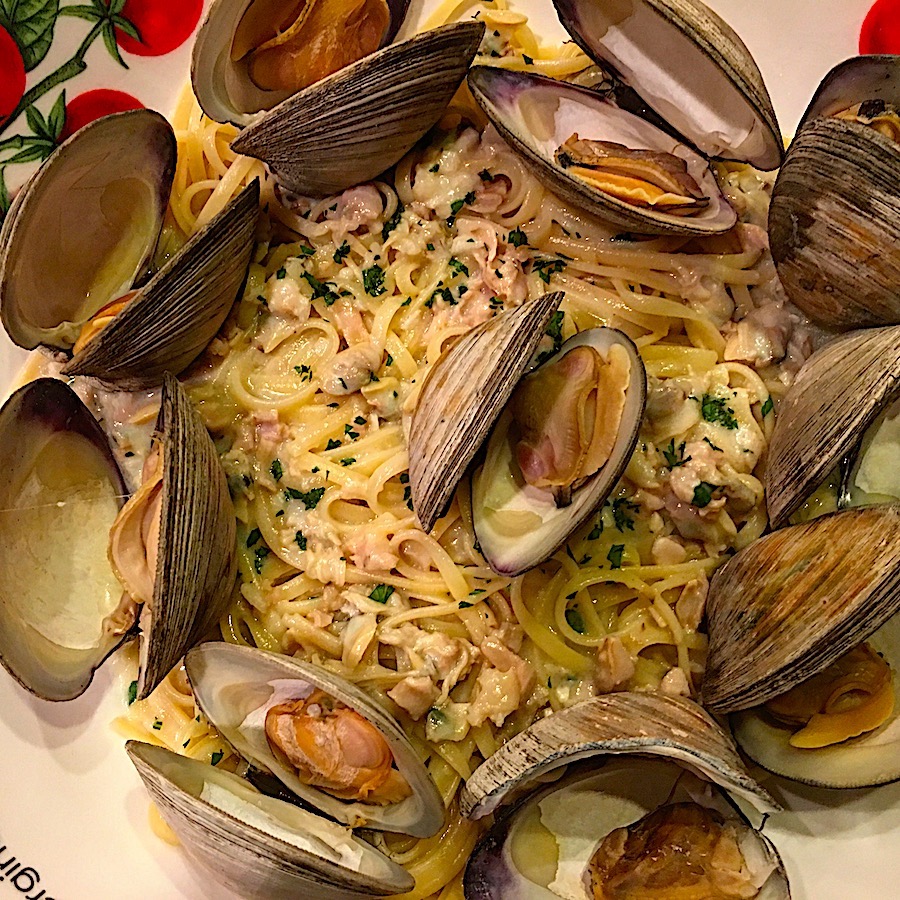 Linguine with white clam sauce is an Italian classic on the menu of almost every Italian restaurant. There's a reason for this…it's a customer favorite. It's also a dish that is beloved in all seasons. In my family, we traditionally serve this on Christmas Eve and in our summertime family reunion.
As a professional chef, I've put my touch on this dish, paring it with a white wine sauce that is thickened with a roux because I've found that every time I've had this in a restaurant, the sauce is thin and runny and does little to enhance the flavor of the clams. Instead, the white wine sauce hugs the linguine with a silky sauce that serves as a delicate base that brings this delicious dish to a whole new level.
It's my pleasure to share with you my personal recipe for this classic dish.
Ingredients (serves four)
1 lb linguine
2 dozen little neck clams
1 8oz can of mined clams
1/4 cup olive oil + 2 pats of butter
1/4 cup flour
1/4 cup of white wine
1 cup of chicken broth with splash of water
1 cup of clam broth
1 large clove garlic – finely chopped
Fresh parsley – stems removed and roughly chopped
Instruction
Place clams in a large pot filled half way with water or in a steamer and cook over high heat until the shells open. Discard any clams that do not open.
In the meantime place a large saucepan over medium heat. Add the oil and butter. Add the garlic and cook for about 30 seconds, just until it begins to color. Add the flour and stir to combine and cook for a minute or so stirring constantly. Add the wine (mixture will thicken) stir and cook for a moment more. Slowly begin to add both the broths, stirring as you add them. Reduce heat to low and cook until the sauce reduces and thickens. Add more both if too thick. Add the minced clams, stir and finish with the parsley.
Cook pasta according to package instructions, drain and set aside.
Toss the pasta with just enough sauce to coat it. Place it on individual plates or a large platter. Top with the clams and add more sauce as needed. Serve immediately.