Every once in a while I come across a perfect cookie for me. It's got to be not to sweet, but sweet enough to satisfy. And it's got to taste great with my first cup of morning coffee as well as my afternoon tea. This oatmeal cookie recipe with cranberries and dark chocolate surpasses my expectations in everything I want in a cookie.  And I've experimented quite a bit searching…because store bought cookies were always too sweet and just didn't cut it. These cookies will have a place in my favorites for a very long time.
Ingredients
3/4 cups (96 g) organic cane sugar
1/2 cup (64 g) packed brown sugar
1 cup (230 g) unsalted butter – softened
2 large eggs
1 teaspoon (4.9 ml) vanilla extract
2 cups (460) unbleached white flour
1 teaspoon (about 10 g) cinnamon
1 teaspoon (about 10 g) baking soda
1/2 teaspoon (about 5 g) salt
3 cups (about 690 g) quick cooking oats
1 1/4 cups (10 oz. about 284 g) dried cranberries
1 1/2 cups (12 oz. about 340 g) dark chocolate chips
Instructions
Add sugars and butter into a large bowl and mix with an electric mixer until creamy. Add vanilla and eggs and mix again. In a separate bowl mix the flour, the cinnamon, the baking soda and salt. Fold into the wet ingredients. Fold in the oats and then follow with the cranberries and chocolate chips.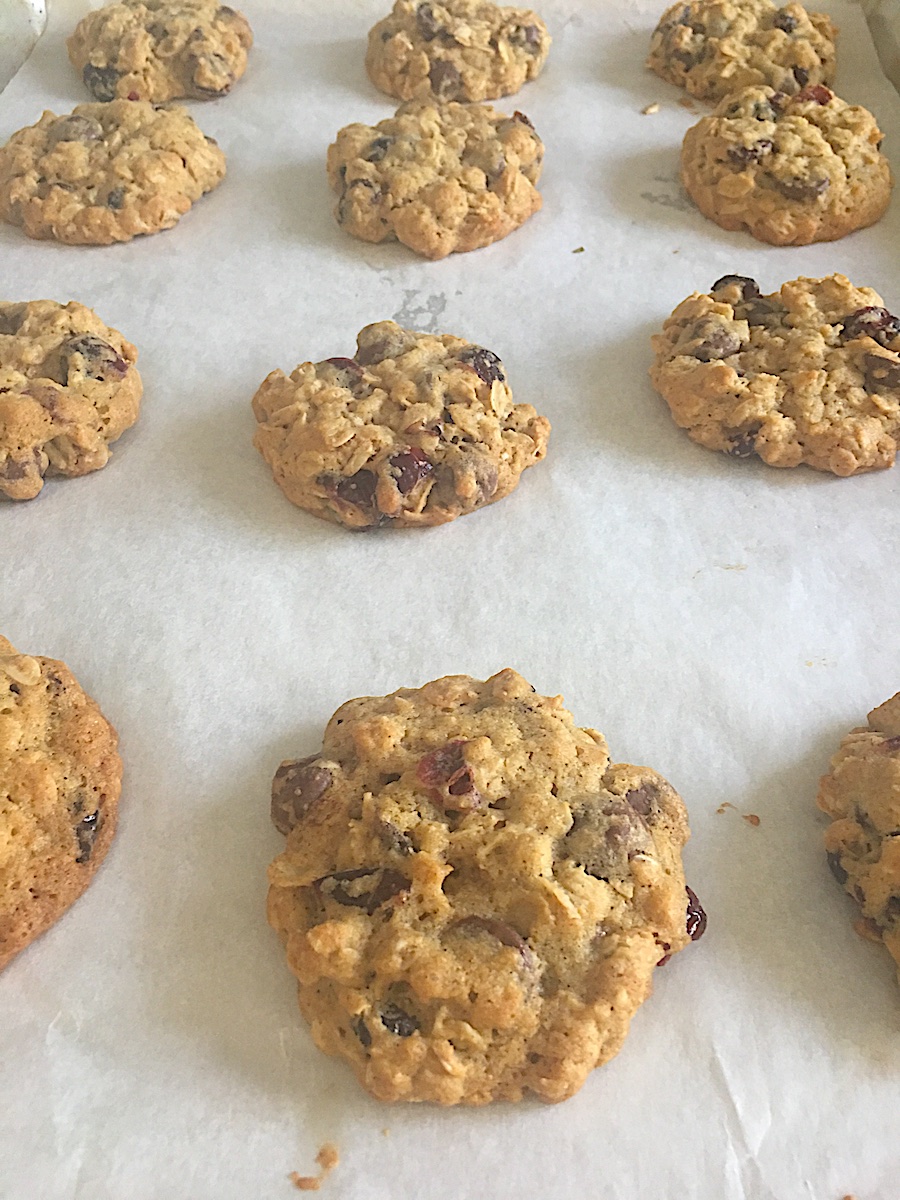 Roll into golf ball size round and place on cookie sheets lined with parchment paper. Press down and bake in a pre-heated 350 degree F/176.6 C oven. I used a convection/bake setting and I baked them for 12 minutes which resulted in a soft cookie which my daughter loves. For crispier cookies, perfect for dunking…bake for about 14 minutes. Of course cooking times may vary according to your oven so I always look to under bake and then adjust as needed.