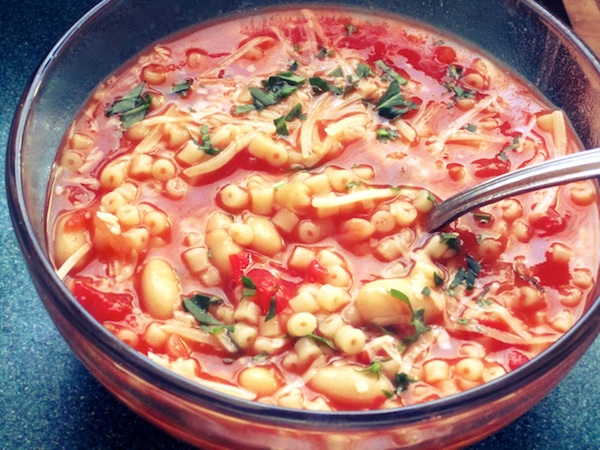 Here in the northeast, when the February winds are blowing, I usually crave a warm bowl of hearty soup. Over the years, I've made countless pots of good soups but one that has endured since my childhood, passed on from my parents and grandparents is this Italian classic. If you goggle this dish, you'll find so many interpretations but I stand by this simple, rustic dish from my family roots in the Calabria region of Italy.
It uses only 3 main ingredients, beans, tomato sauce and pasta.
1 batch of tomato sauce (see below)
1 14 oz can of cannellini beans
1 pound small shaped pasta
While your tomato sauce is simmering, cook pasta according to package directions.
When the pasta is al dente (cooked but still firm) drain some of the water (reserving a cup) until you have only what covers the top of the pasta.
Drain the juice from the beans and add to the pasta and stir.
Add enough tomato sauce until the broth is rich but has a brothy, not saucy consistency. Alternate adding tomato sauce and water (from the reserved cup) until you reach your desired taste.
Season with salt and pepper. Sprinkle with freshly grated parmesan and dot with slivered parsley or basil.
Serve and enjoy.
Perfect Basic Tomato Sauce
1 28 oz can crushed tomatoes (one with no added garlic or herbs) *
2 tablespoons olive oil (or enough to just cover the bottom of the pan
1 clove fresh garlic–finely chopped
Pinch of crushed red pepper flakes
1 sprig of fresh basil (one with multiple attached leaves and stems attached) or parsley
Salt and pepper to taste
In a medium saucepan over medium heat add oil and heat until hot but not smoking. Add garlic and pepper flakes and cook for about 30 seconds or until golden. Follow quickly with the tomatoes. Add the basil, lower the heat and simmer for at least 30 minutes