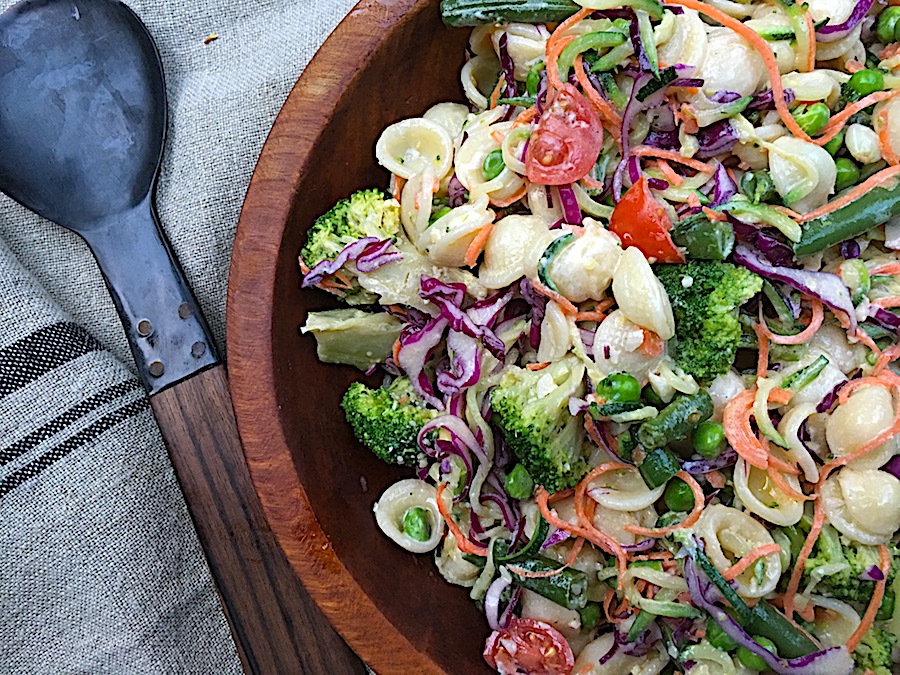 Oh my! Pasta salad has come a long way from the mayonnaise soaked elbow macaroni in the deli section. This is pasta primavera as a salad with all the veggie goodness like broccoli, peas, green beans, carrots, zucchini, tomatoes and more tossed with orecchiette pasta in a light mayonnaise dressing enhanced with sautéed oil and garlic.
The broccoli and green beans are par boiled. The carrots and zucchini are spiralized making them a lighter addition.  The frozen peas are blanched and the red cabbage cut thin for color and crunch. But it's the combo of a variety of veggies with different textures combined with the orecchiette pasta which is easy to cook al dente along with my signature combo of a bit of mayonnaise with sautéed garlic and oil that put this pasta salad over the top.
Ingredients
1 pound orecchiette pasta – cooked according to package directions, drained and cooled. Do not over cook. See below
1 small bunch broccoli – cut into florets, and par boiled until tender but still crunchy, drained and cooled
1 cup of frozen baby peas – blanched in boiling water, drained and cooled
1 small bunch fresh green beans – cut in bite sized pieces, par boiled until tender but still crunchy, drained and cooled
1 cup grape or cherry tomatoes – cut in half
1 or 2 carrots – peeled and spiralized or cut thin
1 zucchini – spiralized or cut thin (lightly sautéed if desired)
1 cup of red cabbage – thinly cut
1 cup of mayonnaise – use only enough to moisten and coat the pasta
1 large clove garlic – finely chopped
1/4 cup olive oil
Parmesan cheese to taste
Salt and pepper to taste
3 to 4 sprigs of fresh parsley – stems removed and chopped.
Instruction
Cook the pasta according to package directions but check it a minute or two before the cooking time is over to insure that the pasta is al dente (cooked but still firm to the bite) then drain and run cold water over the pasta to insure it doesn't continue to cook.
Add pasta to a big bowl and toss with just enough mayonnaise to coat the pasta. Add all the vegetables, season and toss.
In the meantime place a skillet over medium heat, add garlic and parsley and cook for about 30 seconds or just until the garlic begins to color. Pour, a bit at a time over the ingredients in the bowl until coated to taste. You may not need all the oil/garlic/parsley sauce. Add cheese to taste, check seasonings and toss.
Serve immediately or better yet, make ahead and let the flavors blend before serving. Once it's chilled, you may want to check the salad and add a bit more mayo and oil as well as seasoning before serving. It tends to absorb the sauce while chilling! Serve and enjoy!