It started as a potato salad made with baby fingerling potatoes…and then I added the blackened shrimp…and then anything in my fridge that I thought would be tasty; avocado, pickles, a hard boiled egg, red and jalapeño pepper, red cabbage, picked jalapeño and served it over romaine…and what I got was a masterpiece of a salad.
Seriously start with the potatoes and the shrimp, then raid your refrigerator and create your own masterpiece. The dressing is a combo of mayo and grainy, spicy mustard plus the oil from the sautéed shrimp. This salad was so creamy and good that I had trouble stopping eating it. Fair warning!!
Ingredients (feed 2 as a main course or 4 – 6 as a side)
1 lb (.45 kg) fingerling potatoes
24 medium shrimp
Romaine lettuce – 1 cup per person – sliced
1 avocado – diced
2 hard boiled eggs – diced
About 1/2 cup (64 grams) of the following or anything you like
Pickles – chopped
Red and jalapeño peppers – small diced
Red cabbage – thinly sliced
Red onion – diced
Extra virgin olive oil – enough to lightly cover the bottom of a medium skillet
1 clove garlic – finely chopped
Salt and pepper to taste
Garnish with fresh parsley or cilantro
Dressing
2 parts may to 1 part grainy mustard
Blackening Mix for shrimp
1/4 cup (32 g) paprika
1 teaspoon (4.9 ml) cumin
1 teaspoon dried oregano
1/2 teaspoon black pepper
1/2 teaspoon cayenne pepper
Pinch of salt
Instruction
Place a medium skillet over medium heat, add oil and heat until hot but not smoking.
In the meantime add all the ingredients for the blackening mix in a small bowl and toss with the shrimp. Add shrimp to the skillet. Cook for about 1 minute on one side or until the shrimp begin to turn pink, flip, add the garlic and cook for another minute on the other side, take off the heat and set aside. Chop half the shrimp and add to the salad ingredients in separate bowl.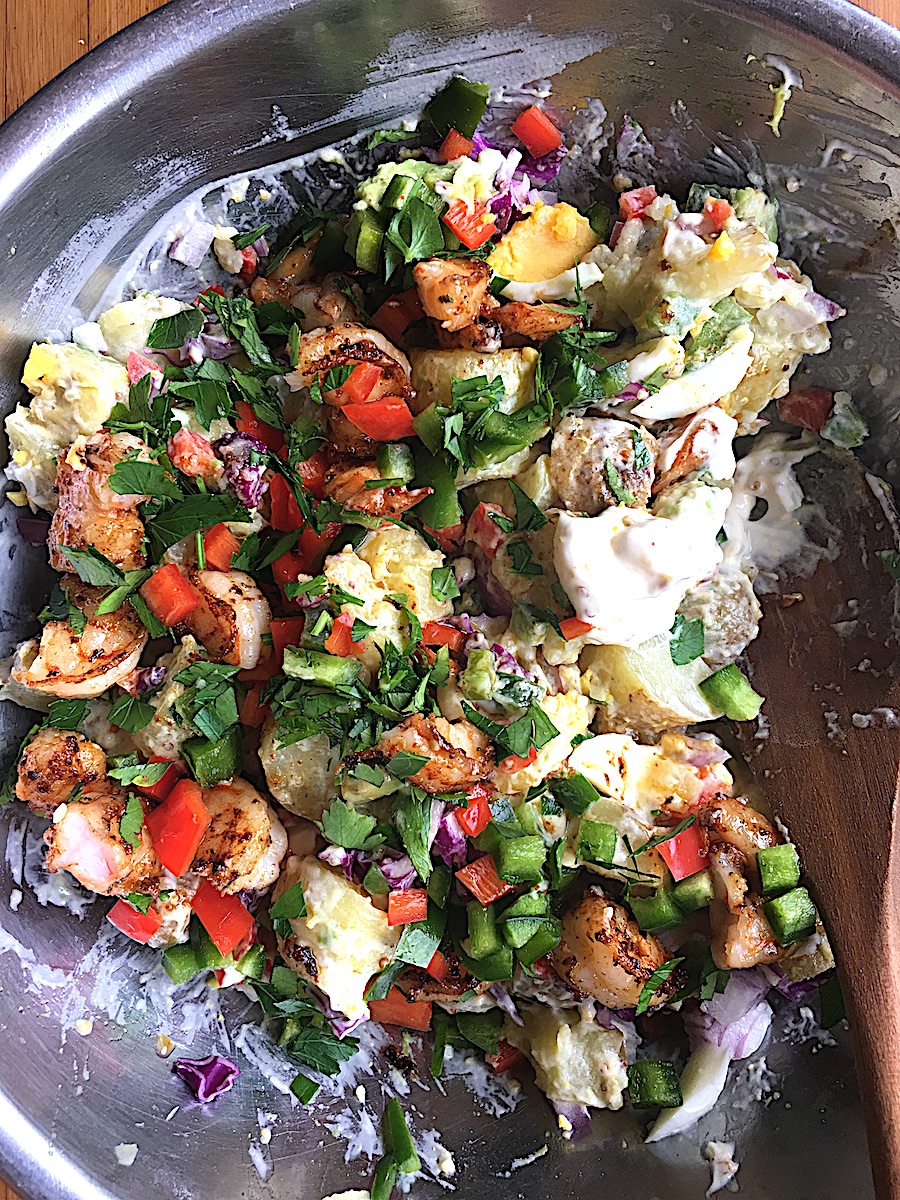 In the meantime add all the ingredients (except romaine) in another bowl, toss with enough of the dressing to moisten the ingredients, or to taste. Check the seasonings.
Place the romaine on individual plates or a large serving bowl. Top with the salad ingredients and with the remaining shrimp.