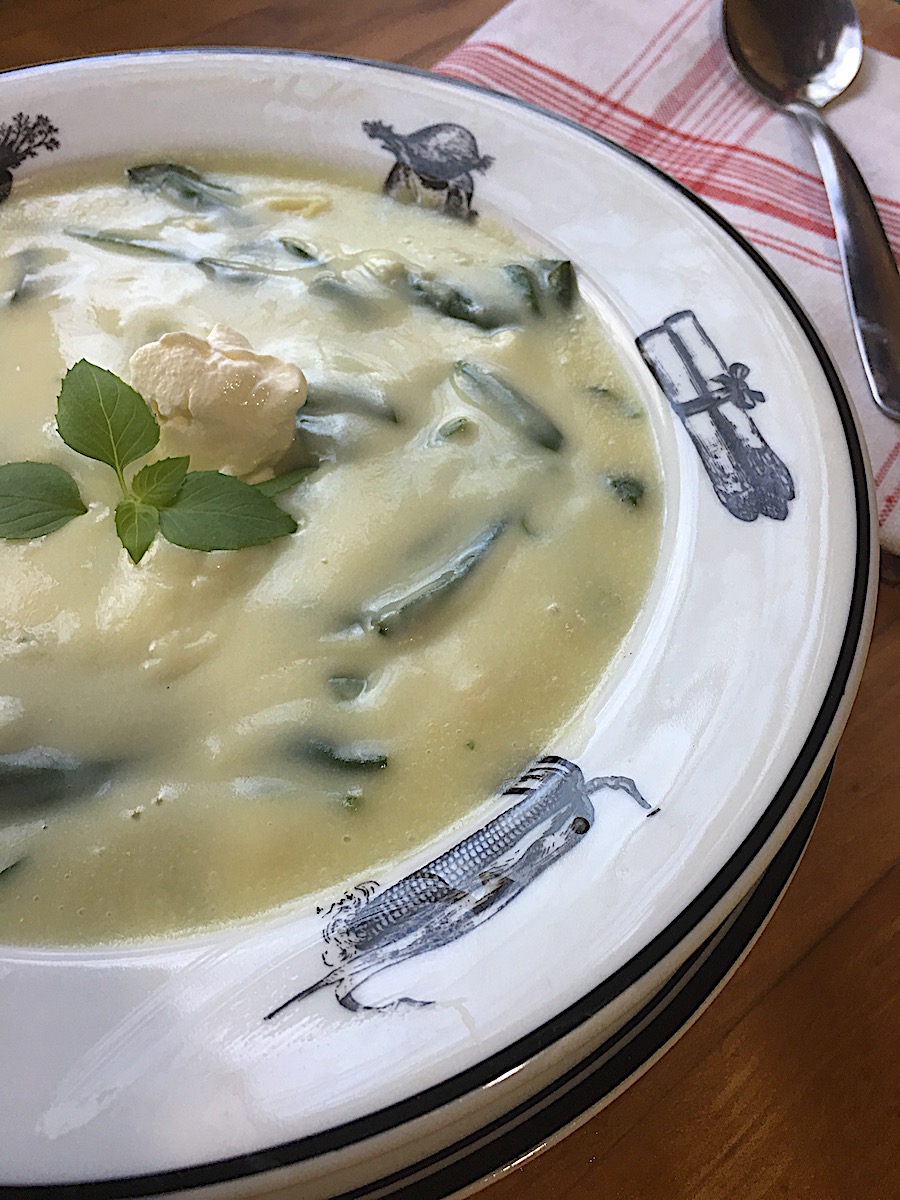 Every potato lover will love this soup. It's pureed until it's velvety smooth and full of flavor from the potatoes, the chicken broth and the spinach. Add a dollop of sour cream and you'll be in potato heaven.
Furthermore, it's so easy to make…even a child can do it. It's filling, satisfying alone but when accompanied by a salad or a sandwich…a perfect comfort meal on a cold winter's day.
Ingredients
1 large or 2 medium potatoes per person- peeled and diced into even sized large chunks
Chicken broth to cover the top of the diced potatoes (see note)
1/4 cup of olive oil – or enough to lightly cover the bottom of the pan
I small onion or shallot – diced
1 large garlic clove – finely diced
Pinch of red pepper flakes – optional for heat
2 large handfuls of baby spinach per person
Salt and pepper to taste
Garnish with a dollop of sour cream (optional)
Note: I make my own chicken broth using a product called "Better than Bullion". It's a concentrated chicken base that you add to hot water to make broth. This allow you to add it to soup water and sauces and it make it as strong or weak as you like. It's available in most supermarkets.  Check it out. You'll love it!
Instruction
Place a large or medium saucepan over medium heat. Add oil and heat until hot but not smoking.
Add onions and cook until they begin to soften (about 2 minutes or so). Add garlic and cook just until it begin to color (about 30 seconds).
Add the potatoes and cover with broth or water (if using chicken base and when the water is hot add base a spoonful at a time until you reach the desired flavor). Cook until the potatoes are tender and can be easily pierced and broken with a fork. .
Take off the heat and puree (in batches) in a food processor or blender. I used a nutribullet and it worked fabulously.
Return the pureed soup to the pot and heat under low heat.  Add more broth if too thick. Add more chicken base (a little at a time) if too bland.
Add the desired amount of spinach (you always add more than you think because spinach cooks down radically) and cook just until the spinach begins to wilt (about a minute).
Remove from the heat and serve in individual plates topped with a dollop of sour cream.