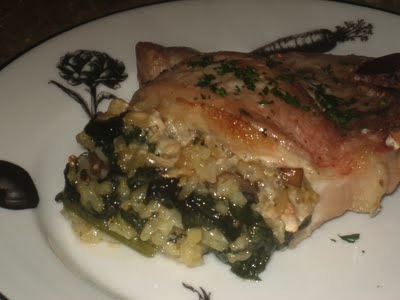 I made (or should I say my students made) this in a recent cooking class. I wanted to demonstrate various cooking techniques and this was a good one for pan searing, sautéing and roasting. They stuffed pork chops with a risotto, crimini mushroom and spinach.mixture. It was delicious with the risotto picking up the juices from the pork, exploding with flavor. Besides being easier to prepare than it sounds, this dish has a meat, vegetable and starch all in one so it's economical too. This recipe will work great for stuffing a pork loin as well as a pork or veal chop.
Serves 2 – 4
4 center cut pork chops
2 cups risotto (cooked al dente according to package instructions)
1 16 oz package frozen spinach
1 8 oz package crimini mushrooms (quartered)
¼ cup olive oil or just enough to cover the bottom of the pan
Splash of white wine
1 large clove fresh garlic (diced)
½ teaspoon crushed red pepper
Season to taste
Pre-heat oven to 350 degrees
In a sauté pan over medium/high heat add enough olive oil to cover the bottom of the pan. Heat until hot but not smoking, add mushrooms and cook until golden on all sides (about 2 minutes).
Add garlic and crushed pepper. Sauté for a few moments and splash with wine.
Add spinach and sauté until the spinach wilts (about a minute or so). Set aside and season with salt and pepper.
Add risotto and mix with the mushrooms and spinach. Check the seasoning. Add a bit of chicken broth if too dry and some parmesan cheese (optional) for additional flavor if desired.
In the meantime cut a pocket through the center of the chop (horizontally) to the bone, leaving the meat intact all around so to create a pocket rather than cutting it so that it opens like a book.
Stuff the chops with the mixture from the sauté pan. Season the outside of the chops with salt and pepper and if desired, pan sear both sides in a hot skillet to form a golden crust on each side. Finish cooking in the oven (pre-heated to 350) until done or the inside temperature reaches 160-165 degrees.