Roasting vegetables is a great way to bring out their flavor without a lot of fuss from you. Simply line a baking sheet with the vegetables. Season with salt and pepper, drizzle with a bit of olive oil and roast @400 degree until done. Doneness will depend on the vegetable and their thickness and density. The smaller the slices, the quicker the roast. Makes sense right?
Ingredients
(for a salad for two to three)
2 small firm zucchini – sliced in 1/4 in rounds
! medium head of broccoli – divided into florets and/or sliced in half
1 cup of salad greens per person
1 handful of grape tomatoes – sliced in half
Extra virgin olive oil – drizzled on the veggies and also over the greens
Season with salt and pepper
Garnish with slivers of parmesan cheese (optional)
Instruction
Preheat oven to 400 degree F/204.4 C
Add veggies on a parchment paper lined baking sheet, season and drizzle with oil and roast for about 15 minutes or until browned on the outside and cooked but not overly soft.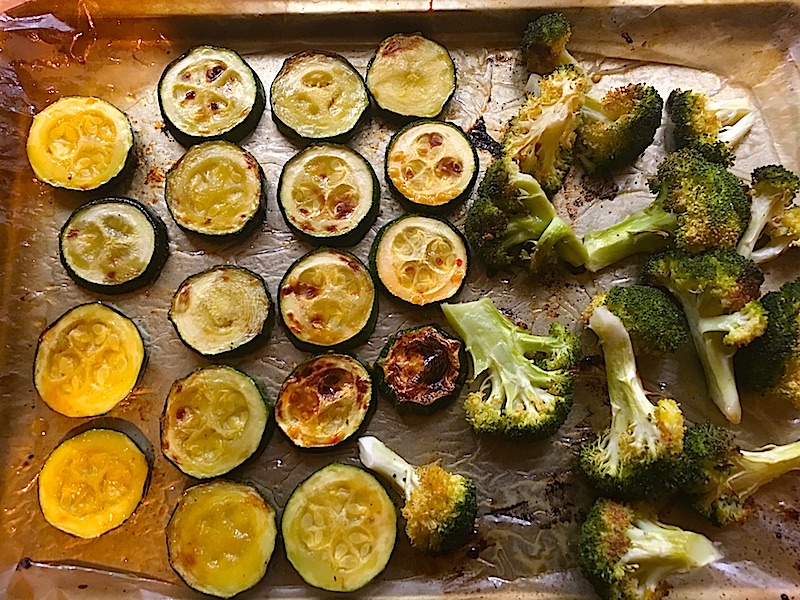 Remove from the oven, cool slightly. Place the greens in a salad bowl. Season and add a bit of oil to coat the greens. Add the veggies and toss. Garnish with slivers of parmesan cheese.
And that's it folks. No recipe really needed but here it is! Experiment roasting other veggies and toss them with your greens. There's something about serving the warm with the cold that adds an interesting flavor dimension. Try it! I know you'll like it.