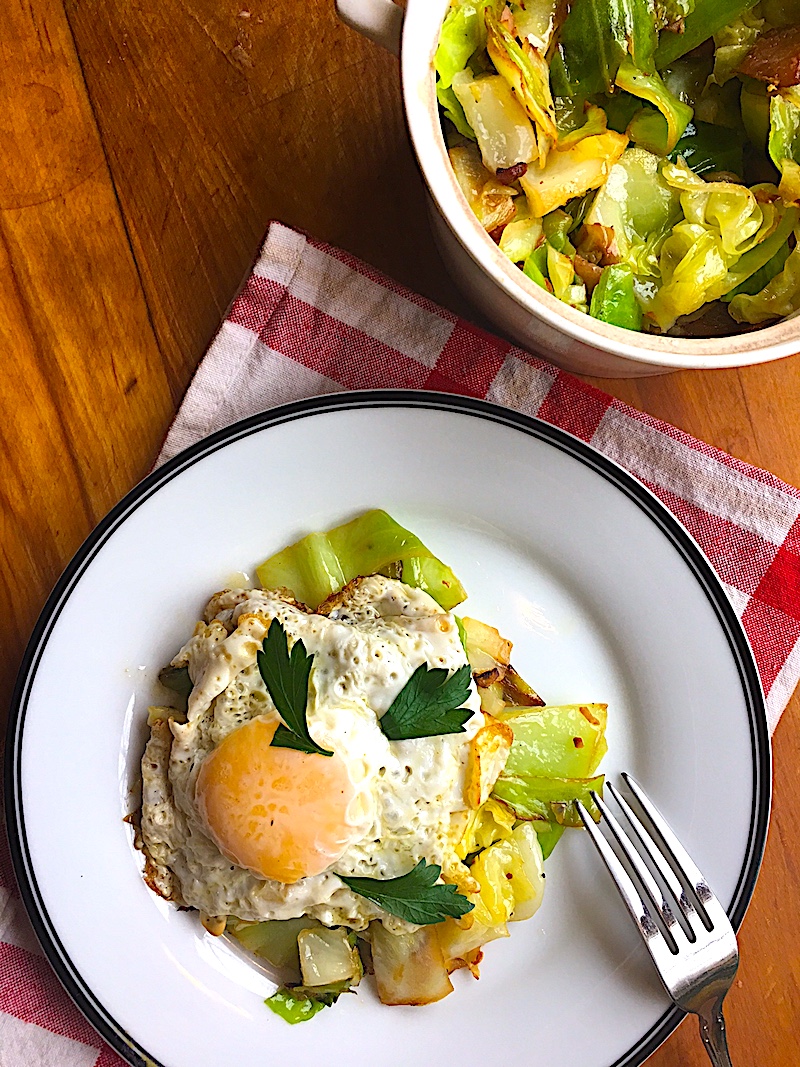 I think I've just found my new favorite breakfast…sautéed cabbage with bacon! Top it with an egg and I'm satisfied for hours. Leave out the bacon if you like and this dish will still be so favorable. And it can be made in mere minutes with only a few ingredients. I actually made this for myself for a quick and easy dinner, saved the leftover cabbage and then added an egg for breakfast the next day.
Sautéed cabbage also makes a terrific base for other proteins. Top it with a filet of salmon or a chicken cutlet or pan seared tofu. I have no doubt many of you will find other ways to serve it. Enjoy!
Ingredients
1/2 of a head of cabbage – cut in medium bite sized pieces
3 or 4 slices of bacon
1 clove of garlic – finely chopped
Pinch of red pepper flakes – for heat but optional
1 egg per person
Salt and pepper to taste
Instruction
Place a large saute pan over medium/high heat. Add the bacon and cook until crispy. Remove the bacon and set aside on paper towel and crumble into pieces. Add the cabbage, lower the heat to medium, cover and cook until it begins to wilt, about 3 or 4 minutes. Add a splash of water or broth if the pan is too dry. Add the garlic and pepper flakes and the bacon. Stir, cook for a minute longer and remove the contents of the skillet to a bowl or dishes and set aside.
Add an egg or eggs to the pan. Cook until done and top the cabbage with the egg.