For Easter Sunday at my sisters house with 12 family members,  I made stuffed artichokes and scalloped potatoes. The artichokes were made how my mother used to make them so they were a fondly remembered treat for the whole family, but the potatoes were from a recipe from Simply Recipes a much loved resource since I can always trust her recipes – something rare I've come to see as I've tried various recipes with mixed results…which is why I always make each recipe (unless otherwise noted) myself before passing it onto you.
The scalloped potatoes came out delicious though they took a lot longer to cook than the 50 minutes noted on the recipe…though that could be due to my oven, which isn't the most accurate and my sister's oven where I finished baking them only to find that her over was a bit "off".
I ended up using a combo of white and yellow cheddar cheese instead of the gruyere and used about 5 pounds of potatoes instead of the 6 called for (I make two batches; one with onions and one without because my daughter won't eat onions). And in order to cut the potatoes evenly and thinly…use a food processor or mandolin slicer.
The caramelized onions in this recipe is pure genius. They add so much flavor but here again, I didn't follow the recipe. In order for onions to caramelize beautifully, they have to be cooked on low heat so they don't burn, turning them as the ones on the bottom color. So instead of the 15 to 20 minutes, for me they took about 45 before they reached the perfect golden, caramelized color. But wow…they made the dish, along with the fact that no cream was used making this recipe a "lighter" version than most. I highly recommend it.
So here's what I did with the leftover (no onions because my daughter won't eat them) potatoes and why it's a good idea when you make them to make more than 5 or 6 potatoes. They reheat beautifully and they go with so many dishes.
For Breakfast/Lunch
Serve an egg (anyway you like it) over the potatoes
For Dinner
Herb and Panko Crusted Salmon
All I did here was season the salmon with a bit of salt and pepper, followed by a sprinkling of herbs de provence and panko. Baked it in a 350 degree oven (176.6 C) for about 15 – 20 minutes (depending on the thickness of the salmon) or just until the thickness of the salmon turns from translucent to opaque.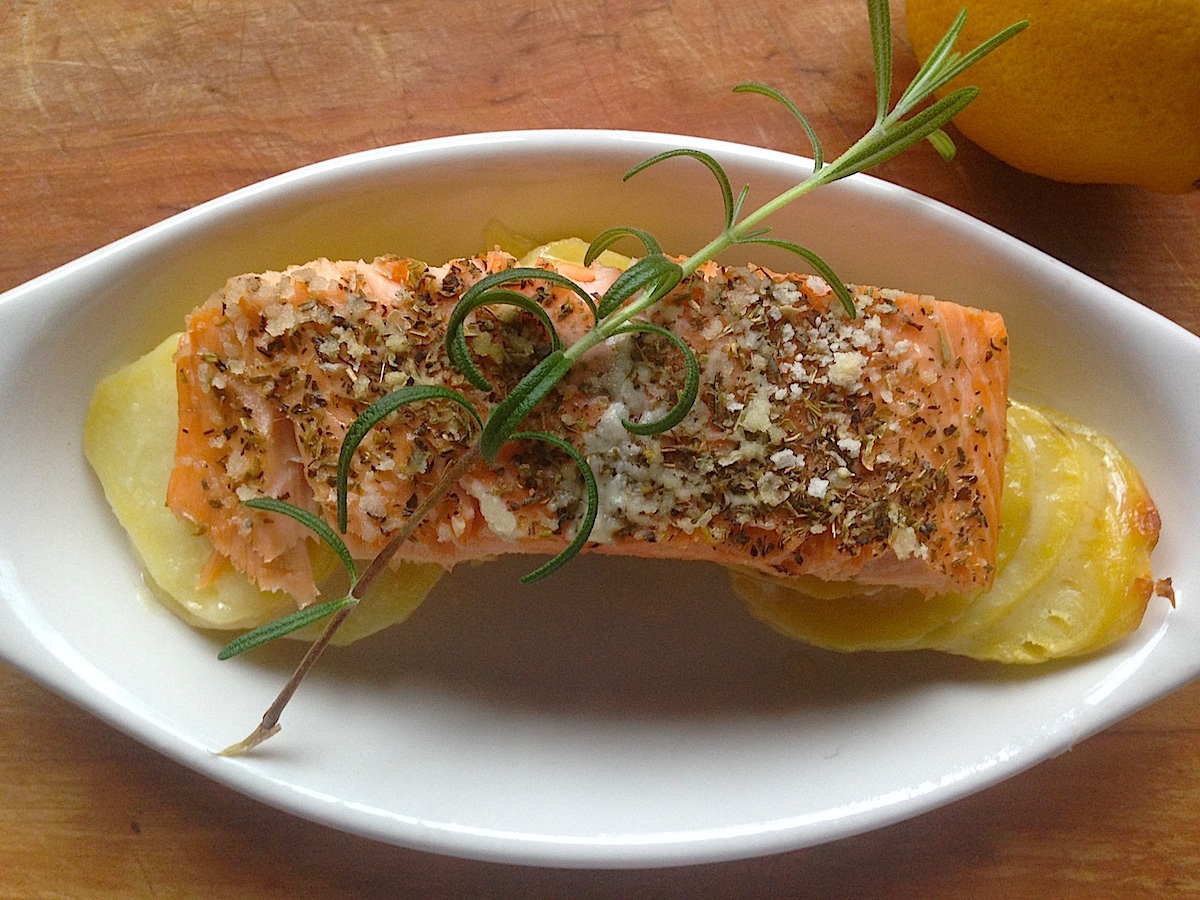 And that's all folks. Just some ideas for getting multiple meals from something that usually takes second place at the dinner table…potatoes.
Enjoy and tell me in the comments below what you think and of course, if you have any questions, post them too.
Silvia