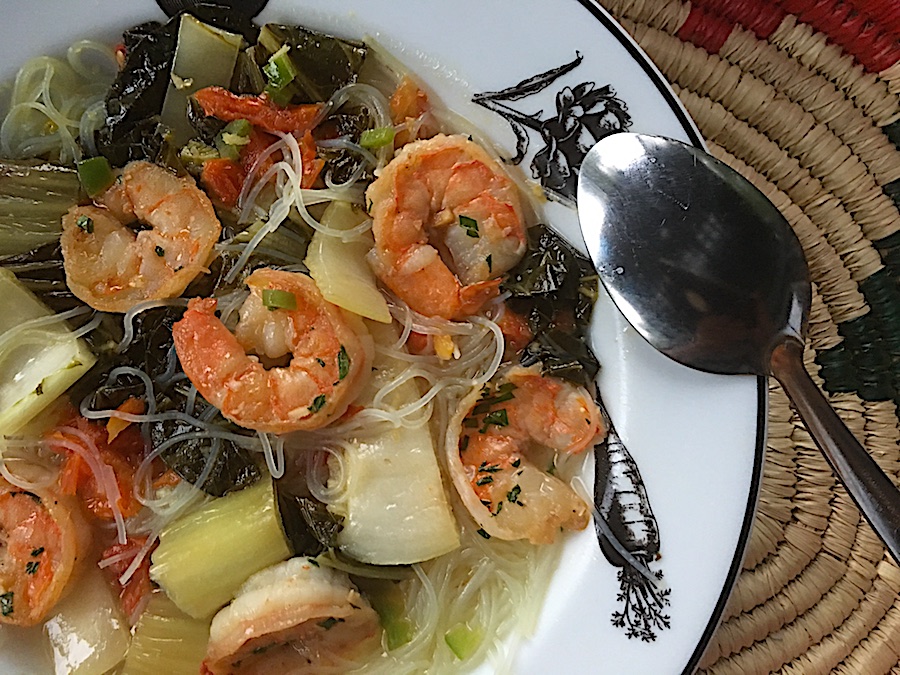 We're having a heat wave in the Northeast for the last few days and soup seems counter intuitive but if you're chilled in an air conditioned office or home, this flavorful soup may be just the thing…or just save it for a chilly or wet night. Either way it's light, flavorful and so very east to make.
This simple summer shrimp soup has boy choy, sun dried tomatoes and vermicelli rice noodles. It has a distinctly Asian influence with the addition of grated ginger, and splashes of fish and soy sauce.  It was so good, I immediately had seconds.
Note: I used previously cooked bok choy from this recipe on food prep but in order to keep things simple, the recipe below uses raw bok choy.
Ingredients
(serves 2)
6 large shrimp
4 oz (2 handfuls) vermicelli (very thin) rice noodles
2 tablespoons extra virgin olive oil (or enough to cover the bottom of the pan.
1 head bok choy (or two baby bok choy) cleaned and sliced into 1 inch pieces
1 quart light chicken broth (or you can use vegetable or seafood broth though I find seafood broth too fishy)
1 teaspoon grated ginger
1 clove fresh garlic – finely chopped
Pinch of red pepper flakes
1/2 teaspoon fish sauce
1/2 teaspoon soy sauce
Garnish with fresh chopped cilantro or parsley
Season with salt
Instructions
Place a medium saucepan over medium heat and heat until hot but not smoking. Add the shrimp and cook for about a minute on each side. Add the garlic and pepper flakes the last 30 seconds or so and cook until garlic begins to color. Remove shrimp and set aside and cut in half horizontally.
Add the broth to the pan, the sun dried tomato, the ginger, the soy and fish sauce and the bok choy. Bring the broth to a boil and add the rice noodles followed by the shrimp. It will cook in about a minute or so. Check and adjust the seasoning, the ginger, and the soy and fish sauce.
Finish with fresh chopped cilantro or parsley.