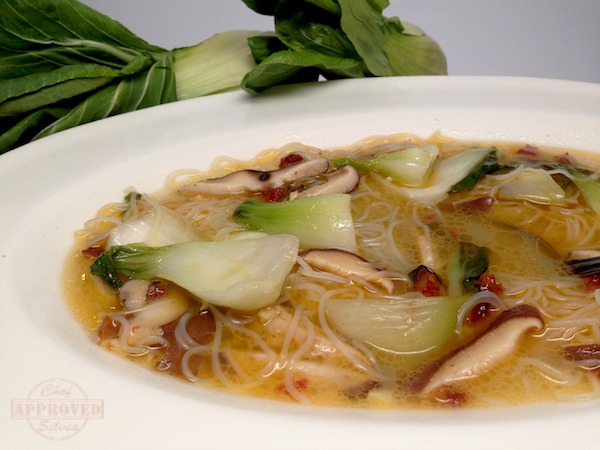 I don't know about you, but after all the festivities over Thanksgiving I'm craving some light eating: a crispy salad or a brothy soup like this one. This soup can literally be made in minutes, and is as nutritious as it is delicious. It's full of flavor from a simple blend of fresh ingredients: baby bok choy, shiitake mushrooms, ginger, garlic and sun dried tomatoes served with vermicelli rice noodles cooked in vegetable broth and finished with a squeeze of fresh lemon.
Simply sauté the shiitake mushrooms, bok choy, garlic and ginger, then add the noodles, broth and sun-dried tomatoes — heavenly!
Ingredients (serves 4):
1 lb. of baby bok choy, washed and separated (cut any large leaves in half vertically)
4 ounces of vermicelli rice noodles
3 ounces of shiitake mushrooms, sliced
1 medium garlic clove, finely chopped
1 teaspoon of fresh ginger, finely chopped
4 cups of vegetable broth
Juice from 1/2 fresh lemon
1/4 cup of olive oil
Pinch of red pepper flakes
Season with salt and pepper
Directions:
Place a large (12 – 14″) deep sauté pan over medium/high heat.
Add oil and heat until hot but not smoking.
Add mushrooms and cook for about 2 minutes, or just until they begin to color.
Add bok choy and cook just until they begin to wilt.
Add chopped garlic, ginger and pepper flakes and cook until the garlic begins to color (a minute or less).
Add the broth, the lemon and the sun-dried tomatoes and cook for a few minutes more until fragrant and the broth begins to bubble.
Add the rice noodles and cook until soft but still a bit firm.
Season and serve.
As featured on Mind Body Green