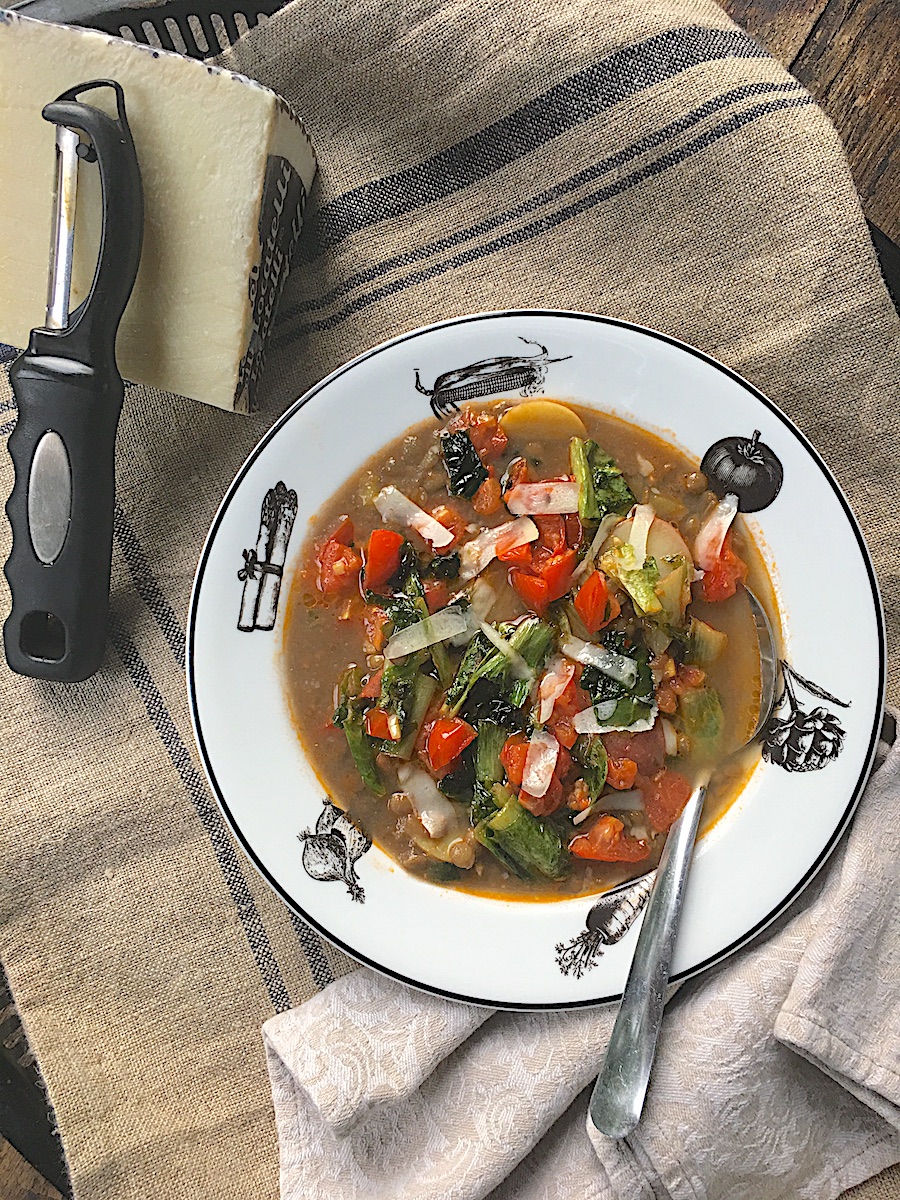 Even summer needs it's soup and this lentil soup is perfect for any rainy day or cool evening. It's spicy with sautéed jalapeño in a starting soffritto of onions and carrots; made hearty with sliced gourmet mini potatoes and finished off with sautéed escarole and diced tomatoes in oil, garlic and red pepper flakes. And finally topped with slivers of parmesan cheese!
This soup needs little care and after sautéing your soffritto, which is nothing more than the starting essence of a soup, which usually is a mix of carrots, celery and onions know as mirepoix in French and soffritto in Italian…or it could be a mix of your own such as I did here. From there, add some garlic and tomato paste, to the sauté, broth, and lentils. They'll be done in about 45 minutes. 20 to 30 minutes before I also added the potatoes and left everything simmering on the stovetop until it was time to check the doneness and the seasoning, which was a simple addition of salt, pepper and dried oregano and thyme. Of course one could stop here…but the sautéed escarole and tomatoes bring this soup to over the top deliciousness.
Ingredients
1 16oz (453.6 g) of dry lentils
3 quarts (2.84 liters) of chicken or vegetable broth – more if needed *see note
1 jalapeno – finely diced
1 medium onion – medium diced
2 small carrots – medium diced
1 clove garlic – finely chopped
Pinch of red pepper flakes
Olive oil to lightly cover the bottom of the pot
1 spoonful of tomato paste
10 – 12 small gourmet potatoes – 1/4 inch sliced
A sprig of fresh thyme or a few bay leaves
Season with salt and pepper and your choice of dry herbs
Topping
Several leaves of escarole  per person- sliced
1 small tomato – medium diced
1 clove garlic – finely chopped
Pinch of red pepper flakes
2 – 3 tablespoons of extra virgin olive oil or enough to lightly cover the bottom of the pan
Note: For my soups, I add water and then a few spoonfuls of of a product called "Better than Bouillon" It's a paste that allows me to control the intensity of the broth and is far more cost effective than broth and better tasting than bouillon. It comes in chicken, beef or vegetable.
Instruction
Place a large (4 quart of more) saucepan over medium heat. Add oil and heat until hot but not smoking. Add onions, carrots and jalapeño and cook for about 2 minutes until they begin to soften, stirring occasionally. Add the garlic and pinch of red pepper flakes, cook for about 30 seconds or until garlic just begins to color. Add tomato paste and a splash of water. Stir and cook for about a minute or so.
Add lentils and broth and the thyme or bay leaves (or both).  Cover and cook for about 15 minutes and then add the potatoes.
Cook, uncovered (lower heat if boiling rapidly) for another 30 minutes and check for doneness. Lentils and potatoes should be tender but still have a bite to them. Cook a bit longer if needed. Season with salt and pepper and dry herbs.
For the topping
Place a medium skillet over medium heat, add oil and heat until hot but not smoking. Add escarole and cook for a couple of minutes until it begins to wilt and leaves are tender. Add garlic and pepper flakes and cook just until the garlic begins to color, about 30 seconds, and follow with the tomato. Cook for another minute, season with salt and pepper and remove from the heat.
Place the soup onto individual bowls and top with a few spoonful of the saute!