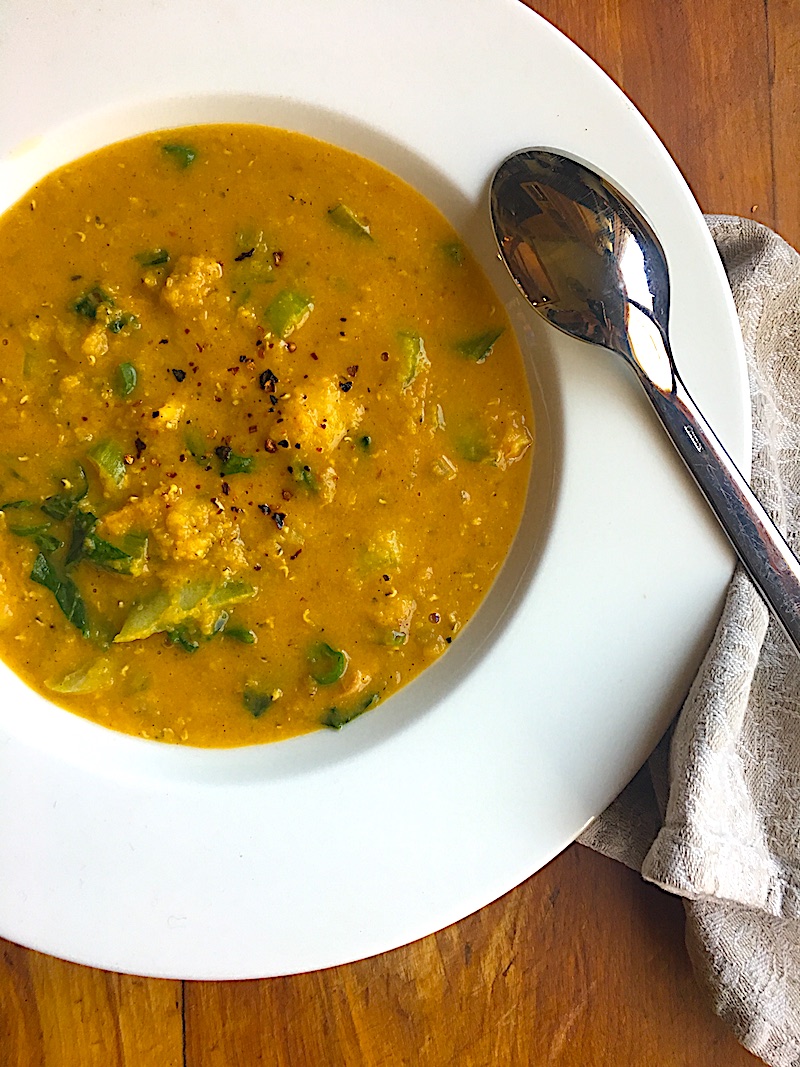 I love lentils and especially red lentils which, to me taste both more subtle and vibrant than their brown counterparts. They cook quickly, in about 30 minutes or so, so they are perfect for a quick weeknight meal. I like to make them in smaller batches because there's so many delicious ways to prepare them so this allows me to experiment.
This is an experiment that turned out so good, I ate this soup for dinner AND breakfast the next day. The main reason I especially loved this take on this soup is the seasoning…a combo of cumin, smokey paprika, turmeric and cinnamon. It gave it an exotic middle eastern vibe, but then I added sautéed bok choy in olive oil and crushed red pepper and it became an unexpected home run!
Enjoy this easy recipe. You will no doubt turn to it again and again.
Ingredients
2 cups lentils (1 cup = 128 g) washed and drained
8 cups broth (chicken or vegetable) (1 cup = .24 liters)
1/4 cup of olive oil – or just enough to cover the bottom of the pot
1 small onion – diced
1 garlic clove – finely diced
1 teaspoon cumin (about 4 g)
1 teaspoon turmeric
1 teaspoon smokey paprika
1/2 teaspoon cinnamon
pinch of cayenne pepper
Olive oil to lightly cover the bottom of a small skillet
pinch or two of crushed red pepper
1 small head of baby bok choy – roughly chopped
Instructions
Place a medium saucepan over medium heat. Add olive oil to lightly cover the bottom and heat until hot but not smoking. Add the onions and cook until they begin to caramelize, about 3 minutes. Add the garlic and cook for about 30 seconds and follow with all the spices, the lentils and the broth. Bring to a boil and then lower to a simmer. Cook gently for about 20 to 30 minutes until the lentil are tender.
In the meantime, place a small skillet over medium high heat, add oil and heat until hot but not smoking. Add the boK choy and the red pepper. Cook for a few minutes just until the bok choy is wilted and tender. Fold into the soup and serve.