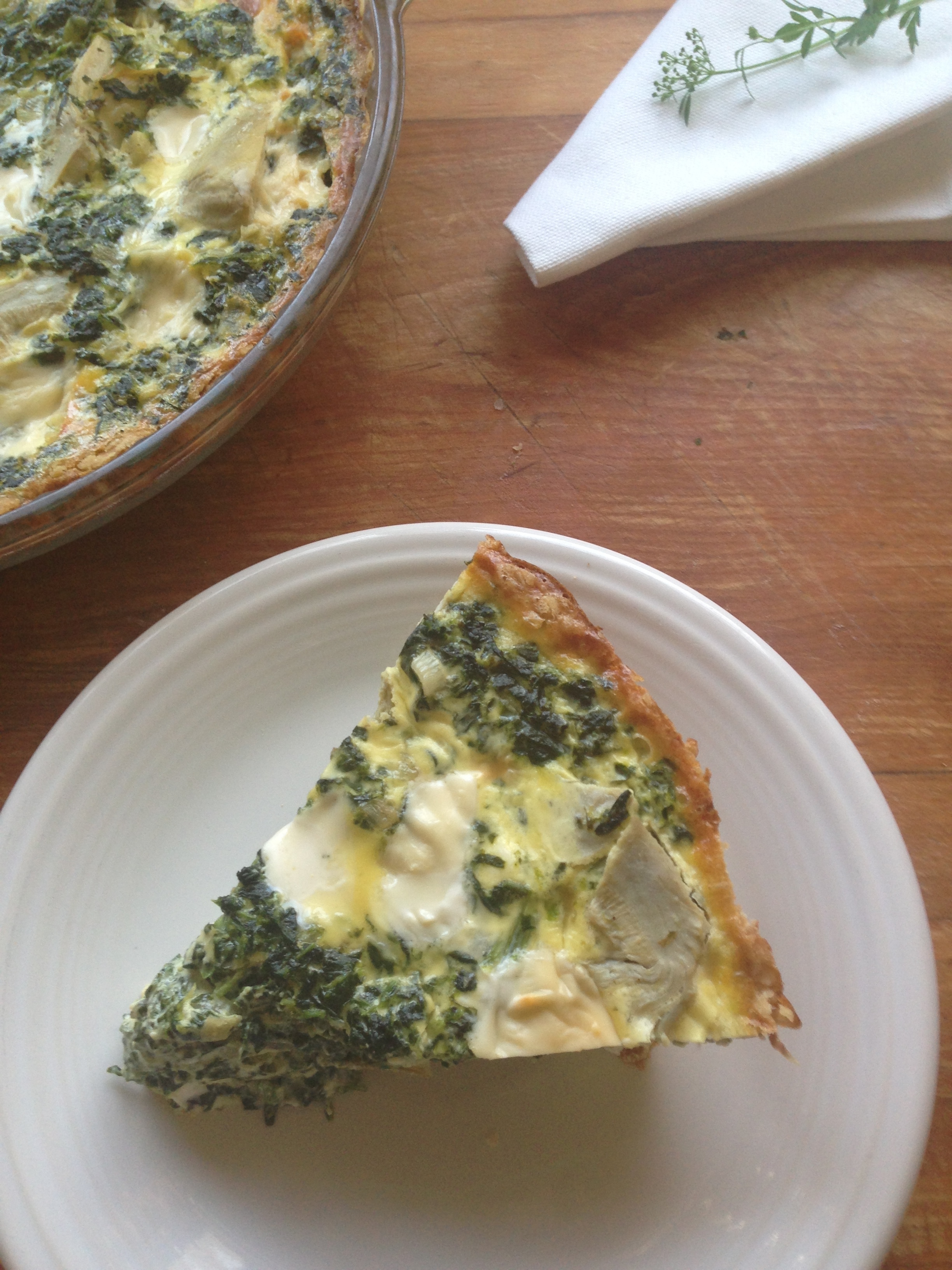 I've never made Quiche – or if I did, it was so long ago I don't remember. But then I found this recipe by Simply Recipes and was inspired because it felt so Spring like and I just love spinach and artichoke anything…especially dip so I thought I'd make a classic dip into a quiche.
But like so many recipes I try, I never follow a recipe exactly and this was no exception. I substituted cream cheese for the goat cheese and then added a bit of sour cream and american cheese (because my daughter LOVES white american). And I must say this was one of the best quiches I've ever had. it was rich, yes, but I didn't have to eat a big piece to be satisfied. The intense flavor of the artichokes complemented the mild flavor of the creamy spinach and the lemon zest set the whole thing off perfectly.
Feel free like I did to substitute the cheese like I did and switch the half and half to milk if you want a lighter version. As for the crust, I followed the instructions on Simply Recipes exactly – well almost. I didn't freeze the crust after rolling it out and placing it in the pie plate. That was a bit more time than I wanted to give it but I did bake the crust first. However, it is important (as my friend Sandra who consistently makes the best quiches ever, explained) to refrigerate the dough after you mix it because that allows it to rest and active the gluten, resulting in a flakier crust. And that it was. Flaky, buttery, delicious.
I also didn't finely chop the artichokes but kept them quartered, which I loved because it gave an airiness to the quiche, but you may want to chop the artichokes a bit more so the flavor is more evenly distributed.
I also used a 10″ pie plate so I increased the amount or spinach and artichokes I used
Ingredients
For the Crust (for this part I followed Simply Recipes )
1 cup all purpose flour

1/2 teaspoon salt

1/2 cup (1 stick, 4 ounces, 8 Tbsp) butter

2 to 2 1/2 Tbsp of water

One 9-inch pie dish
The Filling
1 cup, (226.8 g) packed, finely chopped artichoke hearts (canned artichoke hearts packed in water)
1 cup  frozen chopped spinach (thawed and squeezed to remove excess water)
1/4 cup (56.7 g) minced shallots (sautéed under low/medium heat until softened)
3 teaspoons (14.3 g) grated lemon zest
4 eggs (large)
1 1/2 cup (343 ml) half and half
4 ounces (115 g) cream cheese – at room temp and added in small pieces
4 slices white American cheese – torn into random pieces
2 tablespoons (28.3) sour cream
1 1/2 teaspoons kosher  or sea salt
1/4 teaspoon black pepper
Instructions
Make crust according to the instructions on Simply Recipes.
In a large mixing bowl, beat the eggs.
Fold in the remaining ingredients and fill the pie plate.
Bake in a 350 degree F (180 C) oven for about 45 minutes or until the center is firm.
Remove from the oven and let it cool to room temperature before slicing.