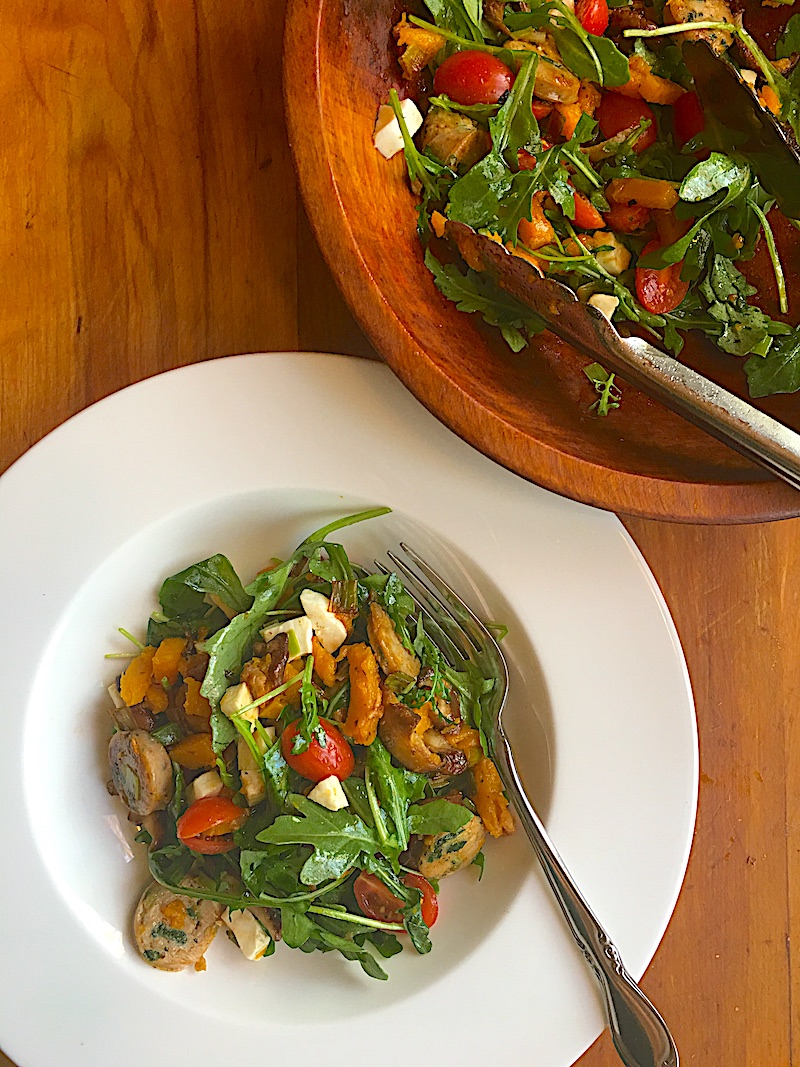 I love sautéed salads, especially in cool weather. Sauté is one of the most flavorful ways to cook anything. It captures the full flavors of the ingredients in the skillet cooked in a bit of oil with herbs and spices and then tossed with crispy greens. Yum!
For this dish I sautéed chicken and kale sausage, shiitake mushrooms and thinly sliced butternut squash and mixed them with arugula, tomatoes and mozzarella. Such a delicious combination that was both filling and satisfying that I needed nothing else to complete this simple meal.
Ingredients (serves 2 entrees or 4 salad courses)
4 chicken/kale sausage  – boiled until almost done (about 15 minutes) and sliced
4 oz of shiitake mushrooms – sliced
1/2 small butternut squash – peeled, seeded and sliced in matchsticks 1 inch x 1/2 inch
A dozen grape tomatoes – sliced
8 oz of fresh mozzarella – diced
2 cups of baby arugula (or other greens)
1/4 cup of extra virgin olive oil (or enough to cover the bottom of the pan)
1 small onion (or leek) – thinly diced
1 clove fresh garlic – finely chopped
Pinch of red pepper flakes  (optional)
Salt and pepper to taste
Instruction
Place a large skillet over medium/high heat, add oil and heat until hot but not smoking. Add onion (or leek) and squash and cook for a minute and follow with the mushrooms and the sausage. Cook for a couple of minutes more, stirring occasionally just until all of the ingredients are tender and begin to color. Add the garlic and pepper flakes, cook for about 30 seconds, add a splash of water to prevent over browning if needed and remove from the heat.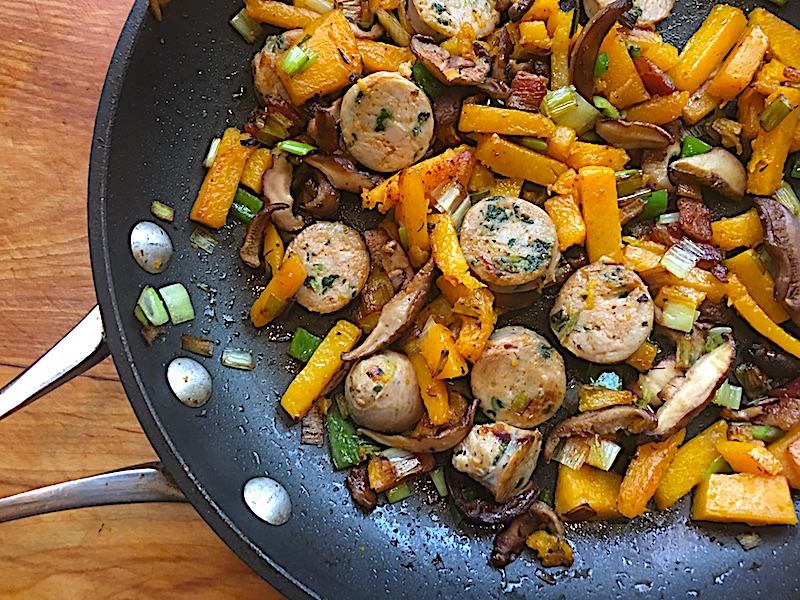 Add the contents of the skillet to a salad bowl and add the sliced tomatoes and diced mozzarella.
Add the arugula and toss with all the ingredients. Add more oil if needed and season with salt and pepper.
Serve and enjoy!