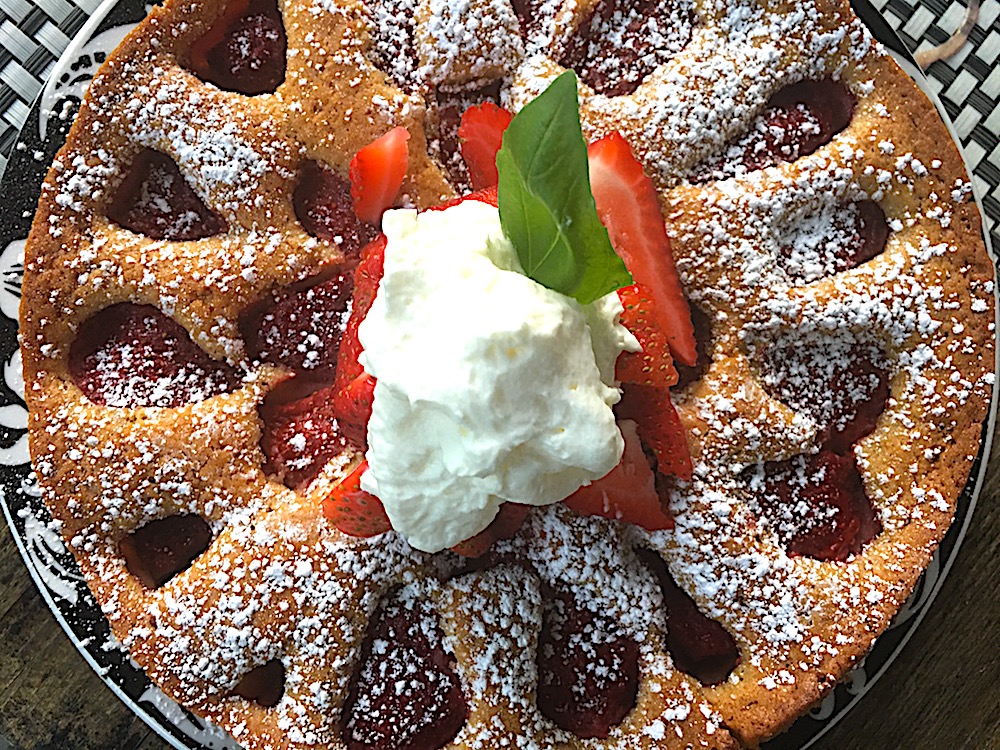 I've been perfecting this cake for some time now This one's a strawberry coffee cake but I've also made it with blueberries, peaches, and a combination of any of the two. This fall, no doubt I'll make one with apples. Basically whatever fruits are in season…I'm going to make this cake. For my taste, it's perfect! Light, fruity, low in sugar, high in deliciousness and so easy to make.  I call it a coffee cake because it goes perfectly with coffee and tea and best of all…it's not too sweet.
Enjoy the fruits of the summer with this adaptable recipe originally inspired from this wonderful blueberry cake recipe from Simply Recipes.
Ingredients
1 doz. strawberries – cut in half (or enough to cover the top of the cake as shown) extra strawberries for topping
1 cup flour
1/3 cup sugar
1 stick (1/2 cup) softened butter
2 eggs
1 teaspoon baking powder
1/2 teaspoon salt
1/2 teaspoon cinnamon
1 teaspoon lemon juice
Powdered sugar for dusting
whipped cream for topping
cut strawberries for topping
Instruction
Preheat oven to 350 degrees
Beat butter with sugar until fluffy
Beat eggs, and lemon juice
In a separate bowl, combine dry ingredients: flour, baking powder, salt and cinnamon
Fold into the wet ingredients
Spray an 8 or 9 inch cake pan with non stick spray and dust
Add the batter to the pan
Place the cut berries in a pattern or simply cover the surface and press down into the batter.
Cook in the preheated oven for about 50 minutes or until golden.
Cool, dust with powdered sugar and top with more cut berries, whip cream and a sprig of mint if desired.