This Sun-dried Tomato Sauce is the bomb! It's is so filled with creamy flavor that it even got me…a notoriously slow eater…gobbling this up!! Seriously, the sauce is amazing not only with pasta and shrimp as I make here… but with chicken, scallops, or any white fish. No doubt once you make this, you'll have your own ideas for possibilities. In fact, I made extra sauce and yet it in the fridge ready to go! It should be fine for a week or so.
Ingredients (feeds 4)
1 lb spaghetti or other pasta
About 1/2 – 3/4 cups of sauce
4 to 5 large shrimp per person – cleaned and deveined
3 tablespoons olive oil (or just enough to lightly cover the bottom of the pan)
Pinch of red pepper flakes
2 pats of butter
3 to 4 tablespoons of heavy cream or half and half (or to taste)
1 tablespoon chopped parsley.
Sun-dried Tomato Pesto Sauce
1 cup basil leaves – loosely filled
1 cup parsley leaves – loosely filled
1/2 cup sun-dried tomatoes
1/2 cup raw cashews
2 medium garlic cloves
1/2 extra virgin olive oil
1/2 cup light chicken broth (or vegetable) more if too thick
1/4 cup grated parmesan
Season to taste
Instructions
Place all the ingredients (except the parmesan) in the bowl of a food processor or electric mixer and pulverize into a grainy thick sauce. Add a bit more broth if too thick but remember you want to err on the thick side because you'll be adding cream later in the skillet. Set aside.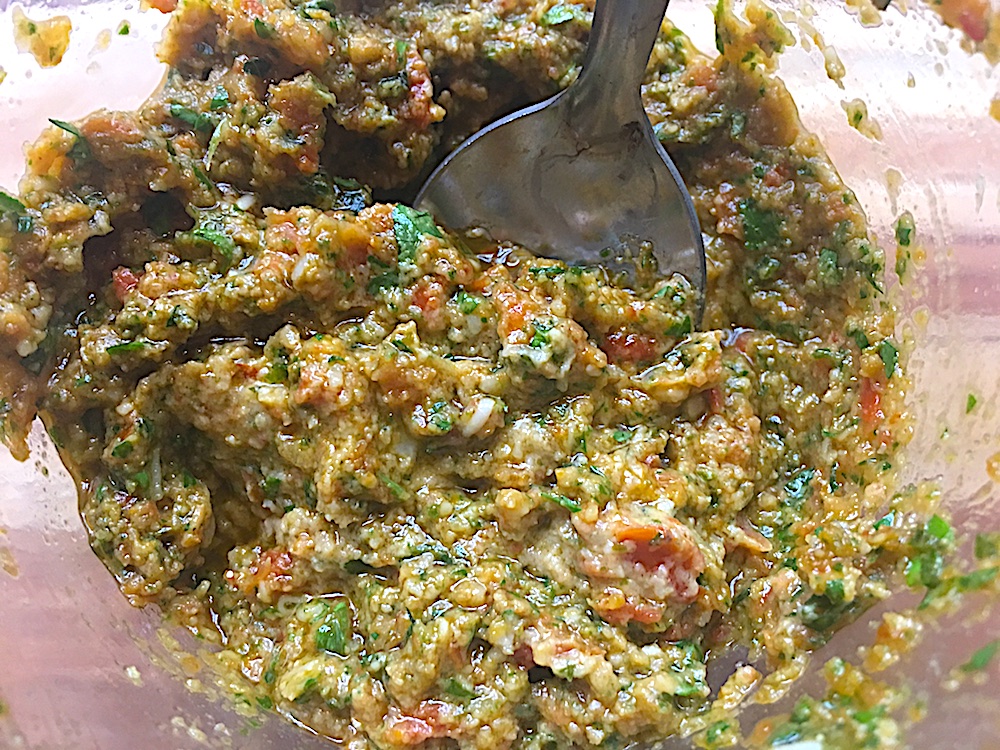 In the meantime, cook the pasta in a large saucepan according to package directions. Drain and set aside.
Place a large skillet over medium heat. Add just enough oil to cover the bottom of the pan. Heat until hot but not smoking. Add the shrimp. Cook for about a minute on each side, add the pepper and the butter followed by the sauce and the cream. Add more cream or a splash or two of broth until you get to your desired consistency. Bring to a gentle boil.
Remove the shrimp from the pan and set aside. Lower the heat on the sauce. Add the pasta. Toss to coat. Serve the pasta on individual plates or a platter. Top with whatever sauce is remaining in the pan and the shrimp. Finish with chopped parsley.