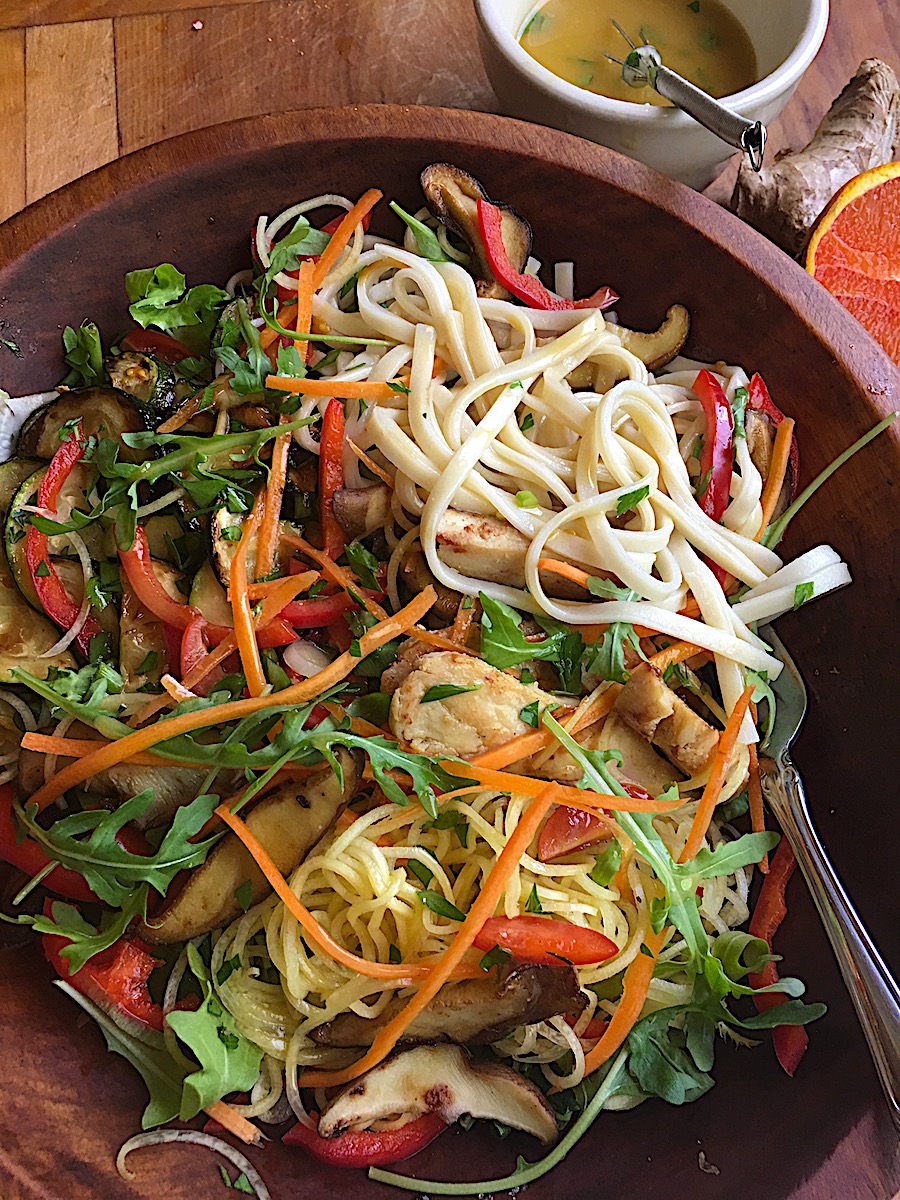 I'm a big fan of big, flavorful, a meal in a bowl salads. I also love combining sautéed ingredients with raw ingredients to add to fresh, crisp greens. Hot over cold; different textures and a mix of flavors. The possibilities are endless so salads can be some of the most creative and fuss free meals one can make.
And then there's the dressings! Every time I whip up a new dressing, I feel like a true alchemist in the kitchen. This dressing is a perfect example of the magic that can happen with a few turns of your whisk…orange ginger vinaigrette.
Ingredients
4 cups of mixed greens – 2 per person or thereabouts
Cooked chicken tenders – or any cooked chicken
1 zucchini – cut in half moon 1/4 in slices
1 carrot – spiralized or cut in very thin strips (I used a gourmet yellow carrot above)
1/2 small red bell pepper – cut in thin strips
4 oz or so shiitake mushrooms – sliced
4 oz of udon noodles – cooked and drained
1 scallion – diced
1 few grape tomatoes – cut in half
Olive oil for sautéing
Salt and pepper to taste
Dressing
6 tablespoons extra virgin olive oil
2 tablespoons rice vinegar
1 tablespoon soy sauce
1 teaspoon dijon mustard
I small garlic clove – finely chopped
1 tablespoon fresh grated ginger
1 tablespoon fresh grated orange zest
1 tablespoon fresh chopped parsley
Juice of 1/2 lemon
Instruction
Add your choice of greens to a large salad bowl and toss with a bit of the dressing. Don't overdress. A little goes a long way. Season with salt and pepper.
Place a medium skillet over high heat and lightly cover the bottom of the pan with olive oil (about 3 tablespoons) and heat until hot but not smoking.
Add the zucchini and cook until tender and brown on both sides. About 2 to 3 minutes. Add the zucchini to the greens.
Add more oil to the pan (a little more than before) to cover the bottom of the pan. Heat until hot but not smoking. Add the mushrooms and cook until browned and tender but crisp followed by the chicken to warm (about 3 minutes). Add the garlic and cook for about 30 seconds, just until it starts to color,  remove the pan from the heat, season and add the mushrooms and the chicken to the greens.
In the meantime, cook the noodles according to package directions. Rinse with cold water to stop the cooking. Drain and set aside.
Add to the salad along with the carrots, the scallions and the bell pepper strips.