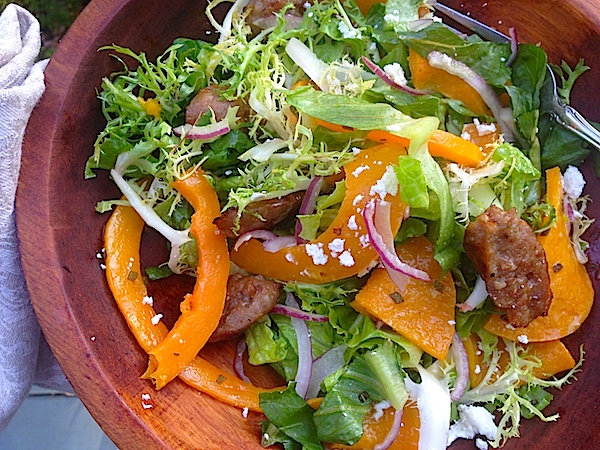 This is salad for dinner at it's best. It's not meant to be a side to anything! From the moment I came up with this combination (inspired by two salads in a recent issue of Better Homes and Gardens: Caramelized Squash Salad with Pistachios and Goat Cheese and the Pear and Potato Salad with Sausage)……… I couldn't wait to make it…and eat it.
This salad exceeded my expectations and I look forward  to making it again and again,  and try different sausages, maybe some fennel or thinly sliced apples. The variations for this salad could keep me inspired for a while, but on this day,  the dressing was a blood orange/maple/ginger (from the squash salad above); the greens a combo of frisee and romaine; and the caramelized squash and roasted sweet Italian sausage; and topped with slivered red onion and goat cheese.
It was an explosion of flavors with every bite – a wonderful balance of sweet and savory that I literally…could not stop eating. I finished this whole bowl in record time…and I wanted more.
Ingredients
(makes two entree salads)
1/2 butternut squash – peeled and sliced in about 1/4″ pieces ( about 6 mm)
8 oz. (227 g) roasted sausage – sliced diagonally in bite size pieces
2 – 3 handful of mixed greens per person
1/4 red onion – thinly sliced
6 – 8 sage leaves – finely diced
drizzle of extra virgin olive oil
Sprinkling of goat cheese
For the Dressing
1/2 cup (59 ml) fresh blood orange juice
3/4 cups (177 ml) extra virgin olive oil
1 tablespoon (about 15 ml) dijon mustard
1 tablespoon maple syrup
1 teaspoon (5 ml) grated fresh ginger
Salt and pepper
Instruction
It doesn't get easier than this or the rewards more satisfying. This will be my go to salad all winter long…I'm sure.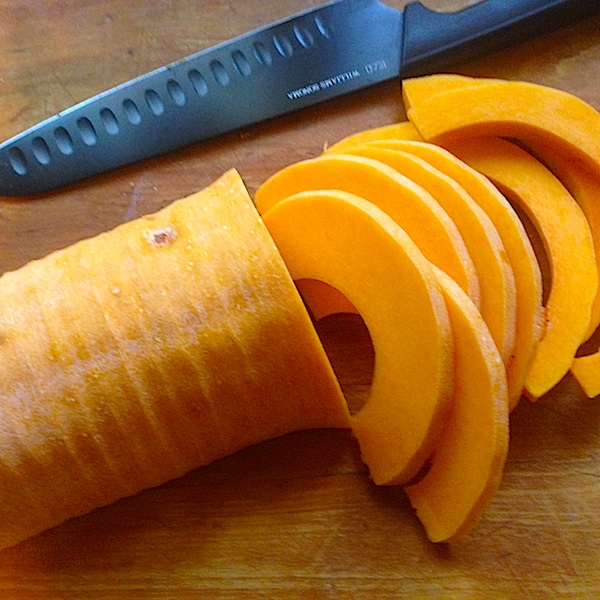 I cut the squash thinly (I think I was so hungry I didn't want to wait long to eat it) but next time I'd cut it a bit thicker so it has a longer time to roast. These took about 15 minutes @350 degree F (176.6 C)
I then tossed them in a drizzle of extra virgin olive oil and the diced sage, seasoned them and…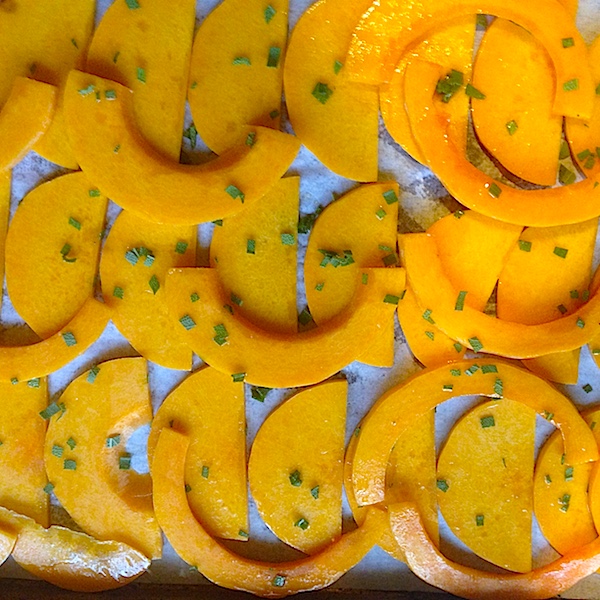 and laid them out on a baking sheet covered with parchment paper. Then they baked until soft, golden and the aroma of roasting squash filled the kitchen…about 15 minutes. It'll take longer if you slice it thicker. And if the slices were a bit thicker, they would have gotten to a deeper, more caramelized color.
While they're roasting, make the dressing. Add all the ingredients (except the oil) to the bowl of a food processor or a mixing bowl and then slowly whisk in the oil (with either your whisk moving, or the blade of the mixer running.
I had roasted the sausage the night before but you can just as easily roast them at the same time as the squash. I simply sliced each link into bite sized pieces, cutting them on the diagonal (and about 1/2 inch thick) and then laid them flat on a baking sheet. They cooked in about 20 minutes, but that will depend on thick you cut the pieces. Once there's no visible pink and the edges have begun to curl, they're done.
Add the greens to a large or individual bowls. add all the ingredients, toss with the dressing, and serve. You're going to LOVE tis salad. I know I'll be eating this all winter!
Enjoy!!! And don't forget if you have any questions or comments…I'd love to see them below.
Until next time,
Silvia