Pots, Pans and more…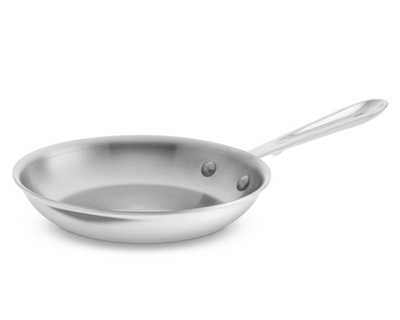 They come in standard 8", 12" and 16" but you can start with the medium 12" size which will be good for most cooking. This one's from All Clad, one of my favorite brands.
A good skillet (or saute or fry pan) has a large cooking surface and low sides. This allows the pan to heat quickly and the liquids in the pan to reduce quickly, leaving behind any brown bits which you want and need to make all those delicious sauces – just one of the reasons you don't want a non-stick pan except for eggs – the other is that it doesn't easily scratch and can last a lifetime.
The best ss skillets are made of at least two layers of stainless steel with a layer of aluminum sandwiched in between. This is because ss stands up to high heat but is a poor conductor of heat but aluminum is a great conductor but can't take the heat. Together they're a marriage made in heaven.
You'll use your skillet to fry more than eggs or burger patties. You can cook, fry or saute almost anything in one of these babies – I know. I wrote a whole book on saute. And it can go from stovetop to oven…so don't get the kind with rubber handles – unless they come off.
So when you see that pretty fry pan with a red or orange handle and a perfect, non-stick surface…walk on by.
Just go stainless!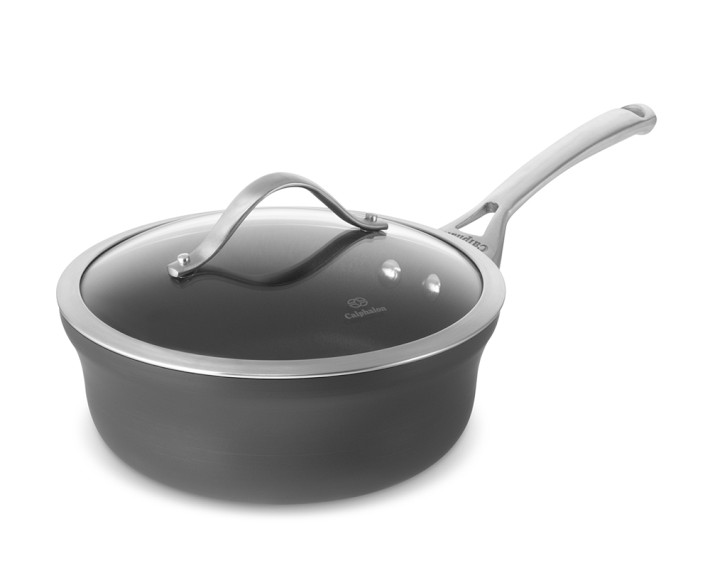 Like the skillet above, I prefer most of my pans to have curved sides like this one. This allows me to easily toss food around in the skillet or stir a sauce in the saucepan without getting food stuck in the sides. This is especially helpful when making a roux. Now don't get all scared at the mention of this fancy sounding term. It ain't fancy at all – just French for flour and fat. More about that later.
You'll use a saucepan to cook rice, pasta, veggies and of course sauces – which a bit later in this primer you'll know how to do.
What…another pan and what's braising?
This is the pan you'll go to when you want to cook food slowly, in liquid (usually in the oven) after searing it on the stovetop – which is braising. And that could be anything from chicken to veal shanks. Oh my!
But if you want to skip this pan for now, the roasting pan below can double for a braising pan.
They come in all shapes and sizes. Get one that heavy duty and at least 15/16". You'll need one that big for a turkey. The rest of the year it can double as a braising pan – that's simply a pan with relatively high sides and a large flat surface so you can sear meats and then cook them slowly in liquid. You can get a non-stick one for easy clean up or better yet…get a stainless one like this.
You've seen pot sets like this everywhere and this all purpose pot can cook everything from pasta to corn on the cob and lobster in one of these. And it's a steamer too.
Oh…and let's not forget soups…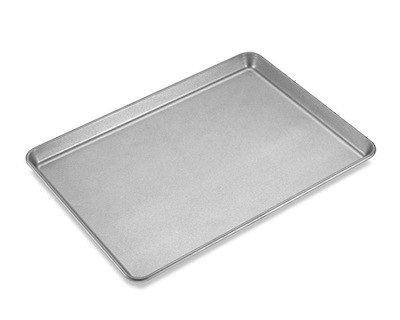 Get at least 2. You'll use these for everything from baking cookies to roasting veggies or a whole side of salmon.
Get 3 – a small, medium and large size or any mixing bowls you like; plastic, glass, ceramic and of course stainless steel like these.
And if you want color…knock yourself out and get something like these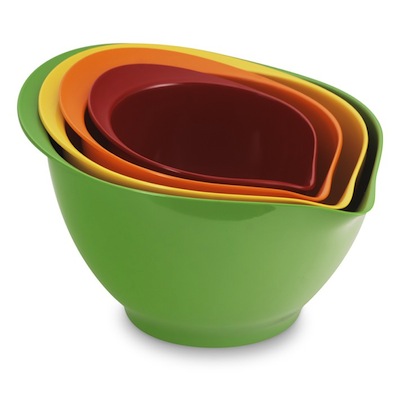 For draining cooked food in liquid. This one's a classic.
Cutting Boards
 Wood
They come in so many shapes, sizes, materials and colors…that they can make a
gal's head spin. Here's the easy button for choosing among these must haves.
A heavy duty butcher block classic that won't move while you're chopping…a really good thing.
You'll need these to cut meat, poultry, fish, and anything else.
Spatulas, Spoons and Such
Like most things in the kitchen, these come in all shapes, sizes, colors and materials…no wonder putting together your ideal kitchen is confusing…there are so many choices. What fun…especially when you can express your individual style in a spoon.
So you can go a little crazy but here's to keeping it beautifully simple.
A little plastic, a little wood and a little…stainless.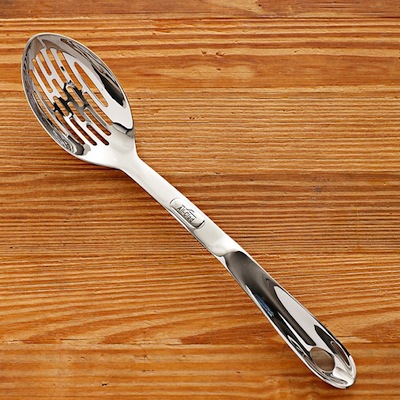 Get the basic kind such as this one. They're the easiest to maneuver. Fancy grips just get frustrating.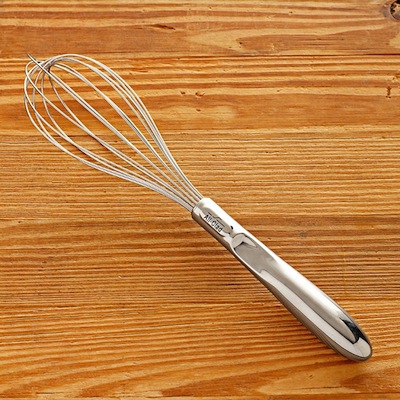 Another example of where basic is better.
You can grate (fine or larger) slice and more.
And then there's:
Knives…covered in another post here
And let's not forget the electronics: Mixers, food processors, slow cookers. fryers, panini makers, waffle makers, etc. There's something for everything.
Here's a list of my favorite Electronic Helpers.
And of course there's an endless list of other gadgets
peelers
measuring cups and spoons
skimmers
zesters
pot holder
storage containers
spiralizers
mop towels and I could go on…