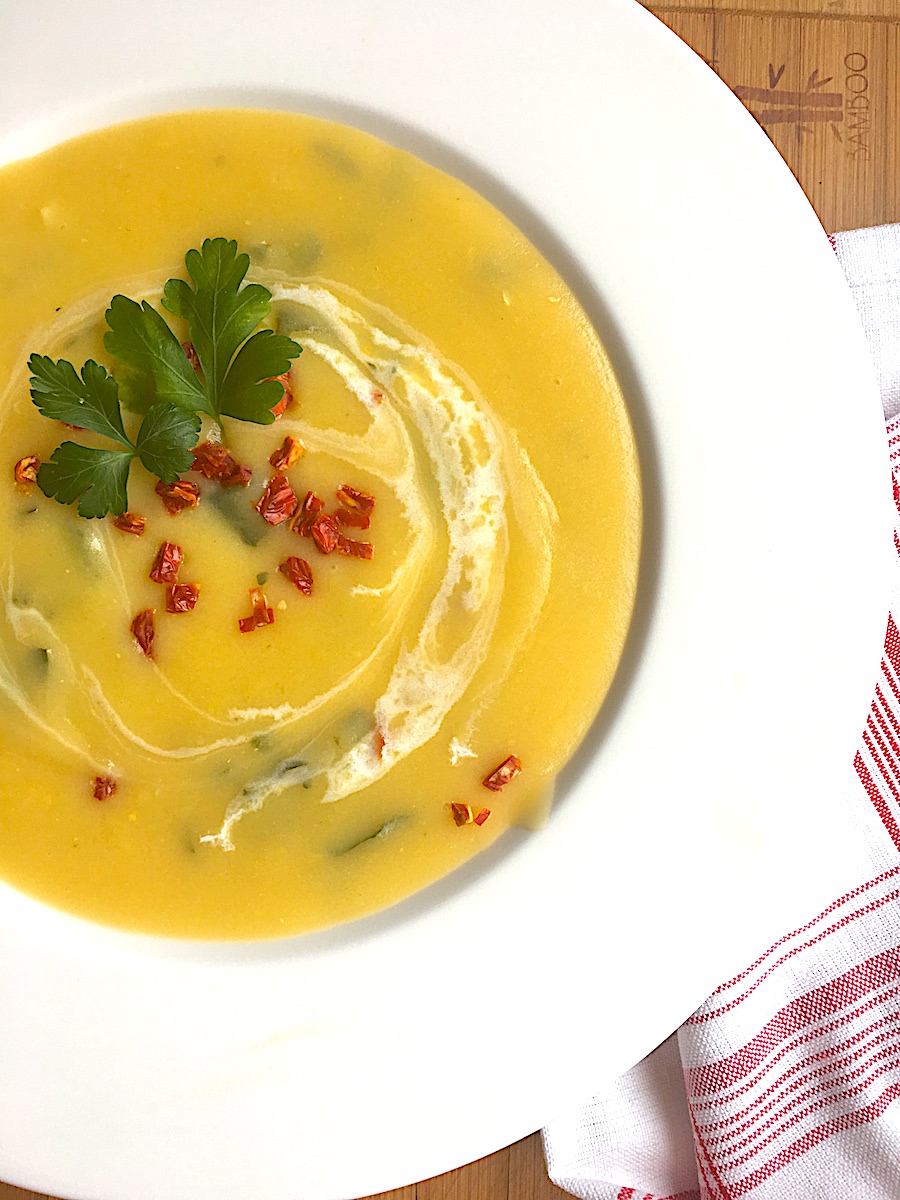 This potato cheddar soup with a hint of spicy jalapeño is so easy to make, it really doesn't even require a recipe. Boil potatoes just like you would when making mashed potatoes. Puree them. Add broth, Add cheese. Add sautéed jalapeño. But knowing that many people still want a recipe…I'll gladly provide one. I finished this with a touch of cream but you could use sour cream or leave it out, And like any baked potato, you can top it with whatever you like; sun-dried tomatoes (as I did) scallions, bacon, avocado…whatever you like.
Ingredients
10 – 12 medium baking potatoes – peeled and cut in medium similar sized pieces (so they'll cook at the same time)
2 sweet potatoes – (just because I had some around) peeled and cut in medium pieces
1 medium onion – diced
1 clove medium garlic – finely chopped
1 cup (128 g) of grated cheddar cheese
About 2 quarts (1.89 liters) chicken (or veggie) broth ( or until you reach your desired consistency)
2 jalapeno peppers – seeded and diced
3 tablespoons extra virgin olive oil – or enough to lightly cover the bottom of the pan
Salt and pepper to taste
Splash of cream
Garnish with your favorite topping
Instruction
Place potatoes in a large sauce pot. Add enough water to cover the potatoes and cook until you can easily pierce them with a fork.
Working in batches, puree the potatoes until creamy, adding some broth if needed to get a smooth puree.
Clean and dry the pot and return it to the stovetop over medium heat. Add oil and heat until hot but not smoking.
Add the garlic and the jalapeño. cook until the garlic begins to color, about 30 seconds and then add the potato puree back to the pot. Add enough chicken broth to get it to the consistency you like.
Add the cheese, a splash or two of cream, stir, season and serve.
Top with your favorite garnish.