I've gone tempura crazy! Why, because I LOVE it. Tempura is a great way of frying seafood and vegetables,  without the oil that frying them would add. Both get cooked perfectly on the inside, while being encased in a crunchy, crispy outer layer, while the flavor of each vegetable is enhanced. I especially loved the kale, potato slices and the big surprise…long thin ribbons of zucchini (which I thought would fall apart and didn't) were amazing. The shrimp was perfectly cooked and the tilapia (any firm fish will do) was melt in your mouth, flaky good.
Yet, making good tempura can be a bit tricky…so I decided to experiment a bit and come up with a fail proof recipe.
I've made a number of tempura batters over the years and really wanted to cement down my favorite. It seems that with tempura, you can use flour or flour with cornstarch; ice water, seltzer water, or club soda; eggs or no eggs. So which is it? What makes the best tempura? I set out to find out.
The traditional Japanese recipe is a mixture of flour, eggs and ice water, but this batter can be tricky to work with and easy for it to become gummy if over mixed. When I tried this, the first few batches came out crispy and light. As I continued, the result was more and more doughy…even though I didn't over stir the batter. It seemed that merely by emerging the ingredients into the batter was enough to stimulate the gluten in the flour that results in the doughy effect. And they came out more oily than I liked. See…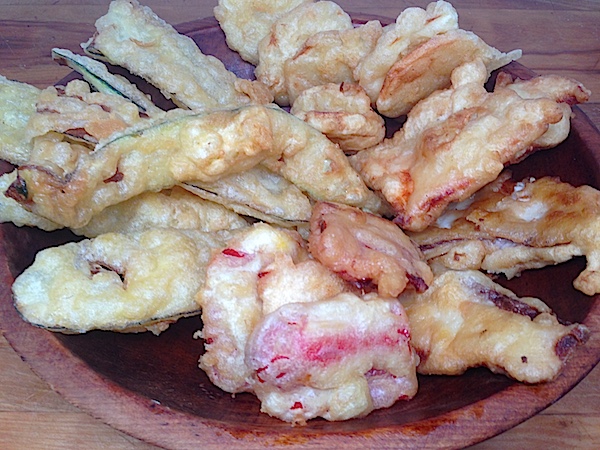 So then I made a batter using 1/2 flour and 1/2 cornstarch, an egg and seltzer water. This produced far better results. The cornstarch buys you time before the batter gets doughy, you don't have to worry about over mixing the batter as much, and the seltzer water (or any bubbly water) seems to add to the crispiness. The results were much, much better. In fact they were downright delicious – crispy, light, and not oily!
Finally I decided to try a mix of 1/2 flour and 1/2 cornstarch, seltzer and no egg which became more like 2/3 flour and 1/3 cornstarch because the batter was too thin. Again the results were really good…but not quite as good as the 1/2 and 1/2 mixture + I the addition of the egg added a bit of richness to the batter and helped to thicken it so I didn't have to add additional flour as I had to do here. Still, very good though…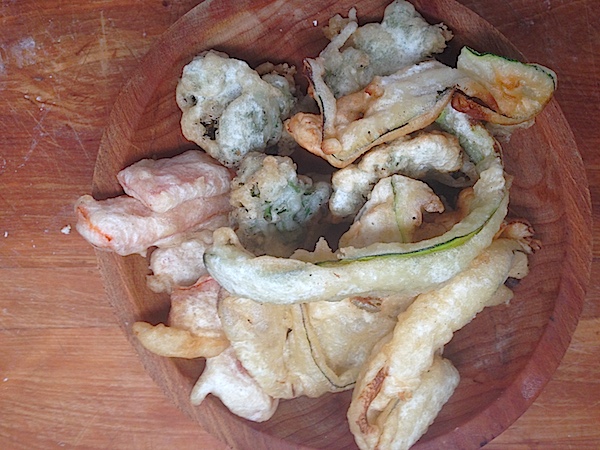 So here's my new go-to batter recipe…
1/2 cup flour
1/2 cup cornstarch
1 cup ice cold seltzer (club soda or other bubbly water)
1 egg
Pinch of salt
And here's the tips I found to make making tempura easy and crispy
Do Your Prep First: Cut all your vegetables and seafood in bite sized pieces
Heat your oil to where it sizzling but not smoking: 

170 and 

180 degrees Celsius

 (340-

360

 degrees Fahrenheit)

Don't over crowd your frying oil: that's one of the reasons one of my batches came out oily
Make your batter last: prepare it when all your ingredients are prepped and you're ready to begin frying
Don't over-stir your batter – a few lumps are expected
Only use a very cold liquid for your batter
Keep it chilled while frying
So what do you think? Was this helpful? Leave me a comment below.
Share your tips with me. Maybe you know something I don't.