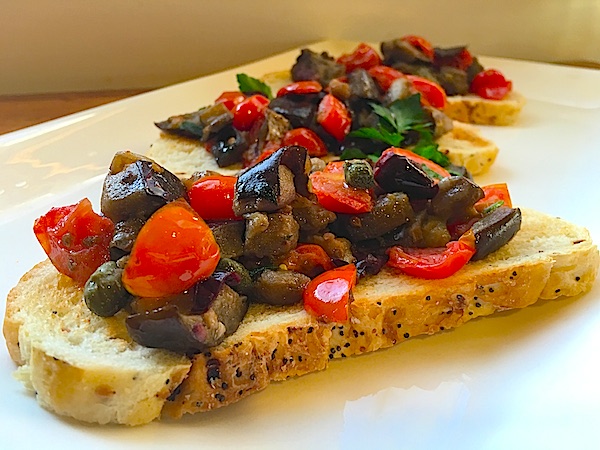 Eggplant is an often underappreciated vegetable, mainly – I believe – because it's often not prepared well – like many vegetables that people say they don't like. How many of you grew up not liking vegetables because you were forced to eat them steamed and devoid of flavor?
I grew up loving vegetables because many of them came from our backyard garden or a local farm, so fresh, and then simply sautéed bringing out their full flavor.
So that's what we're going to do here. Dice up the eggplant, sauté it in olive oil and garlic, add in some diced, fresh tomatoes, kalamata olives and capers and spoon it all over a slice of toasted bread. Heavenly!
Ingredients
1 firm eggplant- medium dice
10 – 12 grape tomatoes – quartered
1 medium garlic clove – finely chopped
Pinch of red pepper flakes for heat
A spoonful or two (tablespoon) of kalamata olives – pitted and quartered
A spoonful of capers
1/4 cup of olive oil or enough to generously cover the bottom of the pan
Splash or two of chicken or vegetable broth
Garnish with chopped parsley or basil
Instructions
Place a medium skillet over medium high heat and heat until hot but not smoking.
Add eggplant and cook until softened (about 6 – 8 minutes) turning every minute or so, adding a splash of broth to prevent burning as you go. Keep in mind that eggplant absorbs a lot of oil so adding broth keeps the oil at a minimum and adds needed liquid.
Make a space at the bottom of the pan, add a bit of oil then add the garlic and pepper flakes. Cook for about 30 seconds, then add the tomatoes. Cook until just beginning to soften (about a minute) then follow with the olives and capers. Stir just to incorporate, remove from the heat and finish with chopped parsley or basil
Add spoonful over sliced, toasted bread and serve.
Any questions or comments? Would love to read them below in the comments.