Frittata with Sautéed Mushrooms, Onions and Potatoes
Whenever I'm hungry and want a quick, yet satisfying meal I reach for my favorite cast iron pan, some eggs and whatever fresh vegetables I have on hand. In this case it was crimini mushrooms, onions and a jalapeno. I cut them thinly and cooked them – in my preheated pan – over high heat with a bit of olive oil until golden and softened. (About 2 minutes)
…but then I thought I'd like some potatoes too.
…so I peeled a small one, rinsed it, cut it thinly and set the slices to dry on some paper towels. Next I removed the vegetables from the pan and onto a plate. I returned the pan to the heat, added some more olive oil and waited until it got hot but not smoking. I cooked the potatoes until browned on the outside, but beginning to soften. (about 2 to 3 minutes)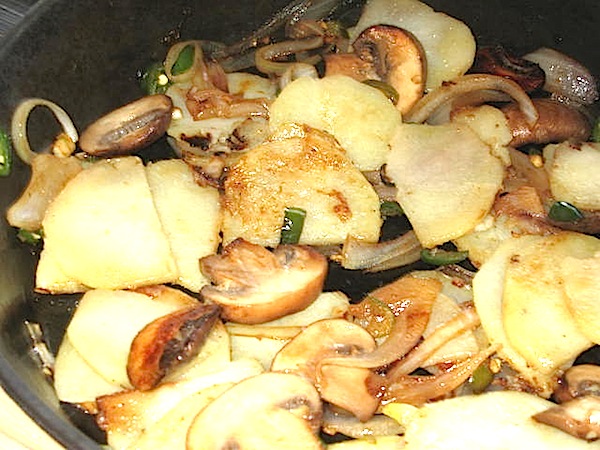 …then I added the veggie's on the plate back to the pan, scrambled three large eggs and added them too. I seasoned with some salt and pepper, let the eggs set on the bottom for a minute (pulling the eggs toward the center and letting the raw egg spil over). When the bottom of the frittata (which is nothing more than an open faced omelet) was firm, I removed the pan from the heat, added some cheese (sliced brie) and finnished cooking it in a 350 oven for about 10 minutes (cooking time will vary depending on how thick your omelet is).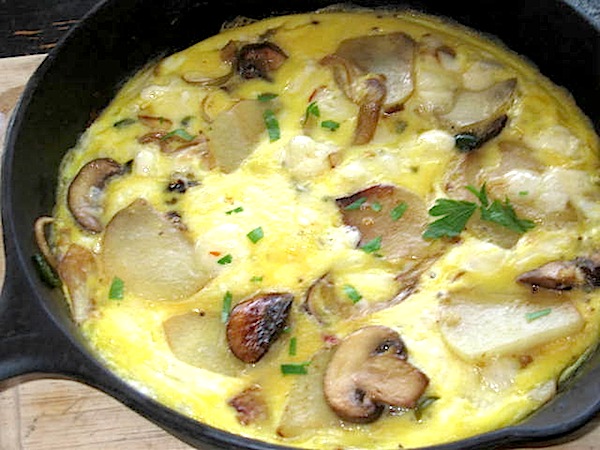 Though it's hard to see in this photo, the frittata has actually puffed up.Touch the center. If it's firm than the frittata is done. Slide it onto a plate by loosing all around with a spatula eat it right out of the pan. With cast iron…it's not barbaric.
This is so satisfying…whether its 10am or 10pm.