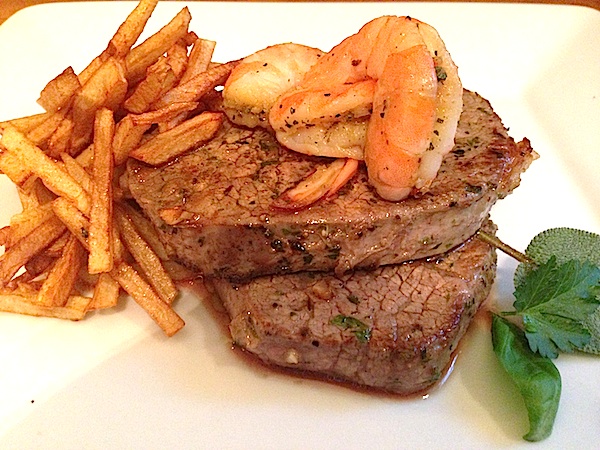 It's probably been a crazy week for many of you. I know it has been for me. I think the day after Labor Day should be considered the first of the year because that's how it feels. Vacation time is over and the real work begins, whether you're a kid going back to school or a big kid getting back to work.
By the time Saturday rolls around, many of us may feel a renewed sense of appreciation for the routine of our "real" lives as well as a feeling of loss for the carefree days of summer that went by all too quickly.
I don't know about you, but whenever something comes to an end I need a few days to readjust. It's a little like how I feel when the party's over – that little let down feeling that I know will pass but asks, "Now what?"
Now what feels a bit uncomfortable so in these moments I find that serving up some comfort food helps me to feel…well…more comfortable.
This week let me comfort you with a simple meat and potatoes recipe that you can fire up the grill for again, or make on the stovetop. It bridges the gap between Summer and Fall by utilizing all those fresh herbs still readily available and using them to impact even more flavor to this land and sea duo.
This delicious duo can be grilled or pan seared and it's naturally gluten free.
(I pan seared this because it was raining)
And I added some fries because I'm a French fry freak and I only allow myself this treat once in a while, but if that's not something you want to do, serve this dish with a simple tossed salad.
1 8oz steak per person
2 jumbo shrimp per person
1 potato per person; cut into fries
Splash of olive oil
Herb Rub
This is what I used but feel free to make up your own.
(this is good for at least 2 medium steaks)
2 – 3 fresh basil leaves
2 – 3 sprigs of fresh parsley (stems removed)
1 sprig fresh rosemary (stems removed)
2- 3 fresh sage leaves
1 teaspoon dry oregano
2 large cloves fresh garlic
Freshly ground salt and pepper to taste
Place herbs and garlic in a mound on the cutting board. Chop everything until fine.
Heat your grill or saute pan to med/high
Brush steaks with oil
Coat each side with the rub
Place on the grill and cook until done to taste *
For the shrimp
Place the saute pan on the grill (or stovetop)
Clean and devein the shrimp
Add oil to the pan (just enough to cover the bottom) and heat until hot but not smoking
Add the shrimp and cook for about one minute on each side or until both sides are pink and the center turns from translucent to opaque. About 30 seconds before the shrimp are cooked, add some finely chopped garlic and some of the herbs you used for the steak and a squeeze of fresh lemon juice.
For the Potatoes
Sometimes the simplest things are the hardest to get right. Making fries at home is one of those things. So here's a link that shows you the secret to making the best French fries at home. Click here
Plate and enjoy
Don't forget to drizzle some of the juices from the pan you sautéed the shrimp in over the shrimp and steak on each plate for some juicy goodness.
…and a few tips to insure its just the way you like it.
Rare steaks have a lot of give when pushed down with your finger
Medium rare has less give
Well done has little give when touched. For best results when cooking a steak on the well side, move it to a low heat area of the grill so that the outside doesn't get overdone or finish the steak in the oven (at 375) until it reaches the desired level of cooking.