The other day when I worked on this recipe, it was beautiful…as you can see. But it was more than that. It was perfect – one of those rare summer days in the Northeast that was finally free of humidity, crystal clear and sunny with just the slightest hint of Autumn. It was a perfect day for pizza.
I kneaded the dough with extra care and was delighted that it was so pliable because I intended to stuff the crust (something I hadn't ever done) and I wanted it to come out beautiful for these photos which I would submit to Mind Body Green later that afternoon along with the recipe. The result exceeded even my expectations.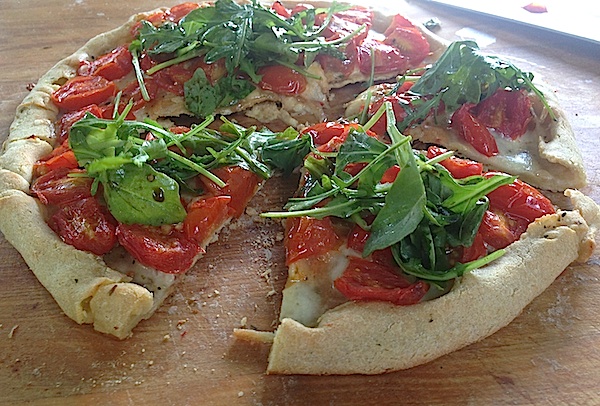 As featured in Mind Body Green
This pizza is as delicious as it is beautiful. I know it'll more than satisfy your pizza cravings, too. Let's get started.
Ingredients for basic dough (makes one 13″ pizza):
½ cup sweet white rice flour
½ cup all-purpose gluten-free flour (Bob's is a perfect mix of garbanzo bean, potato starch, tapioca, white sorghum and fava bean)
1 teaspoon xanthum gum
¼ tsp salt
4 tablespoons water
1 egg
1 teaspoon olive oil
Then for this specialty add:
2 – 3 oz. of low-fat mozzarella; cut in 1/4″ x 1/2″ slices
A mix of dry Italian herbs: thyme, oregano, parley, basil, rosemary (use about a teaspoon of whatever you like)
Ingredients for topping:
6 – 8 oz. of fresh low-fat mozzarella (shredded with a box grater)
1 pint grape tomatoes, cut in half lengthwise
2 cloves fresh garlic, finely chopped
2- 3 tablespoons of olive oil or just enough to cover the bottom of your pan
Salt and pepper to taste
2 cups baby arugula: seasoned and tossed with a splash of extra virgin olive oil and a smaller splash of balsamic vinegar
Directions for dough:
Place all the dry ingredients (except the herbs) in a large mixing bowl and make a hole in the center. Add the egg, water and olive oil, and mix with the flour a little at a time using a fork. Knead with your hands until all the flour is incorporated and you have a relatively smooth ball. Wrap in plastic and set aside for a least 10 minutes.
Dust your board with a bit of flour and knead your dough a few more times. Form the dough into a circular disk and pat it down with your hands. Begin rolling out the dough by rolling up and down a few times then turning the dough 45 degrees and rolling again. Do this until you have a thin crust about 13″ round.
Tip: lightly grease your hands with olive oil and keep "pasting" together any dough that's split. Gluten-free flour has a tendency to do this, but the olive oil and your loving hands help.
Once you have the crust ready, place it onto a round baking sheet (or pizza stone) that's been brushed lightly with olive oil. Add the slices of low-fat mozzarella along the rim of the dough about 3/4 " from the edge. Fold over the dough to cover the cheese as you move around the rim. Once all the outer crust is stuffed, roll 1/2 turn to seal.
Lightly burst the crust with olive oil and sprinkle on the herbs.
Place in a preheated 450 degree oven for about 10 – 12 minutes or until the crust begins to get golden and the bottom starts to bubble. Remove from the oven.
Top with the shredded mozzarella and sautéed tomatoes (see below)
Place back in the oven for an additional 3 – 4 minutes, or until the crust is a deeper golden and the cheese is melted. Remove and place on your cutting board.
Top with the fresh arugula which has been seasoned with salt and pepper and tossed with extra virgin olive oil and a good balsamic vinegar.
Slice and enjoy it with friends.
Directions for topping:
Place a medium (11-13″ saute pan) over med/high heat. Heat the pan for a few moments and add the olive. Heat for a few more moments until hot, but not smoking. Add the garlic and heat just until it begins to color and quickly add the tomatoes. Cook for about 5 minutes or just until the tomatoes begin to wilt but are still holding their shape. Remove the pan from the heat and set aside.
And as always, I want to hear from you. Leave a comment below. Ask me a question about this recipe or another. I'm here. Don't be shy, this is me you're talking to.