I started making what was called Adult Grilled Cheeses last year when I worked at a local organic cafe, The Green Granary in New Milford, CT. I had access to such a wonderful variety of fresh, seasonal, organic ingredients that I needed to use quickly while they were at their best…so I messed with the classic grilled cheese. Is this un-American?
So around this time of year…when a case of these sweet beauties came in, I thought – why not?
And since I love to mix the sweet with the salty…I added prosciutto, just one or two thin slices in the center of the sandwich – between slices of these dolce figi …Oh my.
And then I added a layer of baby arugula for a bit of greens and its light peppery taste and and this sandwich was in demand long after the figs were gone.
Since it's fig season again, I couldn't wait to recreate what became my favorite grilled sandwich ever.
This time I used ciabatta bread because I like how light it is (all those holes) and it toasts beautifully. For cheese I used a combination of brie and cheddar – not a lot – just enough to cover the bread. And this is what I got…and ate.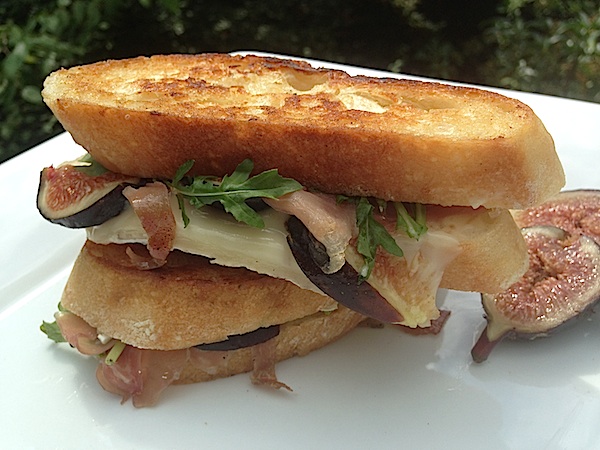 I don't eat something like this often. I try to keep bread and cheese to a minimum. But in celebration of figs. I couldn't resist.
You can customize this sandwich using whole grain bread, gluten-free bread; choose your cheese; and skip the prosciutto if you want. But don't miss adding figs to your grilled cheese.
Heavenly
Do you really need a recipe for this? You get the idea don't you?
But here's what you do need to know.
In order to get the golden crust I did, make sure your pan is hot. This does great in a non-stick pan but any pan will do as long as its hot (but not smoking). Add just enough oil (I like a combo of butter and olive oil) to lightly cover the bottom of the pan. Add the sandwich and press down with your hand for a few moments and then let it cook until the bread is golden – about a minute or two. Flip and repeat.
What do you think? Is this something you'd like to try?
What are some of your favorite grilled sandwiches?
Are you incorporating seasonal and local into your grocery list? If not, how can I help?