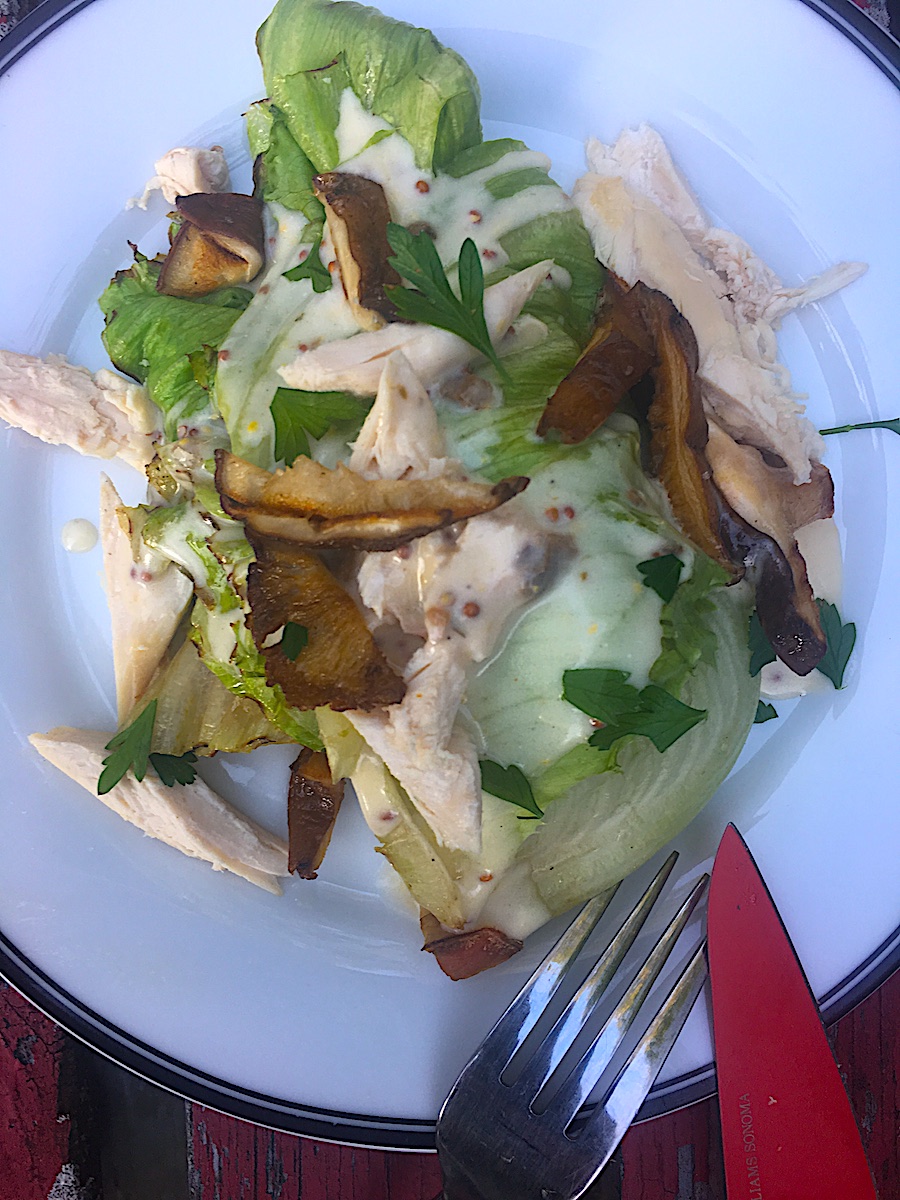 I've gotten a new respect for iceberg lettuce. It first started when the wedge salad – fully loaded – was popular a number of years ago. But then I forgot about this lettuce until the other day.
I was suddenly inspired to grab a head of iceberg, cut a wedge and grill it. Then I added shredded chicken from a store bought roasted chicken, added a creamy anchovy dressing and topped it all with crispy shiitake mushrooms. Oh my! This was so good!!
This dish was so satisfying and makes a perfect lunch, a light dinner, or can easily fit into a multi-course meal. Easy, flavorful and healthy! A home run!!
Ingredients
I head of iceberg lettuce – cut into 4 wedges
1 cup of shredded cooked chicken – about 8 oz (226 g)
1 cup of shiitake mushrooms – sliced
1/4 cup of olive oil
1 clove garlic – finely chopped
1 batch dressing – recipe here
Garnish with parsley
Season to taste.
Instruction
Warm a grill pan over high heat, drizzle with oil and grill each side of each wedge (about a minute on each side) just until it begins to wilt and char. Remove from the heat and place each wedge on an individual plate.
In a separate skillet, place over medium/high heat, add a generous amount of oil to cover the bottom of the pan. Heat until hot but not smoking. Add the mushrooms and saute until crispy, about 2 minutes. Remove from the heat. Add the garlic. It will brown in the hot oil. Add a splash of water if it begins to brown too much. Season with salt and set aside.
In the meantime, make a batch of the dressing. Divide the chicken between the 4 plates. Drizzle with dressing. Top with the mushrooms and garnish with fresh parsley (and parmesan if desired).