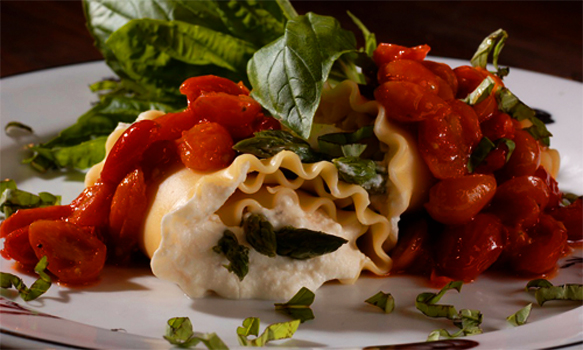 Hand rolling each lasagna noodle Is a wonderful way to not only make this classic comfort food look fancy, but it allows you to customize each piece—if you want to–without having to make a full tray of the flat, layered type. So, if someone doesn't care for peppers, for example, you can easily leave them out. It's also a perfect solution if you want to make lasagna for just a few.The ricotta-béchamel filling, gives each piece a creaminess that is more interesting and lighter than using ricotta alone. I especially like completing the filling with fresh mozzarella, asparagus and roasted red peppers–but any combination of your favorites are fine.
Makes 4-8 servings
8 lasagna noodles
1 cup filling (see below)
8 ¼ inch slices fresh mozzarella
16 pieces fresh asparagus–ends cut and baked until cooked but still firm (about 10-15 minutes depending on the thickness, in a 350 degree oven).
1/2 cup roasted red peppers filets (buy prepared or better yet, roast your own)
1 cup tomato sauce (see below)
Salt and freshly ground black pepper to taste
3 large fresh basil leaves — slivered
Cook the lasagna noodles in a large pot of boiling, salted water for about 10 minutes, and drain while the noodles are still firm. Rinse the noodles under cold water to stop further cooking (remember, they will cook more in the oven.)
Preheat the oven to 350ºF.
Perfect Basic Tomato Sauce
1 can crushed tomatoes (one with no added garlic or herbs) *
2 tablespoons olive oil (or enough to just cover the bottom of the pan
1 clove fresh garlic–finely chopped
Pinch of crushed red pepper flakes
1 sprig of fresh basil (one with multiple attached leaves) or parsley
Salt and pepper to taste
In a medium saucepan over medium heat add oil and heat until hot but not smoking. Add garlic and pepper flakes and cook for about 30 seconds or until golden. Follow quickly with the tomatoes. Add the basil, lower the heat and simmer for at least 30 minutes until the sauce is cooked (no raw tomato taste) and sweet.
*Note: Experiment with different brands of crushed tomatoes. Try ones that have no added puree, garlic or herbs. These will change the taste of purely delicious tomatoes. It is best to add these fresh when you make the sauce.
Use this sauce in every dish that calls for a tomato sauce. Use it over pasta of course or make it in a large sauté pan and use it as the foundation for poaching a filet of fish, shrimp, chicken, or other meat or even eggs and you have a low fat, delicious dish that is so satisfying and always open to variations.
Ricotta/béchamel Filling (this can easily be doubled or tripled)
4 tablespoons butter
4 tablespoons unbleached white flour
1 cup half and half (or you can use milk or 2% for a lighter version
1 cup whole-milk ricotta cheese
1 teaspoon parmesan cheese
Salt and freshly ground black pepper to taste
Melt the butter in a medium saucepan over low heat. Add the flour and stir with a wire whisk until it forms a paste. Slowly add the milk, stirring until the mixture forms a paste and all the milk is absorbed. Continue cooking for about 10 minutes–stirring occasionally–until the sauce is smooth and thick. Remove from heat and refrigerate for 15 to 20 minutes. Add the ricotta, the Parmesan, stir and season.
To Assemble The Lasagna
Lay each noodle flat. Divide the filling evenly in the center of each noodle. Top each with a slice of the mozzarella, 2-3 pieces of asparagus, and a few filets of the peppers.
Fold one end of the noodle over the filling and then roll. Place each piece in a greased baking dish. Cover with foil and bake for approximately 15 minutes or until the center is warm.
Remove the lasagna from the oven and place one or two pieces on each plate, Top with the sauce. Garnish with slivered basil.
Photo courtesy of Kit Noble