Actually, they're also Christmas cookies too. I make these twice a year. And I made them twice for Easter because the first time, they didn't come out as pretty as these. Why? Because I was annoyed when I was rolling them and they came out a little rough around the edges, even though they tasted goo. See…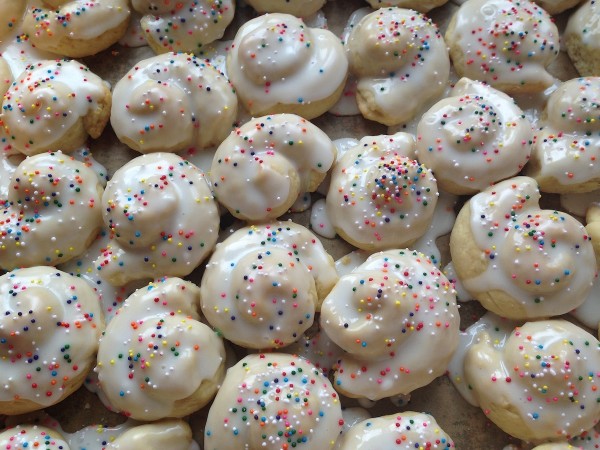 Moral of the story…try not to cook when you're angry.
These cookies puff up beautifully and they're so easy and quick to make. About 10 minutes to mix the dough; 15 minutes or so to roll them out and in my oven, about 7 minutes on a lower rack and 7 minutes on the top rack. But test the time in your oven. Mine is not that accurate and when it comes to baking, oven temp and accuracy is important.
I honestly can't remember where I got the original recipe…but there's ton's of recipes for these cookies…each with slight variations. Here's mine….
Ingredients
1/2 cup butter
3/4 cup white sugar
3 eggs
1 teaspoon vanilla extract
1 teaspoon almond extract
1/4 cup milk
1/4 cup vegetable oil
3 3/4 cups all-purpose flour
5 teaspoons baking powder
For the Icing
4 cups confectioners' sugar (Add a bit more sugar if too thin)
Juice from one large lemon (Add a bit more lemon if too thick or another splash of milk)
A splash or two of milk
Note: play around with this a bit. You want the icing to be a little thicker than a glaze if you want it to cover the cookie nicely. But you can totally make it as thick or thin as you like by adding more sugar (to make it thicker) and more liquid (to make it thiner). I like mine more lemony so I tend to go for the lemon juice to thin out the icing.
Directions

Preheat oven to 350 degrees F (175 degrees C). Grease cookie sheets or use parchment paper
In a large bowl, cream together 1/2 cup butter and white sugar until light and fluffy. Beat in the eggs one at a time, then stir in 1 teaspoon vanilla and 1 teaspoon almond extract, 1/4 cup milk and oil.
Combine the flour and baking powder, stir into the wet mixture.
Roll dough into 1 inch balls. On a lightly floured surface, roll the
balls out into ropes about 5 inches long and wrap them into a spiral
Place cookies 1 inch apart onto the prepared cookie sheets.
Bake for 7 minutes on the bottom shelf and 7 minutes on the top shelf of the preheated oven, until the bottoms of the cookies are
golden brown. When cookies are cool, dip them into the icing and add sprinkles. 
Here's what they looked like before they were dressed up.
Great tasting if not as pretty but a good alternative if you want something less sweet.
HAPPY EASTER!