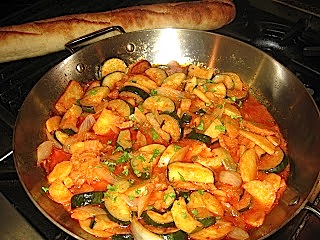 In keeping with the zucchini theme, it wouldn't be complete if I didn't let you in on a gem of a recipe, perfect for all the fresh zucchini growing in our gardens and available at supermarkets and farmers markets everywhere.
Every year when the harvest of our backyard garden produced an abundance of zucchini, my mother went from frying up the blossoms to making a stew out of the zucchini, which was the epitome of simplicity and deliciousness. Made with potatoes, onions, zucchini (of course) and tomato, this is an old time recipe (from the Calabria region of Italy) that is frugal gourmet at it's best.
Feeds 4 or more
4 small (or 2 large) zucchini (cut in half lengthwise and in ¼ inch half moons)
4 medium Yukon gold (or Idaho) potatoes (cut in ¼ inch half moons)
1 large sweet onion (1/2 inch slices)
1 clove garlic (minced)
Pinch of red pepper flakes
4 tablespoons extra virgin olive oil
2 tablespoons tomato paste (see note) or a  cup tomato sauce
2 cups chicken broth (or water)
Season with salt and pepper
Garnish with fresh chopped parsley and parmesan cheese (optional)
In a large sauté pan
Add oil and heat over medium/high heat until hot but not smoking
Add potatoes (lower heat to medium) and cook until golden and they begin to soften (about 5 minutes)
Add onions and zucchini and cook for another 5 minutes
Follow with the garlic and red pepper flakes. Cook for a few moments, add the tomato paste (or sauce) and stir to incorporate it with the pan juices.
Follow with the chicken broth (or water) stir and simmer for 10-15 minutes or until the potatoes and zucchini are soft yet not mushy.
Season, garnish and serve.
Click to tweet this recipe so others can have it to.
Note: I've updated the original recipe a bit and used tomato paste instead of crushed tomatoes because I wanted to make this dish fast. Certainly, you can use crushed tomatoes, however, I would first cook them separately for about 20 minutes before adding them to the stew. The reason is that the zucchini, potatoes and onions could quickly and the canned tomatoes need more time.