I was going to title this email like this…
Fast Food for Slow People
Slow, that is, in getting dinner ready, but…I didn't think it would be perceived as intended.
Seriously though, this week's email is all about making dinnertime easier, better tasting, and faster to prepare, and of course healthy.
There are times when being in the kitchen for hours is exactly where you want to be – like last week's email for fresh pasta (easy, but time consuming) – but most nights we simply don't have the time for this luxury.
We just want to get dinner on the table fast so we can relax and enjoy our family time, but we want it to taste good and be nourishing. But maybe we have finicky kids. Maybe they have allergies. Or maybe your cooking skills are limited so what should be a time to connect becomes another of life's stresses.
I can help. I've helped hundreds of families like yours and I've created many more hundreds of recipes to draw from like this one…
Sautéed Mussels in a Tomato Broth
I'll also show you how to make them in a white wine sauce in the event that you prefer them that way.
This week I'm giving you 5 easy dishes that will have you blessing me from your kitchen when you get dinner on the table in under 30 minutes. Serve each with a fresh tossed salad and dinner is ready.
But first…a little prep.
Though you can make the mussels in red sauce without first making a batch of my tomato sauce I suggest it for three reasons.
You'll be able to make the mussels in well under 30 minutes
You'll need it for some of the other recipes presented here
And best of all, if you make a double (or triple) batch, you can freeze it in pint containers and you'll be able to make future dinners in a flash.
Oh…and one more…It's so darn good. My readers and students have been making it for years and they tell me so. Just got a comment about it a moment ago. REALLY
So click on the link and get this tried and true, used by hundreds, maybe thousands, recipe for the best tomato sauce ever.
Okay, so now you have a batch of tomato sauce, so you can make these quick, easy, oh so good recipes and so many more.
Here you get a recipe for my basil/parsley pesto that you can mix with tomato sauce or add as a dollop on top as I did here.
Then you can grab a bit with your fork as twirl the pasta. I used fettuccine here but you can use penne, spaghetti, linguine or whatever you like.
Add a splash of cream to the tomato sauce and you'll have what my restaurant staff wanted for dinner every night for what seemed like years.
This dish has always been called, "Warm Penne Salad" (another restaurant favorite) but it's not really a salad. It's penne sautéed in oil, garlic and parmesan. Good and quick already, right?
But wait, it get's better. Chop up some fresh tomatoes – now in season almost everywhere, add fresh mozzarella, some kalamata olives, fresh basil, salt, pepper and extra virgin olive oil, toss and put a big scoop of it over the penne.
Oh, I pretty much gave you the recipe. Told you they were easy. Click the link below and you also get my family recipe for tomato/onion salad.
This is an old recipe, from the Calabria region of Italy, passed down in my family for generations.
It's called Jambota, a local name, but essentially, it's a zucchini stew. This like many of the recipes in this post means summer to me and is a wonderful dish for all the zucchini prevalent right now in supermarkets and farmer's markets across the country.
Enjoy this dish for it's truly a find. It's quick, easy and perfect for the frugal foodie.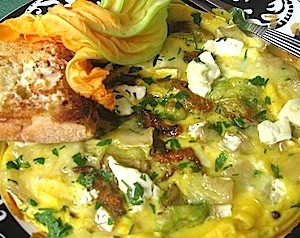 Frittatas, which are simply open-faced omelets are a great idea for dinner. You can make a huge one that the family can share, or small individual ones for the picky eaters.
This one is made with zucchini blossoms because when these delicate flowers are in season, I want to use them as much and as often as I can, but really you can use anything handy in your fridge or pantry.
You'll see recipes for stuffed zucchini blossoms everywhere and maybe I'll post one or two soon, but I love how they taste in a frittata.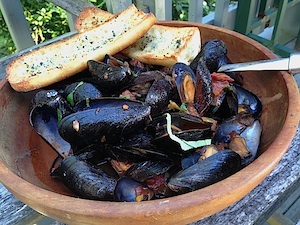 Oh…and of course there's the mussels. Here's the link to this recipe.
That's my 5…oops I think I actually gave you more like 8 but what the heck…generosity is a good thing, and what's a little more amongst friends.
And now, since I can't ask you to tell me how these fast five worked out for you – at the moment – I'll ask you this.
What are your biggest dinnertime dramas?
What do you need to help you make dinnertime easier, more fun and enjoyable (other than me in the kitchen cooking for you)?
What are you struggling with when it comes to cooking and eating well?
And of course, if you do make any of these dishes, come on back to this post and leave me a comment. I'd love to know.
Finally, if you like these dishes, help me share them with other busy people who might need them too.
Click to tweet below
I'll look for you in the comments. Until next week, thank you for being here.
Silvia